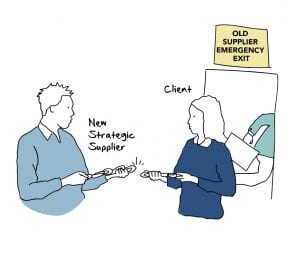 Once you have formally terminated the relationship, you need to treat the exit process as a key project in its own right. You will have developed a Business Case for the early contract termination and a well-considered exit plan. As with any project, the exit must have resources allocated to it, external and internal support, key milestones, objectives, payment profiles and performance targets to be met. You must also make sure that you manage the early exit process in the right way, so your actions don't inadvertently remove your strategic supplier's 'Expert responsibilities'. 
Following the steps below will help you to manage the early exit process successfully: 
Draw up an appropriate overlapping contract and project management framework,

 specifically for the exit process. Consider how long is needed to prepare for the exit and ensure key stakeholders are aware of the exit strategy and that they all agree to it.

 

Document in writing all aspects of how you will measure progress

 with the exit and continue to benchmark your progress against the revised agreement. If the strategic supplier doesn't achieve your expectations by the agreed milestones, you will have evidence to enforce them.

 

Keep reviewing

 the planning as you progress through the implementation of the exit process and adapt with any necessary changes. Monitor how you are mitigating key risks, and whether the phases of exit and transition (including initiation, due diligence, knowledge transfer and service closure) are going to plan for each of the work streams involved (including operations, finance, procurement, HR and legal). Have regular progress updates with the exit managers.

 

Have both formal progress meetings and informal chats 

with any staff that are involved in both the exit and day-to-day service delivery, to ensure progress with the exit does not lose momentum. This can happen if staff are too stretched.

 

Ensure that you maintain agreed methods of communication

 for internal and external stakeholders, including trade unions and sub-contractors. Strong communications are often the first thing that slip because of time pressure in other areas.

 

Maintain visibility and formal reporting of progress of any sub-contractors supporting the exit

 process 

if

 the strategic supplier will let you continue using its sub-contractors after termination (and you have a formal indemnity to this effect). You need to monitor their performance and support during what can often be an adverse process.

 

Ensure the BAU project teams are maintaining focus

, progress and milestones for 'in flight' projects.

 

Try not to engage the outgoing strategic supplier in any new initiatives

 that aren't in the exit plan. New initiatives could divert the strategic supplier's attention from the exit implementation and compromise your evidence of poor performance against the strategic supplier in achieving exit milestones.

 

Maintain the management reporting focus on the exit goals, objectives and timescales.

 Unexpected issues will arise throughout the exit process, but these must not be allowed to derail the outcomes. If issues arise that have to be dealt with to progress the exit, then do so and change your exit route, but always ensure that any change in route always aligns with the business outcomes you need to achieve.

 

Stay Calm.

 Keep in mind that tensions are likely to be high between you, the 

strategic supplier and other internal and external stakeholders. Try not to 'throw your toys out of the pram' every time the strategic supplier drops the ball during the exit process. Stay calm and address each issue as though it is a normal project. Try to keep your relationship with the existing strategic supplier open. Work on the relationship (both formally and informally) to keep acrimony to a minimum.

 

Recognise that when things go wrong during the exit, one-upmanship and blame cultures are likely to arise

 between your team and the strategic supplier's. Be clear that if your strategic supplier helps you to exit the contract and transition the services successfully, then you'll be a reference site for how supportive it was during the exit process. Providing a positive reference may irritate you, particularly if the strategic supplier's service delivery prior to termination has been poor, but you need to rise above these emotions for the sake of achieving a successful exit and transition.

 

If further fees were part of your agreement for the exit

, ensure these fees are only paid once the agreed outcomes have been fully achieved, not just because the date may be due.

 
During the implementation of the early exit process, make sure attention is paid to the following: 
That the transfer of assets is progressing and any changes in those assets is recorded.

 

That documentation of the management and process information on BAU services remains up- to-date and provided as expected.

 

That if any transitioning arrangements involve the outgoing strategic supplier's proprietary software, that ESCROW source code deposits continue to be made, with regular testing to ensure that by the end of the exit process, the latest source code has been deposited. Ensure arrangements for ESCROW continue until you no longer rely on the proprietary software.

 

That the transfer of third-party contracts from the outgoing strategic supplier to you or to the new strategic supplier is progressing and any stumbling blocks are being overcome. Ensure you continue to monitor their RAG (risk) status.

 

That you stay engaged with key personnel. During the exit, both in-house and strategic supplier staff are likely to be nervous and keeping their career options open. Have regular informal chats during the exit, listen to their concerns and keep reassuring them that they are a valuable team member and you want their continued involvement to help reshape the organisation going forward.

 
Procuring a new strategic supplier and/or bringing services back in-house
During the exit, don't lose sight of the need to ensure your new strategic supplier and/or your in-house delivery team are fully engaged in the transitioning process. In particular, make sure you contract separately for the new strategic supplier's expert advice, so you can rely on its statements of being able to achieve your business outcomes. This will ensure the new strategic supplier has the appropriate skills, resources and culture to achieve your business outcomes in the shortest possible time and will help you drive maximum value from the relationship over the life of the agreement. 
How to Manage the Early Exit Process – Conclusion
Governance and performance management are critical to a successful termination and exit process. Make sure you give it the time and attention it needs. 
Need Further Advice? 
If you have concerns about an exit you are planning and would like to know what help is available, please call us for a confidential, no obligation chat.