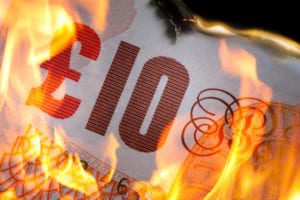 In June 2018, control over the UK military's Defence Fire and Rescue Services (DFRS) was awarded to Capita by the Ministry of Defence (MoD), but almost immediately that decision was called into question. Financial health warnings were cited as reason enough to question the tendering process for this £500 million 12-year contract.
Fabian Hamilton, Shadow Minister for Defence, is cited as saying in the Commons "We know that Capita has a record of poor performance delivering MoD contracts, they were stripped of the defence estate contract […]. In spite of this, the Government has knowingly chosen to give Capita another contract."
Serco Challenged the Contract Award
Serco, another supplier who had bid for the contract, challenged the award of it to Capita. The whole challenge process was in a quagmire of legal wranglings for almost a year, until the MoD agreed to settle out of court for £10 million, just a day before the hearing in May 2019.
Trade union Unite represents the fire and rescue workforce. Its regional officer, Caren Evans, is reported as saying "The entire MoD firefighter privatisation process has been a costly shambles from beginning to end…".
Unite had, only a couple of months earlier, penned an article claiming that the MoD had not only failed to disclose information on the privatisation of the DFRS to the Courts as part of Serco's legal challenge, but had been required to pay tens of thousands in costs for this.
Caren Evans stated that "The High Court case that saw the MoD having to shell out nearly £80,000 of taxpayers' cash in indemnity costs is yet another reason why the plug needs to be pulled on this controversial, decade-long saga. Debt-laden Capita is not a fit organisation to manage this contract."
Contractual Arrangements Under Scrutiny
As transparency is one of the fundamental reasons why the public sector procurement process is so detailed (and necessary to maintain transparency), this brings into question whether the MoD had undertaken all of the appropriate procurement diligence steps it would have been reasonable to complete.
So, it appears Serco got a large pay out, Capita's reported financial issues were brought to the fore once again, their competence questioned by Ms Evans and the MoD was stalled for almost a year; all because of a challenge to their procurement process.
Six Steps to Avoid Supplier Challenges
Public sector tendering is governed by a sizeable collection of rules and regulations, primarily created to ensure that the process is conducted in a fair and transparent way. While this may make the process seem complex, laboriously slow and costly, the result should be a fair and equitable choice of preferred supplier(s) that can deliver a fit for purpose service and/or solution that meets the client organisation's requirements.
It seems in this instance, the MoD's choice was open to supplier challenge. Whether , someone decided that it was not defensible, or whether other priorities deemed more important meant the government simply did not have the time and/or resources to continue defending the challenge, I suspect we will never know. What it does demonstrate, is that there must have been key questions over how the procurement and supplier selection process was conducted.
To ensure that your supplier tendering process does not fall foul of the same or similar issues, we have compiled a list of six key steps that any public sector client can use to minimise the chances of a supplier challenge; or that a private sector organisation can use to assure transparency within its own organisation of the supplier selection process:
1. Evaluate tenders against 'gateway' criteria
I think we can all agree that the full public sector tendering process can be a little long-winded, so it can save time to first evaluate tenders against a number of absolute considerations, also known as 'gateway' criteria, that can be included in a pre-qualifying questionnaire or the tender itself. This is to thin the herd, to determine whether they have all the fundamental elements required for them to progress to full processing. Considerations such as the financial health of the supplier and whether it is or has been involved in any legal issues, are often among them.
2. Ambiguities, gaps and clarification
While tender documents may often be highly detailed, this does not mean that a supplier's answers always will be. Often tenders are returned with small to gaping holes in the information they provide, opportunities for misunderstanding or simply not enough detail to base an opinion on. Clients must be able to rapidly identify all areas of ambiguity or missing information in order to create and send a clarification questionnaire or set up a clarification meeting with the supplier to gain all the answers required and to avoid delay. Inefficiency at this stage could mean that incomplete tenders are evaluated, increasing the chance of assumptions being substituted for facts and opening you up to post-decision challenges.
3. The 3-step scoring process
A tender is typically scored through a 3-step process.
3.1 Initial assessment. Split the tender document up into sections and ask your relevant departments to conduct an initial assessment and scoring exercise.
3.2 Formal scoring workshop. Bring everyone together to discuss each of the decisions made in step one to come to an agreed score.
3.3 Evaluation framework. Each bid must be assessed against a published evaluation criteria, so everyone knows precisely what is required and all decisions can be qualified if challenged later on.
4. The critical analysis stage
For most tenders a single pass is simply not good enough, there should be a post evaluation analysis stage in which each and every score and decision is carefully reviewed. It's important to involve the right people at this stage, people who will speak up, who will challenge decisions so that they can each be stretched to ensure that they don't break under pressure. And if they do, rather at this stage than in the proceedings post supplier complaint. Throughout the evaluation and critical analysis stages it's important to keep all documentation and minutes to evidence that a thorough enough process was adhered to.
5. Board-level sanity check
Once all scores are approved, all that's left to do is to add them up to determine the winning bid. But there should be one more assessment before things move forward. The board in charge of the tendering process must review all deliberations and determine whether they agree with them for transparency purposes. This is a vital final step before the winning bid is announced.
6. Award and notices
Notices should be sent out to all bidding suppliers at the same time. One will inform the winner of their status as your preferred bid, the others should not only inform the suppliers who did not win of this fact, but why. Their notices should include a report on the strengths and weaknesses of their bids and how their scores compared with the winning bidder's.
And if you are asked for a formal debriefing session by the supplier, be prepared with the appropriate information. It will help both your own organisation for future procurement/assessments. It will also help the supplier, if they genuinely learn from the experience, to provide higher quality bids next time around. So debriefings, organised correctly, are a win-win all around.
Conclusion
Serco's challenge set off a chain of events that kept the contract in limbo for around a year, costing the MoD £10 million in settlement costs, just less than £80,000 in indemnity costs and reputational costs that are likely to be far greater than either of these in terms of future credence with the supplier marketplace.
Lessons learned from experience are vital for any organisation and it seems that the MoD is seeking greater understanding as Tobias Ellwood, Minister of State, wrote on the Parliament.uk website in July 2019 "I can confirm that the MOD's Accounting Officer has commissioned an independent review to ensure we learn from this acquisition process […]. The findings of the review will be published after the summer."
We will keep you updated when we know more.
Photo credit: iStock