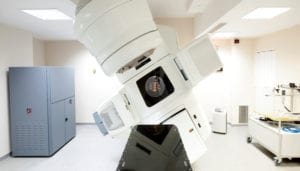 Radiotherapy is crucial to the treatment of up to 40% of all cancer patients. However, it's recently been reported that deaths may well have resulted from radiotherapy equipment upgrade delays experienced across the NHS. It seems that radiotherapy assets – one in five of which is more than 10 years old – have been sidelined in favour of chemotherapy and its complementary drugs. For NHS Trusts that need to procure/upgrade their radiology and PACS equipment to more fit for purpose systems, this article looks to investigate what should be done in order to help stretch budgets further, so more cancer patients can receive the support they need.
---
NHS England suggests cancer therapy funding was in need of reprioritisation
Despite results indicating that radiotherapy is having greater curative results with fewer side-effects, according to NHS England, equipment upgrades have just not been high enough on the priority list until now, with funding instead going to other major cancer treatments.
And, with the older high-energy radiation machines (a linear accelerator or 'linac') being less 'accurate' in delivering doses than newer models, each treatment risks destroying more healthy tissue than necessary in attending patients thus potentially hampering the positive impact of their therapy. In contrast, the latest techniques involving 3D scans are so accurate that the radiation can be focused on the precise size and shape of a tumour. But such equipment costs money and the NHS's limited budget can only stretch so far.
£130m to fund largest NHS cancer equipment upgrade in over a decade, but is it enough?
NHS England has announced that £130m is to go towards replacing and upgrading NHS radiotherapy equipment – news that will offer some relief to those whose cancer treatment includes radiotherapy.
But, while this may sound like a considerable sum, it only means that over a two-year period, 20% of the existing legacy machines will be replaced and a further 15% of older machines will be upgraded. That's 100 machines in England – something NHS England is keen to state makes this the largest upgrade of NHS cancer equipment in 15 years.
But the reality is that in two years' time 65% of all NHS radiotherapy equipment will now be up to 12 years old – despite recommendations that linacs are replaced after ten years – leaving the majority of patients across the country being treated by outdated technology.
National Director for Cancer at NHS England, Cally Palmer, said: "Today's announcement about action over the next two years is a decisive launch of our five-year programme to modernise radiotherapy services – so that all patients have access to the very best technology available."
Vice-President of the Royal College of Radiologists, Jeanette Dickson, is a little less positive, saying: "Although the funding announced is to be welcomed, if the government wishes to achieve world-class cancer outcomes by 2020, significantly more investment in radiotherapy services is required."
In 2015 within the NHS in England there were 134,000 radiotherapy treatment episodes. And with increasing numbers of referrals for cancer investigations, it is evident that once this £130m fund has been spent, demand will continue to grow for equipment that will best serve the needs of these patients.
---
10 steps to assure the successful procurement and implementation of new radiology/PACS systems
The NHS is no stranger to the need to do more with less and when it comes to their procurement strategy, there are, of course, formal public sector structures (EU Procurement Rules) to follow.
There are, though, real risks attached to any new project, as highlighted by the CHAOS report from The Standish Group, which found that over 60% of system upgrade projects failed to meet their core objectives.
This is why a tried and tested strategy is required to not only minimise the risk of failure, but to maximise the benefits of success. With our experience of recovering strategic relationships across hundreds of public sector IT system procurements and upgrades, we have identified ten steps, adapted from those undertaken in every successful system implementation, which will assure you a far smoother upgrade and/or migration to new radiology systems and any associated PACS equipment.
It's important to note however that where these upgrade projects have failed in the past, one or more of these ten steps was either not in place or not executed correctly. All ten steps must (a) be in place and (b) be executed correctly to assure the success and fitness for purpose of your radiology systems/PACS implementation.
Step 1: Quantify the Radiology Clinical Vision
A well-articulated clinical vision means having documented clarity of what your radiologists are aiming to achieve for their patients from their treatment over the short, medium and longer term, specifically when it comes to improvements in patient care due to more effective clinical workflow.
Quantification of this vision has two primary aims:
To ensure your internal team understands and agrees to deliver that vision.

That any potential or incumbent system suppliers also understand that vision and can, therefore, ensure any upgrades/replacement systems they provide clearly align to your radiologist's expected outcomes. A clear appreciation for this vision will also importantly give your suppliers the information they need to determine where their systems or support services are unable to align to that vision. In these circumstances it is the responsibility of the suppliers to advise or 'warn' you pre-contractually of this, and what compromises you and they will have to live with, and the impact on your clinical workflow such compromises will necessitate, should you decide to proceed with them.
Step 2: Clarify the systems objectives of the radiology department and radiologists
In the same vein as the process for providing clarity of your clinical vision, the next step is to clearly articulate the specific clinical objectives any system upgrade or replacement needs to have in order to help you achieve and align to that vision.
For an objective to be 'articulated', it needs to be specific. So for example 'better, faster and cheaper' is not an objective – it is an aspiration. Aspirations cannot be contracted for as they are open to a wider interpretation than was intended. However, specific objectives can be contracted for so long as you are crystal clear in your communications both internally and with potential system suppliers. Evidence and experience from our involvement in successful upgrades, tells us that you have to state:
What evidence you have of the clinical objectives you are currently achieving. What service level you are hitting at present. What specific challenges you are experiencing with the existing system. What the present cost of that system is, and on what basis those costs are appropriate. And, the return on investment (hard and soft benefits) you are currently achieving.

What new clinical objectives you want to achieve from the upgraded/replacement system. By what percentage you want the speed of diagnosis to improve by. When you need it to improve by. What investment you want to make in order to achieve these new clinical objectives. And, what new level of return on investment you are determined to realise.
Your primary operating objectives are likely to be around improving patient care as a result of more effective clinical workflow, though there may be secondary objectives such as reduced operating costs and so forth.
Some of the 'softer' objectives, such as better ease of use, user friendliness and so forth, are harder to quantify. However, they must be quantified to ensure that (a) everyone is on the same page with their interpretation of these objectives, (b) the opportunity for misunderstandings is reduced, (c) mature dialogue between you and your system suppliers gives them the opportunity to offer you the right advice in achieving your objectives and (d) a fair and equitable set of measurements that you can contract against with your suppliers are created so you and they have the best opportunity to achieve them.
Organisations with the most effective and successfully implemented radiology/PACS systems have typically undertaken the 'tough journey' to quantify both their 'hard' and their 'softer' objectives. The evidence tells us there aren't any shortcuts to this challenging thought process.
Step 3: Plan client/supplier behaviours
Outline what behaviours your internal stakeholders and suppliers need to adopt in order to support you in delivering the clinical objectives you need to achieve.
When undertaking the procurement of new radiotherapy and PACS systems, lessons from recent court rulings have clarified that it should be the responsibility of your system's suppliers to allocate appropriate roles and responsibilities for the system implementation tasks to be undertaken. Senior management within the system supplier are accountable to ensure that whatever client objectives have been contracted for are achieved within the scope, time and cost agreed. You then need to strategically plan the activities that will drive those 'right' behaviours.
Step 4: Have clear system requirements
While clear system requirements are essential, the mistake many organisations make is to structure these as technical inputs. Instead you should take a more holistic approach, being clear on the clinical benefits and objectives these requirements need to support.
Use input/output requirements only as influencers to 'support' expectations.

Clinical use cases are what you should contract for primarily. It needs to be clear that the system will support the clinicians in improving clinical workflow. Use cases help the supplier understand how you work. Don't make the assumption they already know everything they need to about your specific clinical workflow.

Ensure you have appropriate performance management criteria through SMART KPIs.

Make sure you include your expectations for the suppliers to challenge (widen – not constrain) your thinking in the clinical workflows you are expecting to achieve from their experience of dealing with other best-in-class radiology departments.

Set the expectation with the supplier that as you improve your clinical workflow, this is likely to lead to changing expectations about how the development of their systems needs to keep pace with more effective diagnosis techniques.
Step 5: Key contractual principles
Contracts, all too often, are focused on protecting parties from the possibility of things going wrong, when in fact, the best way to ensure that they don't go off track is to produce a bespoke (not a templated) written agreement which promotes collaboration and encourages the right behaviours between all parties. It is important to ensure that your agreement is commercially sound, but rather than being designed to be a 'stick' to threaten or beat your supplier with, it should be the guiding carrot.
Ensuring the supplier's advice for implementing their system will support your radiology team to achieve more effective patient diagnosis and treatment, is the REAL protection a good, well-written fit-for-purpose contract can offer.
This is achieved through clear articulation of quantified expectations from the system in terms of clinical use cases, and your approach throughout the relationship, from collaboration during the market engagement and agreement over what you will achieve, to the process of operating governance during the implementation and migration of the patient information.
With this position clarified, you should be able to reverse engineer the fundamental elements your written contract must contain to capture the essence of the relationship you wish to form to driving the right behaviours between all parties.
A lack of alignment to the clinical objectives you are trying to drive in the written contract will lead to confusion and mistakes. This in turn will affect both your supplier relationship and achievement of your clinical outcomes. A fit for purpose contract is your roadmap and implementation plan for success.
Step 6: Create robust supplier assessment scoring criteria
Structure the supplier assessment/scoring criteria so that it reflects not only the clinical use cases it needs to support and the functional requirements you want from the system, but also the advisory behaviours you expect from the supplier. This selection criteria should also indicate the supplier's willingness to contract for the delivery of those requirements AND behaviours.
Assessment criteria should contain a 'willingness score' against each of the contractual principles and evidence of where they have demonstrated similar willingness behaviours with other clients. Such historic information will show whether what a supplier says aligns with what they, in fact, do – a prerequisite to them earning and being worthy of your commercial trust.
Step 7: Conduct early market testing
Reaching out to the market (suppliers) prior to engaging in a formal procurement is critical to your potential for success. Drawing the supplier community in makes absolute sense when seeking guidance on whether what you are asking for in your use cases to support your clinical workflow, within the timescale and budget you have available, is practically achievable or not.
From this early market testing, you can then:
Realign your expectations. Use feedback from this testing to refine system requirements, key contractual principles, implementation governance, scoring/assessment criteria and to establish the most effective procurement route.
Reclarify your procurement route's purpose. The objective of the procurement process is to identify the right systems supplier that has the most aligned organisational culture, staff behaviours, integrity, technical capability, project and systems capability, assuring the supplier will be able to deliver to the agreed objectives and work well with you to leverage one another's strengths.
Step 8: Commence the procurement process
When you commence your procurement process it pays to be methodical, to follow a clear and justifiable path, and to document your reasoning for the variety of decisions you will make along the way in order to choose the supplier best suited to your needs.
If you are in the Public Sector, use the 'dialogue' process in the Competitive Dialogue Procedure to finalise/align business objectives to be achieved, the clinical use cases, supplemental system requirements, implementation governance and contract terms.

Validate and score suppliers against the 'holistic' behaviours, requirements and commercial security required. Ensure that part of your scoring process is aligned to the supplier's acceptance of the key contractual principles and contract terms.

Finalise your shortlist based on your scoring in the assessment criteria. Ensure each shortlisted supplier signs the contract terms, subject to award of the contract, so you cannot be held to ransom once you decide on a preferred supplier and they try to move the goalposts on the contract terms once you have confirmed them as your preferred supplier.
Step 9: Preferred supplier selection and supplier due diligence
It is important that the preferred supplier you choose can evidence that it can provide a systems solution which will support the clinical workflow efficiencies you aspire to. In order to achieve this, you will need to:
Create a Terms of Reference for the supplier to conduct pre-contractual scoping and then discuss/refine these terms of reference with the supplier so that any output from the due diligence exercise aligns to the confidence and assurance you need that your clinical workflow and other requirements will be achieved.

Ensure that the supplier undertakes a pre-contractual scoping exercise to the above Terms of Reference. Work with them to ensure your clinical use cases and requirements are confirmed so that you have clear visibility of (a) what use cases and requirements will be fully complied with, (b) what will not be fully complied with and (c) what the consequential impact will be on your clinical workflow if the use case and requirements are NOT fully complied with.
Step 10: Contract population and execution
Ensure that the Terms of Reference for pre-contractual scoping, along with the final outputs from the exercise, are incorporated into your contractual schedules. Then also ensure that the terms of your contract all fully align with the expectations of both parties so that you contract for an agreed and appropriate system, with terms that drive 'enabling' behaviours between you both.
---
Conclusion
These ten steps provide the foundation for a successful and fit for purpose radiotherapy/PACS system procurement process. It is important, however, that both your internal and your supplier's team follow the governance outlined in the process above to assure you achieve the right outcome from the implementation.
The £130m to be allocated for new and upgraded radiotherapy equipment in the NHS across England is a good start. However, unless the procurement process to create the relationship which will implement these aspirations is carried out in the most considered fashion, these funds will not go as far as they need to.
All organisations considering buying-in the expertise or resources of an external supplier should reflect upon each of the ten steps above very carefully. With a little tweaking they can apply to any project or relationship, and through adherence to their lessons, your system project is likely to be more shielded from the risks that they will face along the way.
Photo credit: iStock, denizaciksoz