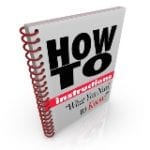 In this article we explain the why, what and how of the PFI Operations Manual – the cornerstone of effective and consistent day to day contract management.
The typical length of a PFI contract (20-30 years), makes it extremely unlikely that a single individual will be responsible for managing it from commencement to expiry. At the same time the complexity of a PFI project makes coming to grips with it a daunting task for new contract managers, particularly if they have no prior PFI experience.
The main purpose of an operations manual is, therefore, to ensure continuity when there are changes of personnel.
'Why' is the PFI Operations Manual So Important?
A well-structured operations manual is also an indispensable reference guide for you, the client. As well as the information needed for day to day contract management, it can also serve as a handy database for responses to requests for information from government agencies, finance managers and to Freedom of Information requests. This avoids the need for gathering the information from scratch each time and ensures consistency.
In some projects the contractor produces its own guide, usually for end users. It is important that the client-side PFI manager has direct input into such guides, to ensure they contain all of the relevant data and are accurate and impartial. However, even the most comprehensive and well-structured contractor guide is unlikely to contain all the information needed by the client. It is, therefore, recommended that you keep your own operations manual, tailored to your own needs, even if it duplicates some of the content of the contractor's document.
In summary, the main reasons why you should maintain your own manual are:
Ease of access to key information
Continuity when there are changes of personnel
Ensuring the document is suited to your needs, as the client.
Important 'What and How' Principals of the PFI Operations Manual
The detailed content and structure of the manual should be determined locally, depending on the nature of the project and your needs. However, there are some overarching principles and basic content which should be reflected in all PFI operations manuals.
Overarching Principles:
Keep 'perishable' data to a minimum and instead include a cross-reference to the location of the source document in the standard filing structure. This avoids the need to constantly update the manual as well as the source documents
Even with use of cross-references, some information will inevitably become obsolete sooner or later. Version control (with the date and details of the last update made clear at the front of the document) will enable you to maintain control of the document and know if the information it contains is up to date
Include an annual/bi-annual operations manual update task in the monitoring calendar to ensure that key information is updated regularly
Ensure that any significant project changes (such as changes of contractor or changes to the service specification) are reflected in the manual as soon as they happen, rather than at the next scheduled update
If you have two or more similar PFI contracts it will save time and effort to have a single manual for all of them, particularly if the same team manages them.
Content of the Manual:
Although the detailed content of the manual should reflect local needs, there are some key components that should be common to all PFI operational manuals. These are:
Glossary of terms
Key information including a summary of:

Asset data
Equity and funders data
Scope of services
Contract value
Day to day tasks (such as organising meetings, receiving and checking invoices, etc.)
Periodic tasks (such as

benchmarking and market testing

)

Variation Management

Non-contractual procedures – covering operational arrangements made with the contractor, which are not reflected in formal contract documents

Standard Filing structure

References to the most commonly used sections of the contract.
In Summary
The PFI operations manual is essential for ensuring continuity in PFI contract management, as well as being a considerable time saver. It serves as a key reference guide to the most commonly used PFI documentation.
A good manual should:
Include cross references to other documents for regularly changing data
Be reviewed on a regular basis
Contain key information required for the management of the contract.
For support and advice on any operational PFI issues, including how to structure an operational manual and provision of templates, please do not hesitate to get in touch for a no obligation, informal chat.
You may also be interested in our blog on using a PFI Monitoring Calendar to greatest effect to reduce costs and improve efficiency. Click here to read the article.