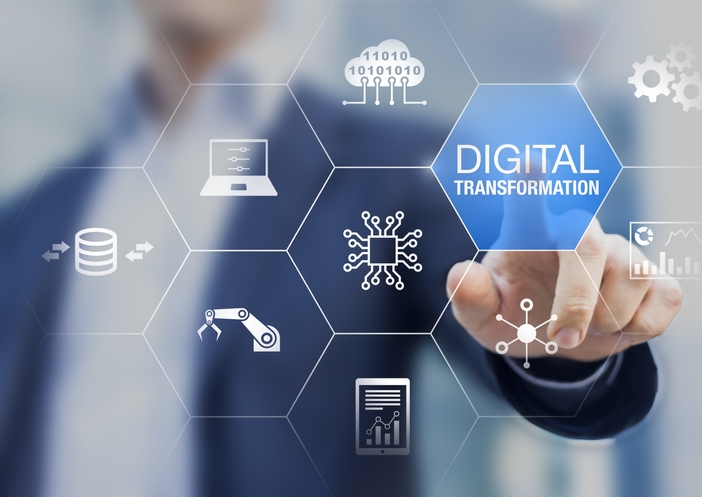 We have been engaged with many organisations to find fit for purpose solution partners to help them on their digital transformation journeys. However, we often come up against a key dilemma; some organisations focus almost entirely on the systems they are transforming and not enough on the affected processes and people whom the transformation will impact.
Most organisations understand that shiny new tech is nothing without the support, engagement and buy-in of the teams that will be using it or other stakeholders who will be benefitting from it – like a precision Formula 1 car without a driver, you won't go far.
In a quote from The Manufacturer, where Matt Harris, Head of IT at Mercedes-AMG Petronas Motorsport is quoted as saying, "You can invest in all the latest technologies and bits of kit, but if you haven't got the right people, and you're not supporting them to the best of your ability, then you won't reap the full rewards from your investment."
Digital Transformation – It's the People that Lead the Technology; Not the Other Way Round
Our own experience is that the very best digital transformations happen within organisations where those in the senior leadership team recognise that it's the people that lead the technological needs, not the other way around. This means that you either have to:
i) run strategy and objectives workshops in parallel with the planning of your digital transformation to help your workforce appreciate and understand how the new technology or systems will enable more effective operating practices so they can utilise them to their full potential, or,
ii) let the transformation be guided by the needs and demands of your workforce, as you identify where additional value can be gained.
Clear Communications will Create Successful Foundations for the Initiative
For all those who have been through a digital transformation in their own organisations, or witnessed it in someone else's, you will know that the initial stages of articulating your business outcomes and objectives at the outset so they are (a) internally agreed with your stakeholders and (b) can be clearly communicated to any specialist suppliers that need to support such a transformation, it can be a whole world of pain in terms of being an expensive, disruptive and time-consuming exercise.
5 Tips to Accelerate Digital Transformation
To help you gain greater value from your journey, below are five key considerations that our own experience evidences will give you a much greater chance of successfully accelerating your digital transformation journey:
1. Stakeholder buy-in increases your chances of success
An authoritarian approach – independently (or relatively so) devising a plan of action and imposing it on those who you expect to use or benefit from it – is rarely the best way forward. Not only are you likely to face resistance, but should the project fail as a result, it will be your reputation and credibility that may suffer. Stakeholder buy-in shares the responsibility for success, and failure, by involving those who are most likely to make it happen in the development process. Through their involvement you are likely to meet lower levels of resistance and obtain higher levels of support, making the likelihood of success much greater.
2. Succession planning and knowledge sharing
When going through a digital transformation, you are not only relying on a relatively small team of specialists to action your transformational plans, but with new systems being put in place to support greater operational effectiveness, how many in your company will understand how to utilise them to their full potential?
Knowledge concentrated in too few people can cause significant issues should they decide to leave. So, on-going coaching, mentoring, training and knowledge sharing throughout the project will minimise this risk, improve stakeholder buy-in and support (reducing the potential for rumour mill led anxiety), and increase the chance of finding ways to best optimise the use of these new technologies or systems.
3. Combat fear of change with clarity of communication
We find that most individuals in an operational role can struggle with change when:
i) it's not clear 'why' the change is taking place (business outcomes and objectives),
ii) 'what' changes will be taking place (processes, along with supporting systems), and
iii) 'how' those changes will be implemented (operational roles and responsibilities).
If the change is not appropriately communicated, our own experience is that we find most operational people have a natural fear as they often do not understand how they personally will be impacted. As painful as it is for those adversely affected, it's always better to be upfront about the impact, rather than let uncertainty create a virus through your team. You will lose countless days and weeks through sickness leave from your teams, the more uncertainty reigns.
Conversely, strong communications planning will mean that you have already initiated the process of combating this through all of the work you've done on obtaining stakeholder buy-in and involving numerous others in the planning.
4. Collaborative problem solving
We know from experience that no matter how good and detailed your planning is, there will be inevitable bumps along the way. However, the more detailed the planning, the smaller the bumps along the way usually are. But ask yourself: Are you prepared for them? Do you have the means to handle material eventualities?
As with several of the elements discussed above, the more people you have on your side with a greater understanding of your new digital means and capacity, the more minds there will be to tackle these challenges when they rise up in front of you.
Build those relationships, coach and mentor your workforce and maintain clear communications with all parties along the way so you can work together to ensure that you really are ready to smooth the bumps.
5. Develop a strong ICF team
An Intelligent Client Function (ICF) team is a collection of the very best minds in your organisation, or those brought in for this task, from across all relevant departments. Its role is to be the eyes and ears of the project, working collaboratively with strategic suppliers (or shared service teams) and reporting to a board that's prepared to listen and act on their guidance.
The ICF team will understand the before and after scene of the project and programme, but more importantly, they will understand the 'now' far better than anyone else due to the relationships they develop with their supplier-side counterparts.
Trust their talent, put them in a place and in a position of enough authority to drive the project in the right direction, identify issues on the horizon and manage the state of innovation and productivity throughout the digital transformation and beyond.
Conclusion
In the world of Formula 1, every second, or fraction of a second, counts, which is why digital transformation is a part of every-day working expectations – ensuring your organisation is enabled so that it can look for the next generation of tech or systems to make their processes more effective and reliable to achieve greater performance.
Your own organisation may not have the same pace as a Grand Prix, but it's just as important that everyone who should be involved in your digital transformation is. Stakeholder engagement, true stakeholder engagement, is the key to greater value outcomes.
Photo credit: iStock