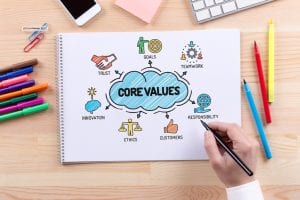 A couple of months ago, news broke of challenges in a number of Leicester-based clothing factories. Reports suggested that workers were being paid below the minimum wage, with allegations of exploitation and human trafficking and of a workforce forced to work, even if they had Coronavirus symptoms, without suitable PPE or social distancing.
The reports broke as Leicester had to go into regional lockdown and cases started to spike in the city. The factories at the centre of the concerns were included in the blame for this, driving agencies such as the National Crime Agency (NCA) and the Gangmasters and Labour Abuse Authority (GLAA) into action.
All companies that had any association with these factories were rapidly targeted by the media. The name mentioned time and again was Boohoo. In a world where one's reputation has a significantly greater value than ever, it is essential to ensure that whomever you choose to work with is committed to follow the same quality, expectations and values path that you walk. In Boohoo's case, news of its connection with the Leicester factory wiped nearly 50% from its stock market high.
The Boohoo Connection
The Daily Mail sets out the connection as follows.
The company behind the 'slave factory', as the Daily Mail referred to it, was alleged to be Morefray Ltd, a Manchester-based firm that is 50% owned by a company called I5 Holdings. I5 Holdings is owned by a gentleman by the name of Shahzad Irshad, who is a co-director with Jalal Kamani of 'I Saw It First'. Mr Kamani is also co-founder of Boohoo.
Boohoo was set up by Jalal Kamani and his brother Mahmud in 2006. It was only in June of this year that the company was reported to be worth just under £4 billion.
A spokesperson for Boohoo confirmed that Morefray was one of their suppliers but said they had not heard of pay issues in the factory before this. They committed to visit the site to 'investigate further'. This was followed by the announcement that £10 million was being put behind the promise of 'eradicating malpractice' in its supply chain.
Retail buyers can be fickle and as a result of the reputational hit that Boohoo suffered from being named within this scandal, the market capitalisation of the company is reported to have fallen by well over £1 billion. However, this was against the backdrop of the company's share price rising by a reported 22% during lockdown due to a dramatic demand increase while the high streets have been closed.
Subsequent to the first report in the media, allegations of another factory, this time a supplier for Boohoo brand Nasty Gal, paying below minimum wage, have surfaced.
Poor Optics
The members of the Kamani family and other close shareholders have, financially, been very successful. It was reported they were surprised by the revelations about an organisation they have regarded as close suppliers.
According to a report in CIPS, Next, Asos and Zalando have dropped Boohoo's clothes from their sites temporarily whilst these allegations are being investigated. Boohoo is reported to have stated "We take extremely seriously all allegations of malpractice, poor working conditions, and underpayment of workers. The group will not tolerate any incidence of non-compliance with its code of conduct or any mistreatment of workers, and will not hesitate to terminate relationships with any supplier who does not comply."
While the brand is starting to bounce back due to its popularity and advertising success, the poor optics of this ongoing story is likely to have a short to medium-term impact, until they are able to evidence a restorative process to their reputation.
One thing is clear from all of this, that the sins of the supplier can so easily be considered the sins of the client. Supplier onboarding should include not only a thorough vetting process to ensure that their values align with yours, but ongoing spot audits to ensure that your own cultural values are being adhered to.
Building Cultural Alignment with your Strategic Suppliers
The supply chain is becoming more and more reputationally visible as an extension of your own organisation.  If your cultures align, you are more likely to aspire to similar goals, to gravitate to similar working practices and to prize behaviours that move you towards shared business objectives.
Strict due diligence when choosing working partners is a good starting point; a thorough appreciation for whether your cultures align. However, much can change throughout your relationship – management changes, reprioritising aspirations and goals, key staff attrition, financial worries, mergers and acquisitions, economic and political change. Therefore, it is just as important to maintain your awareness of the potential for cultural shift within your strategic suppliers and to seek to realign where necessary.
Three Ways to Keep Cultural Values Aligned
As a result of working with clients on numerous complex strategic relationships, there are three key observations we find are helpful to keep your cultures aligned:
#1. Reconsider your relationship with your contract
Having worked on more than 500 strategic supplier relationships means that we have a good understanding of the relationship parties have with their contractual documents. Contract terms can simply reflect the agreement everyone signs at the outset of their partnership. This agreement is often filed and then forgotten, unless extreme circumstances require a review of it to determine its guidance on restitution should a supplier's performance fall below expected standards/levels.
However, a well-designed and drafted contract in a strong collaborative working relationship is a living, breathing document, one that drives great behaviours between both parties to innovate and jointly improve effectiveness. It is re-shaped, usually every six months or so (detailed below), to take account of changing circumstances and outcomes so that you both achieve your shared business objectives.
Keep your contract handy, understand where it aligns to your joint outcomes and where it does not. Be open to periodic, justified, amendments to promote fairness, equity and collaborative working in order to move you closer to your organisation's outcome aspirations.
# 2. Biannual contract 'fitness for purpose' re-shaping
Embedded within your contract should be a requirement for all parties to undertake a re-shaping process. This involves reviewing what is working well in the relationship each month and identifying where challenges continue to exist. Capture and discuss these in workshops every six months, with your internal and supplier teams. Once you are clear on the way forward, update your requirements, KPIs, governance and contract terms.
Central to the consideration of fitness for purpose should be an ongoing assessment of your supplier's culture and how it aligns with yours. Have the changes that have occurred in the last six months, within and without the supplier's organisation, shifted its commitment to the cultural ethos it had when you selected it?
The success of such a biannual re-shaping process is, to a large degree, affected by the strength of your understanding of one another – the depth of your relationship, fostered by your Intelligent Client Function (ICF) team or equivalent, whose role it is to ensure closer communications and collaborative working with their supplier counterparts.
Should issues be identified, or optimisation opportunities recognised, in this six-monthly workshop there must also be a willingness by all parties to find a way to realign. This is not always an easy exercise, which is another reason why it is so important to share a belief in the benefits of collaborative working.
#3. Commitment to following through with change
It's all well and good spending time with one another every six months to evolve your relationship, but if nothing gets implemented, if each party's commitment ends at the paperwork, then this exercise is not of value to either of you.
Change must be encouraged. As stated earlier, it's important to highlight what's going well as well as what's not, to provide evidence and reasoning for change that you must recognise may cause your supplier additional cost or discomfort. Invest just as much time fostering the trust in your relationship as you do in penning new rules by which to guide your actions.
Live up to your commitments. A re-shaped relationship will often adapt the responsibilities clients are required to commit to as well. Show your willingness to deliver on your promises and it will make any changes more palatable for your supplier.
Make sure that changes you request or require are fair, that they are agreed, and that they are fully understood, because your re-shaping process should be an opportunity to build closer relationships, not to create additional regulation and complexity in them.
Conclusion
Throughout the pandemic, Boohoo's share price had been rising strongly, but on 2 July those shares fell sharply. That being said, they have since seen an impressive recovery, following a path only marginally shallower than the rise they saw at the beginning of lockdown.
The appointment of Alison Levitt QC, a white collar crime specialist to review Boohoo's supply chain practices and policies, is a good start. Their request to the Home Office to stamp out poor labour practices and lead the industry will hopefully reflect their values across the board when dealing with supply chains.
As a result, Boohoo now seems to be weathering this particular storm, but the amount wiped off its shares in the wake of the Leicester factory story highlights the need for culture to be a bigger consideration for many clients in their selection and maintenance of their strategic supplier relationships.
Photo credit: iStock