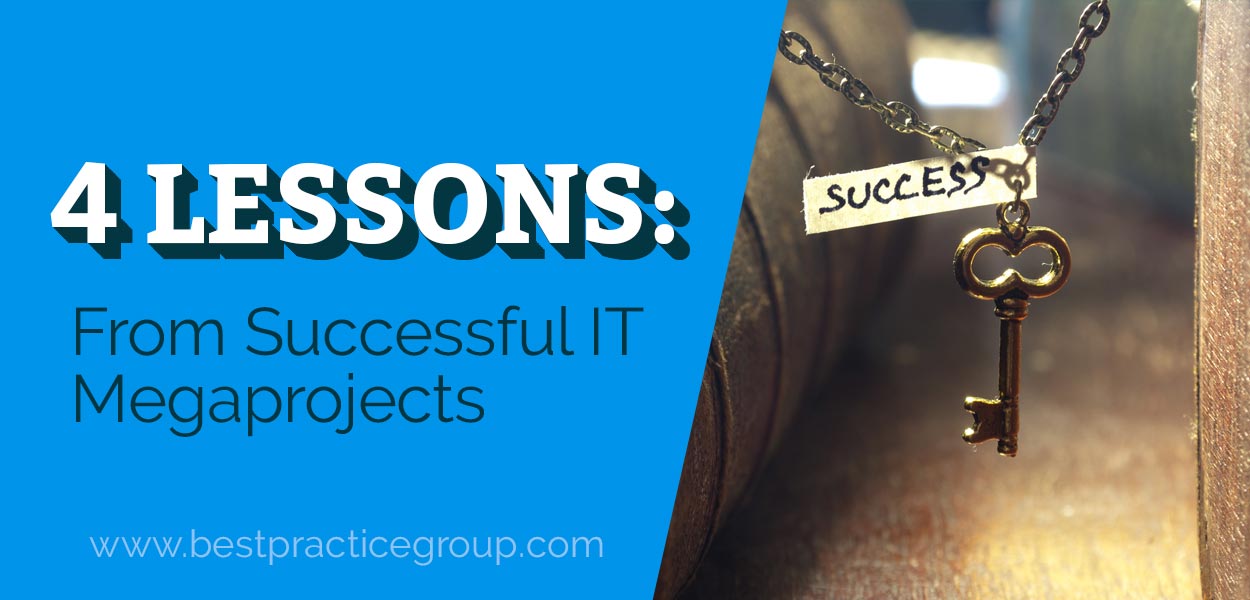 Megaprojects are large-scale public ventures, complex in nature, often taking many years to complete with the potential to impact on the lives of millions of people – they are projects on a scale that demands a very different management skillset, and often require budgets in the hundreds of millions.
---
IT projects have their own complexities so when your megaproject is the development of a new IT solution, evidence would suggest that the risks involved may be escalated from the outset. However, these projects often offer us an opportunity to excel, to succeed on a large scale, so we have chosen four of the most impressive IT megaproject success stories in recent years from which we have extracted a few lessons we can all learn and implement on our own projects – mega or otherwise.
The BBC's 2012 Olympics dual-screen and multi-platform streaming promise
---
When the BBC promised to offer coverage of every single sport at every single venue throughout the 2012 Olympic Games across numerous viewing platforms – BBC Red Button, BBC Sports Online, BBC1, BBC1HD, BBC2, BBC3, BBCHD, the BBC App and Radio 5live, to name a few – it certainly seemed like a challenging prospect. Streamed content had to be accessible across TV, PC, mobile and tablet. This resulted in up to 24 channels simultaneously streaming live coverage, providing 2,500 hours of sports. Almost 52 million people watched the games on TV; mobile site and Olympics app browsers totalled 9.2 million and there were an additional 2.3 million tablet browsers. There were 106 million requests for BBC Olympic video content, and 1.5 million clicks a day on the BBC's interactive video player experience that allowed audiences to revisit their favourite moments. Add to this the dimension of dual-screen viewing with social media integration, information on every athlete, real-time event updates and live alerts and you have an incredibly complex undertaking.
In the wake of the success of this megaproject, BBC Sport and London 2012 Head of Product Cait O'Riordan said: "The digital development teams in London and Salford as well as our commercial partners have worked incredibly hard for months to ensure that we delivered what we set out to do for 2012. Our editorial colleagues have worked around the clock delivering the video and text coverage that our audience loves. I am so glad all that work has paid off, with massive audiences enjoying the games across a multitude of devices. The feedback via email, social networks and on the blogs has been genuinely overwhelming."
To ensure that all the pieces on the board were in the right place at the right time for seamless streaming and dual-screen presentation required impressive management, faultless coordination and meticulous planning. The BBC is well known for having the in-house capacity to rise to such a challenge, but this was of a scale hitherto unseen in UK television history.
Lesson #1: Stakeholder management and collaboration are vital
When you have a project with a significant number of moving parts, as any IT megaproject is likely to do, coordination is key. The skill of management in these circumstances becomes the art of establishing and coordinating collaborative working – persuading all stakeholders across the project to work in unison towards a common goal, then making sure they actually do. The management team at the BBC organised buy-in support from programmers, IT, social media, management, data gatherers, graphics developers, and many more, across its various channels, collaborated with venues, and coordinated equipment and manpower. This would have been a monumental task, but one that the BBC managed to puppeteer with mastery.
Oyster – the card that revolutionised our transport systems
---
In 2003 Transport for London launched the Oyster card, a top-up payment system that allows 2.2 million people each day to travel on London's tube and bus network without the need to buy a ticket. In a single swoop Oyster reduced ticket queues and improved efficiency, as well as collecting journey data that enables Transport for London to refine their scheduling. A collaboration between TranSys, EDS, Cubic Corporation, Fujitsu and WS Atkins made it possible for the cards to be produced with radio frequency identification tags (RFID) for contactless entry and exit of the system, making commuters lives just that little bit easier on their journey in and out of the city. The infrastructure of Oyster cards, ticket machines, ticket readers, systems and central database required significant investment, but Oyster has proven to be very successful with only a few issues in its 13-year history.
Lesson #2: Front-end weighted project investment is money well spent
There is, of course, the need to prove the concept. Is the project likely to offer the outcomes or returns you are hoping for, and, if not, is there a better way of doing things or a viable reason for proceeding with the project? Spending a little more time and money at the outset of a project could save many millions of pounds in the future.
Transport for London decided to roll Oyster out slowly, testing it in great detail within a limited number of stations, ironing out any creases so that when it was time to widely distribute the system it was as bug-free as reasonably possible. "The system was given a very thorough thrashing before it was let loose on the public," recalls Pat Morey, Project Manager for TranSys. A similar method of investing at the front end of a venture to gather project intelligence to determine its viability and best approach can and should be taken on almost any project. And the mechanism for achieving this is your ICF (Intelligent Client Function) team. This broadly skilled and carefully resourced team of individuals is tasked with thoroughly assessing the business case for a project and to garner all the information necessary to determine the tactics, resources and supplier support needed to achieve the project's objectives. This early intelligence, along with ongoing reviews and contract refinement, will enable you to recognise issues early on, to test the waters, and be flexible to change that will be more likely to result in a successful outcome.
BIS – the austerity success story
---
Austerity is a term that we have become familiar with over the last few years, but in 2010, when the coalition government came to power, it was a shock to the system. Harder hit than most, the BIS (Department for Business, Innovation & Skills) had to find a way of cutting their administration budget in half over the course of the parliament. They achieved this goal without any significant knock-on effect on services. This was only made possible thanks to dramatic changes and an innovative approach. While others might have baulked at the idea, BIS merged departments and cut staff, introduced greater technology efficiencies and automation. Any opportunity for adding value and reducing costs was investigated and all this in an environment of open honesty, where management kept their teams informed of the challenges ahead and the successes achieved along the way.
Lesson #3: Clearly quantified goals ensure greater possibility of achieving expected outcomes

BIS assessed their needs and determined a clear outcome. They knew what milestones they needed to hit, what authority they had and how far they could stretch it in order to make the necessary cuts, and the resources they had available to achieve their goal. This clarity provided them with all they needed to determine a workable strategy – one that avoided wasteful meandering, one that offered direction and certainty.
Clearly quantified goals determined at the outset of a relationship and constantly assessed for viability in the environment of the project, reviewed on a regular basis and amended where necessary, increase the likelihood of planned outcomes being achieved.
CCS saves public purse tens of millions of pounds
---
In 2011 the Crown Commercial Service (CCS) was founded by the Cabinet Office to address, among other things, the issue of poor contract drafting that had become a significant problem in the preceding years. It had become far too common for poorly drafted contracts, decades in length, to simply ignore the realities of the outsourcing environment in which they were created and the relationships they were supposed to be designed to govern. The purpose of the CCS was to save taxpayers money, in part, by both assessing the viability of contracts in development and to train procurement officers in contract production and management. In 2014 alone the CCS vetted just over £15bn worth of IT project agreements, saving an estimated £5.9bn.
Lesson #4: An 'open book' approach can lubricate the wheels of productivity
An 'open book' approach is to offer a transparent process which involves all those within the project in determining its direction. Employees should be given the knowledge and the training to use that knowledge for the good of the project, and potentially have a financial stake in its success or failure. In reality, open book means sharing information and best practices so that everyone involved can contribute to the direction and outcomes of the project they are working on. While management may be the responsibility of the few, many heads all focused on the same goal can develop some surprisingly innovative solutions to add value to any project.
Conclusion
---
IT megaprojects are incredibly complex undertakings but, as the successful examples listed above show, they can also be incredibly beneficial. The lessons we can learn from the BBC, CCS, BIS and Oyster can easily be applied to almost any outsourced relationship to improve its chance of achieving its expected outcomes. So, no matter the size of your next project it is worth considering their inclusion in your thought process.