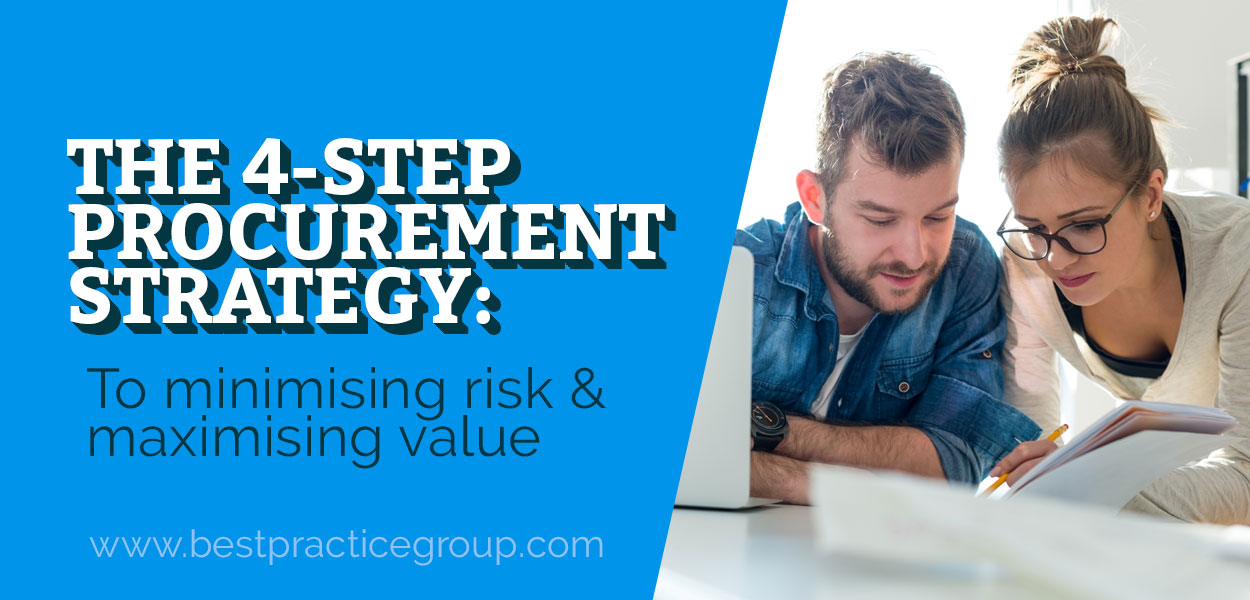 In the wake of many costly failed major projects, reported regularly in the media, it is more important than ever to have a tried and tested, effective, procurement strategy that you can rely on. How does yours stack up? Do you have a simple strategy that leads to procurement success? Do you follow it religiously?

A great strategic outsourcing relationship starts with a great procurement strategy
---
The process you use to determine which vendor or supplier will be the best option for your project or needs could be your first step on the road to either a trusting and invested relationship which not only achieves your objectives but has the capacity to surpass them, or a troubled and confrontational path to a costly mistake. With years of experience working to develop, restore or to cost-effectively end strategic relationships across the public and private spheres, we know that these first steps are the most important of all, as they set the tone for the rest of your relationship.
You'll likely have your own defined strategy to facilitate a successful procurement, so the aim of this post is to provide a simple four-step process that you can either absorb into your own process or use to develop a new procurement strategy for your organisation that is adaptable enough for use on almost any project when seeking new strategic partners.
Step 1: Clearly define your 'what' and leave the 'how' to your chosen experts
You may have assembled some very talented in-house expertise. But, from our experience, it is always better to leave the question of 'how' your outsourced partner will achieve your desired outcomes to your outsourced partner. Tempting though it may be to provide a blow by blow account of exactly how you would like them to work on the project, resist this temptation for two very good reasons:
1. You will no doubt select your outsourced partner because you feel they have the experience and expertise to deliver the outcomes you are aiming for. So take best advantage of their skills and knowledge and allow them the freedom to develop best of breed solutions based on the numerous projects they have successfully delivered for clients with aspirations similar to your own. If you dictate, then you stifle their creativity and run the risk of hindering progress; if you set them free, then their innovative nature may provide opportunities for added value to be achieved.
2. Should you interfere with your strategic partner's process you leave yourself open to genuine or opportunistic legal action. Should your project go astray you may wish to activate any recourse clauses in your agreement, or take things further and allow the courts to decide whether some form of recompense is justified. However, if your outsourced provider can prove that you interfered with their ability to deliver on your expectations, or on the expectations of the contract you signed with them, then this will severely weaken your case.
At the outset of any new project, you'd do well to put all your efforts into a thorough assessment of what you wish to achieve and the development of a 'requirements document'. Gather all relevant stakeholders, determine a clear view of where you currently stand and build a business case for the project based on the difference between what you currently have and what you hope to achieve as a result of the project. A clear definition of realistic outcomes for your project, the milestones and expected end results that you and your outsourced vendor can benchmark against, is essential to its success.
Step 2: Get vendor sign-off on your tender process
There is little else more likely to cause frayed nerves than the feeling that others in the process may have been given an unfair advantage. The projects we are talking about can be worth many millions of pounds and, therefore, a perception of favouritism or unfairness during the tender process can cause significant bad blood. This, in turn, can result in official complaints or protests that could delay your project and cost a small fortune.
The best way to avoid such an eventuality is to involve those tendering for your business in the process. A feeling of inclusion will certainly counter any perception of preferential treatment.
Clearly set out how you would like their tenders to be completed and submitted and explain precisely how you will be reviewing them along with timeframes and expectations, then get each of those tendering organisations to sign-off on what you have set out. This way, so long as you stick strictly to the tender process you have laid out, nobody can claim they were not informed or that one was given greater knowledge than another.
The other advantage of developing such a template is that you now have a process to follow to ensure that each tender is reviewed as a like-for-like comparison. This once again will lessen a disgruntled losing vendor's case should they wish to claim that you treated them or their tender differently.
Step 3: Create an evaluation framework – a formula for calculating the best contender
While the specific matrix you use will differ for each project, as what you are looking for from your vendor will vary, the fundamental elements will remain the same – the need to determine what you are most interested in evaluating, and how important each criterion is and how it should be weighted in the framework.
Essentially, the evaluation framework is a long list of criteria that you're looking for with their percentage weighting in the calculation noted next to them.
The process of developing just the right evaluation framework should be arduous – it's one of the most important things you'll do to determine which tender is the most suited to your needs. Therefore corners should not be cut here and a great deal of consideration needs to go into both asking the right questions of all stakeholders at your end to determine what your expectations are, and having the right in-house or external experts determining what is realistic to expect from those tendering.
Step 4: Build 'expert advice' into your contractual agreements
Don't enter into a new vendor/client relationship 'cold' – take your time to discuss the project with your prospective strategic partner/s, (make sure you share exactly the same details with each to avoid allegations of favouritism!), give them the opportunity to mull over the potential and possibilities and determine the best route forward. Get a better view of who these vendors are, how innovative, motivated and committed they are, as well as how they might deal with your projects. On top of this, the reasons for building a vendor's expert advice into your contractual agreements are twofold:
1. By clearly defining your vendor as an 'expert' you grant them the freedom to work out the best solution to achieve the outcomes and outputs you have determined your project should produce, or the confidence to surpass them.
2. While it's important to enter into a new outsourcing agreement with optimism for success, it's equally important to be pragmatic and protect yourself from the possibility of things not going as planned. Therefore, by building a vendor's pre-contractual expert advice into your contractual agreement you provide a clear audit trail for any post-failure judicial process to determine why certain decisions were made.
By failing to prepare you are preparing to fail
It may be an old adage, but it's no less true today in this context than it was when it was first coined. While this will take a significant amount of time at the outset, it will pay dividends later on in your strategic partner relationships. It is imperative to get your evaluation process right, to make sure the right questions are asked of the right people, to include your tendering vendors in the development of your tender template, to give them the freedom to develop best solutions based on their extensive experience and the confidence to innovate to add value, and to build their advice into your agreement with them. To not do all of the above will increase the risk of your project joining many others in failing to achieve its outcomes.