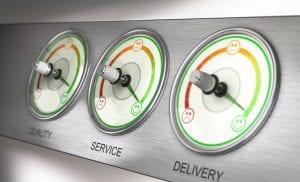 In March The Times reported that outsourcing giant Capita was continuing to go through a troubling period, with significant falls in revenues and headline profits necessitating further internal organisational changes.
This may not be either surprising or hugely troubling for most who have seen the organisation bounce back before. However, as it is representative of the signals clients should watch out for when considering the dependency of their own strategic supplier management it has inspired our analysis of the steps to take should your supplier find themselves in troubled waters.
Our evidence of over 500 of these complex relationships indicates that these types of events have the potential to impact and/or compromise service levels from strategic suppliers.
Therefore, if you believe your supplier may be going through 'challenging' times, what should you be doing to safeguard your organisation and those who rely on whatever your supplier is tasked with delivering? We look at four of the key steps the evidence identifies you should prioritise.
An insight into Capita's reported situation
Though Capita was established in 1984, some may not realise that this champion of the private sector has non-profit origins. Capita started out as a division of the Chartered Institute of Public Finance and Accountancy (CIPFA), a professional body tasked with the role of helping organisations to better manage public money and improve public services.
In 1987, as a 33-strong team, Capita struck out on its own. Today it has over 61,000 employees, is reportedly the UK's largest business process outsourcing company and describes itself as "a consulting, transformation and digital services business, delivering innovative solutions to transform and simplify the links between businesses and customers, governments and citizens". With clients in central and local government as well as the private sector, the fortunes of this outsourcing giant, both good and bad, are significant enough to be felt at a national level.
Capita has been going through some challenging times for some time now. Looking at a five-year chart of the company's share price on the London Stock Exchange website, we can see a fairly consistent fall since a peak of 656.74 on 7 May 2016 – with three dramatic drops on 17 September 2016, 20 January 2018 and 15 February 2020, each followed by a period of relative share price calm.
When current CEO Jonathan Lewis took the helm in December 2017, he set the company on a path to a multi-year strategy of transform to turn things around. His changes have been dramatic – announcing profit warnings, suspending dividends and a multimillion-pound rights issue – all of which has been reflected in the company's share price.
Changes of note that Lewis has introduced include Capita being the first FTSE 250 company in more than a quarter of a century to appoint a member of their rank-and-file to the board as a worker representative at the highest level. And, in a move to simplify the organisation's structure, this spring it had announced a reduction from six divisions to three.
Currently on the company's website it is split into six defined divisions: software, people solutions, customer management, government services, technology solutions and specialist services. Jonathan Lewis has reportedly announced that this will be changing to just three – one focused on government projects, one on blue chip customers, and a third which will include all of the organisation's non-core business. It is reported that significant disposals are likely to follow.
Four steps to protect your supplier's service levels if your provider is reported as having challenges
While Capita is already aware of its issues and, under Mr Lewis' stewardship, is making efforts to correct them, others may stumble and fall at times in your relationship with them. It is, therefore, vital that you are aware of the signs to watch out for and know what to do when you spot them in order to protect your service levels.
Your first task will be to separate fact from fiction, to identify if there really is a problem for you to manage. Trust your intelligent client function (ICF) team, the individuals you have tasked with working most closely with their supplier counterparts, as their insights into your strategic partner should guide your views on whether there is or is not an issue of note. And, speak directly to your supplier, because it's almost always best to find a way to keep lines of constructive communication open, so you can improve collaboration in times of stress and strain.
Also, as part of your open book contract, ask to see their management accounts, something you may already be doing as part of your project management role, as these will offer some indication of the scale of the issues your suppliers are facing (though do not be surprised if you get pushback against this request, in which case it may be appropriate to check your contract and escalate the request to your supplier's senior management).
Step 1: Determine how deep the problem may be
During your original due diligence you will likely have gained a view of your supplier's skilled personnel, their commitment to innovation and the expectations they have led you to believe were possible on your project. You may have validated some of this by speaking with some of their former clients to establish a baseline expectation of your supplier and their productivity.
Then compare this with the evidence you now have of their personnel availability, their investment in innovation, and their progress within the relationship to date. If delivery varies significantly from that promised, or if this has tailed off over time, it would be worthwhile exploring why. This is something that should be regularly monitored, as deviations may indicate the start of an issue that your proactive recognition and attention could quickly address to steer your supplier back on course.
Step 2: Consult your contract
Contracts are often drafted as blunt objects, focusing on guidance for only the worst-case scenarios, such as specific breaches of service levels and/or a supplier going into administration. However, a supplier in trouble may go through months or even years of struggles before administration is even considered and in all that time their service delivery to you may be compromised.
One way to minimise the impact on your organisation is to get ahead of any problem, to quickly identify it and work together with your supplier to reduce the negative way in which it will influence service delivery. To achieve this, you'll need to build some mechanism into your agreement at the outset which will allow you to regularly access a supplier's financial information to give you a chance of objectively spotting issues at an early stage.
Step 3: Have a backup plan
Business critical services which may be impacted by a supplier's failure to deliver what's needed when it's needed at the levels expected of them, must continue regardless. To protect your service delivery, when your supplier is unable to offer continuity, it's important to have the legal right to step in with a backup supplier.
One would hope that with your ICF team on alert, regular review of your supplier's financial information, open lines of communication, promotion of collaborative working practices and a strong sense of trust between you, that you'll be able to head off any problem at the pass.
However, as an insurance policy against this not happening, always maintain other strategic supplier relationships so that in an emergency  you would have an alternative available to you. Consider them to be the disaster recovery plan for your service delivery. This may be just a temporary 'step in', and your current supplier might be grateful of the space to sort out their issues, but you must have a way to cover service delivery when your legacy supplier cannot.
Step 4: Assure continuity of data security
The greater the sole responsibility that you hand to your supplier, the greater the risk that should they enter a period of instability it will be difficult to gain access to the data you'll need to take back control or reallocate your service delivery.
Continuity of service delivery is vital for your organisation. Financial and reputational loss as a result of a failure of service delivery continuity is part of the risks which need to be mitigated against. You will, therefore, want to ensure that critical data can a) be recovered as rapidly as possible, and b) is always available should you need access to it.
Once again, provisions for this are usually included in contracts, in the amount of data you entrust with your suppliers, and in the access you maintain to this data.
Conclusion
The Times has reported that Capita's profits have fallen by 56% and revenues by 10%. However, at the time of publishing this article today, the Capita plc share price continues to decline, sitting at c.40p, according to the London Stock Exchange website – a c.10% rise over the past 12-months. This seems to suggest that the markets remain nervous, but further falls could have been seen, had the market not recognised Lewis's efforts to turn things around and that Capita has been seen to weather similar storms before.
Should you recognise that your own supplier is struggling, it's important to clarify insights, determine your options, prepare your backup plan and protect the continuity of your service delivery.