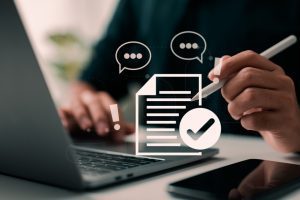 Following on from our recent blog What 'really is' a breach of contract and seven actions to take, this article takes the discussion a little further by looking at the remedies that might be available to you should you perceive that your strategic supplier is not delivering to the objectives and requirements you contracted for.
To recap – when you can objectively evidence that your supplier has not delivered to the expectations you believe you had contracted for, this is what is known as a breach of contract.
This article may also be helpful to read alongside some of our other FAQs on this subject – two examples being Do I need a Business Case for Early Contract Termination? and Should I Terminate my Supplier Contract Early?
What to do should my supplier not deliver to my contracted expectations and a breach of contract occurs?
It is important to have a plan in place, an understanding of the steps to take, should you find yourself in this unfortunate position.
Parties to complex strategic supplier relationships do not always follow the letter of the contract, as they may, with good intention, deliver something different. This on its own is not necessarily a breach of contract worthy of remediation. But should a breach occur, your choice of remedy will go some way to determining both 'satisfaction' and the course of the rest of the relationship, so you must choose wisely.
To 'repudiate' the contract means that you wish to end your agreement with your supplier and to 'affirm' your contract means you wish for your relationship to continue, but in both cases you may well be able to claim damages for the breach you have experienced.
Damages
Damages provide the injured party with a financial remedy. The purpose of damages is to compensate the injured party for the losses that have resulted from the other party's breach. Those losses are defined as either challenging to specifically quantify (general damages) or quantifiable (special damages) losses.
There are generally two types of damages you can pursue:
(1) 'Expectation' losses and (2) 'Reliance' losses.
Damages awarded for expectation losses are intended to put you in the position you would have been in had the project delivered all of the agreed benefits you expected. Damages awarded for reliance losses are intended to recompense you for all the relevant costs of the project expenditure you perceive to have wasted on assessing, procuring and implementing the project.
In the article we outlined earlier, Do I need a Business Case for Early Contract Termination?, section four outlines 'Expectation' and 'Reliance' losses in more detail.
Note, however, that when considering your claim for damages, it is also important that the injured party complies with its obligation to make sure that it has done all it could to limit the breach. This is achieved by being able to objectively evidence that it put into place operating practices that would reduce any financial and operational problems the breach was creating. For example, the parties that have been injured may agree to a voluntary rectification of the problem in order that the breach does not get formally escalated. In this respect, it reduces the losses being suffered and courts will often give much more credibility to your claim.
Where damages alone are not adequate enough to resolve the issue at hand, there are a number of additional remedies to consider.
Three example contractual remedies are:
a) Injunction (Mandatory) – Forcing specific performance
Though not a common remedy, it is possible for a court to insist that a party in breach should carry out the contractual obligation which it had not performed. Only expect this to be considered where it is a fair and just thing for a court to demand.
b) Injunction (Prohibitory) – Forcing someone 'not to' do something
While a mandatory injunction for specific performance is a remedy that requires a party to perform a contractual obligation, a prohibitory injunction is the exact opposite. It prohibits a party from doing something. It's important to note that this should only be pursued where no other remedy is available to you.
c) Rescission
Recission is where the contract is set aside. It's not just cancelled, but is treated as if it had never existed and parties are returned to the position they were in before the agreement was entered into in the first place. This can be done unilaterally or through mutual agreement and most commonly can be called upon in cases where misrepresentation, mistake, duress or undue influence may have occurred in the creation of the agreement.
Is there a time limit for bringing a contractual claim?
When a material breach of contract occurs, parties have a time limit of six years from when the breach could have first been reasonably identified (Limitation Act 1980) within which to seek damages.
While equitable remedies are usually not specifically limited by this Act, they are often treated in a similar way.
It's also worth noting that there is a three-year limit on personal injury claims and where recission is the remedy you are considering, the clock starts when the misrepresentation or mistake is discovered by the injured party.
Conclusion
All too often the automatic response to a breach of contract is to seek out a financial damages recovery (perceived by some as a punishment) on the other party. However, as with all relational precipice moments, it's important to consider the big picture ramifications of your actions.
You entered into your supplier relationship to achieve a goal together, the impact of your claim on the future relationship must, therefore, be considered – will it irreparably damage the commercial trust you have built up, do the benefits of damages outweigh the risks to the project, how easy and costly would it be to replace your supplier should this turn into an early termination by either party?
At Best Practice Group we have been analysing the big picture prospects of strategic relationships across the public and private sectors for decades, working with hundreds of clients to determine the best way forward to building, retaining, realigning and ending those relationships. Therefore, if you find yourself facing a breach of contract situation, before you call in the lawyers, give us a call for a free, confidential, no-obligation discussion to help determine the best way forward for you.
Call 0845 345 0130 or book a call with Allan Watton (BPG's CEO) in his calendar.