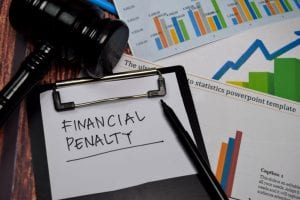 "After lengthy, fully contested proceedings, the Tribunal concluded that the audit work fell significantly short of the standards expected of an audit firm and its partners." These are reportedly the words of the Financial Reporting Council's Executive Counsel Elizabeth Barrett at the conclusion of a lengthy investigation into Deloitte and two of its former partners.
Deloitte has been fined a record-breaking £15 million (almost US$20 million), for what has been described as "serious and serial failures" in its audits of software company Autonomy. The dispute focuses on audits of the company's financial statements, which were thrown into the spotlight because Hewlett Packard bought Autonomy in 2011 for US$11 billion; however, within a year, its new owners had serious misgivings, suggesting they had been "deceived" about the company's value.
In a Reuters article, it was reported that: "HP has claimed Autonomy's management fraudulently booked revenue and engineered sham sales to some resellers to inflate the company's value."  This came hot on the heels of the statement that "Autonomy's former Chief Financial Officer, Sushovan Hussain, was convicted by a U.S. jury of wire fraud and other crimes related to claims that he inflated the firm's value before its sale."
Deloitte has also been reportedly ordered to pay all investigation and tribunal costs – the investigation side of proceedings alone being estimated to be around £5.6 million.
On top of Deloitte's fine and Mr Hussain's conviction, two former Deloitte partners were also under investigation. Now they too have been fined: Nigel Mercer reportedly being fined £250,000, and Richard Knights not only being fined £500,000, but also having to endure a 5-year exclusion from the ICAEW. Both men deny any wrongdoing.
Elizabeth Barrett, FRC's Executive Counsel, stated that the "identified failures to act with integrity, objectivity, scepticism and professional competence go to the heart of audit", something we recently wrote about in our article PWC, Deloitte, KPMG and EY accused of conflict of interest; 4 tips for greater confidence when engaging audit partners where we discussed the future of audit in an era where so many have been disputed.
In that article, we reviewed the FRC's recommendations for improved quality and independence in auditing which required the Big Four accounting firms to implement four changes before June 2024. These were to:
Create a firewall between audit and other activities within their organisation
Separate accounting and reporting in audit departments
Create a separate board for overseeing the organisation's audit activities
Make changes to the pay structure of those within the audit department.
Four ways to improve the quality of your audit engagements 
The FRC's expectations of the Big Four are still some years away from required implementation so, in the meantime, here are our four tips for greater confidence when you instruct your auditors that you can apply now:
Check how closely your audit partner already complies with FRC recommendations
As the four recommendations suggested by the FRC are simply elevations of measures already built into the finance sector's code of conduct, it is reasonable that your audit partner should already be compliant with them. Therefore, the first thing we would recommend is to assess how closely they do comply, as this will not only evidence a respect for their existing industry rules, but also their willingness to comply with the future changes that the FRC is recommending.
Build closer working relationships with your audit partner
Issues can often occur due to a lack of understanding or a lack of insight into a strategic (audit) partner. This risk can be reduced through increased efforts to build closer working relationships with them – having team members dedicated to the role of relationship management in order to build a better understanding of what's going on 'below the surface', so issues can be avoided, problems can be identified and the potential for disputes can be handled early enough for any impact to be minimised. The team members tasked with building deeper relationships should also be intimately familiar with the audit process so they can alert you when matters become misaligned, and where they think that not enough diligence is being undertaken or a lack of context is being applied in certain aspects.
Rapid identification and response to issues
'Listen, verify, act' – this highlights the importance of early and clear identification of issues. Taking rapid action is important to ensure that any deviation from expected practices, and the resulting impact, are minimised. However, before jumping in with what could be an uncomfortable conversation with your auditors, it's vital that you have gathered enough evidence to verify your assumptions and elevate them to conclusions. This does, once again, require team members with in-house audit expertise to speak with authority on issues that either exist or could come into being, as a result of an auditor's practices.
Understand the inner working of your Letter of Engagement
Armed with an early warning of unexpected practices, evidence that they are occurring, knowledge of the potential ramifications of these practices and a scheduled meeting with your auditors, the last piece of the puzzle involves a detailed knowledge of your legal recourse and rights. How well do you know your letter of engagement? Do you know how far your auditors can deviate from the path before any practical escalation might be necessary? If matters are not resolved, may legal recourse be required and do you know what rights you have to pull them back into line? Proceed with caution, though, as a good auditor is hard to find and you do not want to damage the commercial trust you may have built up with them, as this could impact the collaborative relationship you share. That being said, the potential ramifications of not doing anything could also be severe.
Conclusion
Deloitte's response to the fines and accusations was reportedly to say: "Our audit practices and processes have evolved significantly since this work was performed over a decade ago, and we continue to transform our audit by investing in firm-wide controls, technology and processes." And, while the full costs are yet to be determined, this is just another example of why the FRC's recommendations should be implemented sooner rather than later.
In the meantime, it would make sense to follow your own due diligence of the Big Four in terms of validating that they have evidenced their willingness to comply with those recommendations. It would be prudent to also consider the four measures we've listed above to provide that little bit more confidence that you are selecting the right audit partner for your organisation.
Photo credit: iStock