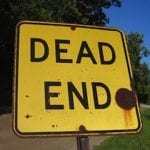 In last week's post on using an expert to fix a failing provider relationship we touched upon the fact that repairing a relationship is almost always better than terminating one.
Termination is a rocky road to travel down. The potential liabilities are huge, reputations on both sides are at stake, and unless there is a truly glaring instance of contractual wrongdoing, neither party is likely to back down. In short, it is a situation best avoided.
But occasionally, doing so simply isn't possible. Consistent neglect over a long term period, despite attempts of rescue, can leave a client feeling that they have no other choice but to terminate their contract with a service provider.
Today I want to focus on a scenario we were brought into in which it was seen as necessary to terminate a commissioning agreement. Whilst the outcome was ultimately favourable, the journey taken (and the painful lessons learned) were ultimately unnecessary.
The Pitfalls of Contract Termination
Our client was a Council who had commissioned a managed IT service. Unfortunately, they had been on the receiving end of poor service for several years. Despite multiple attempts to improve performance, no genuinely positive outcomes were experienced.
The Council sent a formal letter of termination which was accepted by the provider who then claimed significant monies from the provider for wrongful early termination. Despite the Council's perception of their service provider's complete contractual breach and negligence, the provider felt that they had grounds for a legal claim. This is just one example of why termination is rarely the best option — just the act itself can be fraught with pitfalls.
As one might expect, from that point onwards the situation became formal very quickly. Fast forward a couple of years and both parties were deeply entrenched, having spent much on legal assistance. Litigation seemed all but inevitable. That was the situation we walked into.
What Happened Next
In a nutshell, in such a situation the expert's role is to make an objective analysis of the likelihood of successful and expedient action.
For such a huge service with a vast history of non-performance it is all too easy to argue the small points rather than focusing on what really matters. Separating the wheat from the chaff in terms of valid complaints was our first task.
This leads directly onto the second most important factor in bringing such a standoff to a beneficial outcome — the provider must be able to understand the core issues in question, along with their materiality. The executive and commercial team may not even be aware of how poorly their organisation is performing. As such, it is the expert's role to make the situation crystal clear.
Getting to that point follows much the same process as that of fixing a contract as discussed last week — you start from the same point and diverge when appropriate. Once rescue is clearly identified as impractical (or impossible), a case is put together:
The issues being experienced under the agreement are carefully reviewed
Requirements for strengthening the case are identified
Case studies and use cases are developed to communicate obligations under the contract versus actual performance
A contract assessor is utilised to ensure that the case studies are both effective and relevant to the contract
The Outcome
After two years of increasingly hostile jostling, both parties were able to realise that a messy and protracted court case was not in their best interests.
This led to an early settlement, with both parties' reputations intact. Given that litigation had seemed all but inevitable, this was an outcome that favoured both the Council and the provider. Although the settlement led to a sizeable cash saving in the Council's favour, both parties saw the outcome as a win/win situation.
Not only that but the outcome was achieved in double quick time — just three months from initial deployment. Given that two years and a huge amount of money had already been expended in costly legal wrangling, such an expedient outcome was welcomed with open arms.
Ultimately there are three lessons to take away from the above case study:
Take great care before terminating an agreement.
The process of repairing a provider relationship is the same as termination, so keep an open mind.
Deploy the expert team earlier!
Creative Commons image courtesy of bennylin0724