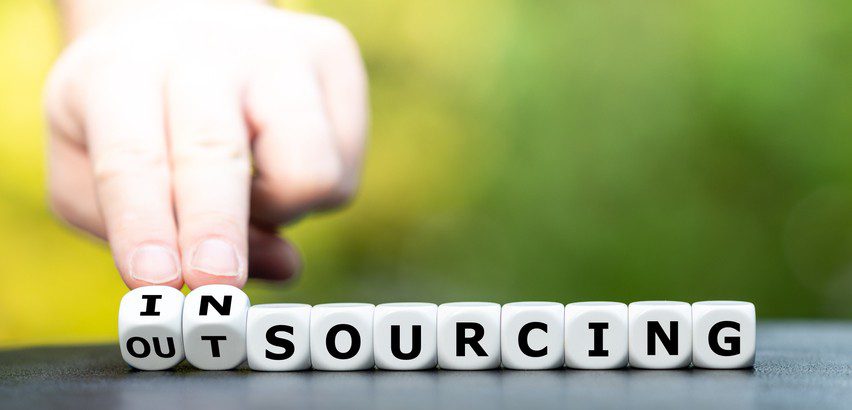 There are many reasons why you might consider Insourcing services or a function that has previously been delivered by an external third-party provider. We look at the typical challenges organisations face when undertaking the decision to insource and the foundations which can be put in place to assure success.
What do organisations expect to gain from insourcing services?
The main expectations which lead organisations to insource, (choosing to take back in-house services, processes, functions, etc. that were previously undertaken by/outsourced to a third party), include gaining better control over services and lower costs. 
Insourcing can allow organisations to:
Build competitive advantage over similar organisations that use outsourcing to deliver their operational processes.
Retain any intellectual property for ideas created during their employees' tenure.
Keep one culture; this can be advantageous, as it is possible for an organisation's culture to clash with that of its outsourced suppliers.
Focus on their core values and deliver services with greater alignment to those values.
Potentially reduce costs. If you know 'what good looks like' for the service you want to insource, then you can recruit the right people and potentially save considerable service costs.
Promote innovation and more rapidly roll out iterations of concepts and pilots.
Break free from a supplier that was not the specialist it suggested it was and therefore held back improvements.
Be free to make more agile decisions as the party closest to the metaphorical coalface and, therefore, sometimes better placed to identify the needs of the end user.
Take direction and control of the operational processes in house in order to determine 'how' the service will be delivered – something which must be relinquished to your supplier if you are outsourcing, but which some clients may be better positioned to do themselves.
What challenges typically arise when insourcing services?
While, for some, there are certainly advantages of moving to an insourced delivery model, the transition might not always be smooth sailing. Here are some of the key issues that may arise:
Internal resistance to change from both operatives and senior management.
Not measuring costs or service levels before moving from an outsourced service to the insourced service and, therefore, being unable to assess/communicate whether you are achieving better value for money to senior stakeholders when the insourced service moves into BAU status.
Not having clarity of the processes being operated by the outsourcer prior to in-house implementation.
Not determining, with enough clarity, the knock-on impact of drawing resources and manpower from other areas of the business to work on the insourced project.
Not appointing a full-time project team early in the process.
Not focusing sufficiently on the transition period and determining what costs, delays and disruption there may be and the consequences of this.
Not having a robust project plan clarifying employee resources.
Not considering succession planning thoroughly enough, so when people leave, their knowledge of the project leaves with them.
Becoming bogged down in having to standardise technology and processes pre-implementation.
Having inappropriate risk management, monitoring or contingency planning.
Not undertaking an appropriate options appraisal to independently validate whether insourcing or outsourcing is the most effective option.
Not considering the time and cost implications of exiting from a strategic partner who does not wish to play ball and the subsequent contractual issues that will ensue.
Fifteen foundations for successfully insourcing services
Some key principles can be implemented at an early stage to afford greater prospects of success:
Articulate service expectations so that it is clear what your organisation must achieve.
Determine precisely why your organisation is now more capable of delivering the level of service it could not before, which was the reason why the service was outsourced in the first place.
Identify all resources that insourcing will require and fully cost out the expense of procuring all the talent, technology and other practical resources needed.
Share the in-house vision and assess the level of stakeholder buy-in.
Baseline your existing service levels and costs pre-insourcing, at the same time identifying where your supplier has been deviating from service level expectations so you can measure positive progress.
Business case clarity. Develop a well-articulated vision that accurately reflects the direction of travel for your organisation and how the insourced services will help to enable that vision.
Clear governance process across the relationships with the outgoing provider and in-house team.
Implement an appropriate performance management structure.
Governance of change management. Have an appropriate process that assures each change builds on a foundation to drive better outcomes and business improvement aligned to the business case.
Develop a fit-for-purpose Target Operating Model with supporting technology considerations.
Have clear SLAs for internal service delivery.
Pilot test in-house services in defined areas to assess implementation practicalities.
Develop an appropriate Exit and Transition roadmap.
Knowledge transfer governance with particular emphasis on capturing 'corporate memory' for changes to services that worked well, not so well, and why.
Develop a service and contract reshaping process and ongoing performance benchmarking to assess value for money against predefined baselines.
Do you need help with your insourcing plans? 
BPG knows what practices work really well. Having optimised over 500 complex supplier relationships, we have deep expertise of trust building in relationships with suppliers you wish to exit services from, along with assessing your internal capability to assure the service can be safely and effectively delivered in-house. Our proven method helps you achieve your outcomes, quickly.
How you will benefit from BPG insourcing support
We will deliver maximum value from your service insourcing. Using our 'Optimise' method, we will help you assure:
Your business case for insourcing is independently validated.
Requirements and expectations are internally agreed within your organisation.
Your exit and transition arrangements from the outsourced supplier are clearly communicated.
That you've minimised any commercial cost risks in the supplier's contract.
That the exit process from the incumbent supplier is safely managed to assure maximum value from the insourcing process.
A stable relationship promotes innovation. BPG's 'Optimise' method will drive collaborative behaviours between you and both your exiting supplier and the newly created in-house service delivery team, reducing BAU costs where practical.
Want to Know More?
If you are still considering your options for service delivery models and weighing up the pros and cons of insourcing v outsourcing, you may find our 'Insource or Outsource? 3 key steps to decide the best route' article useful.