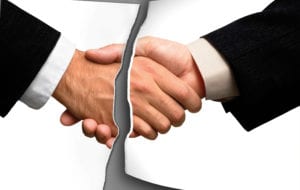 The early termination of any major commercial relationship for a high-visibility organisation will inevitably cause ripples in the marketplace. The effects of which – like the infamous 'chaos theory' that starts with a butterfly flapping its wings – are difficult to predict, but are likely to have a far-reaching and significant impact.
Therefore, knowing how to handle such an event whilst reducing the operational and commercial consequences is a critical insight to possess. The recent press stories highlighting the successful appeal by the Home Office in its court case regarding the 'e-Borders' project, brings to the fore some key observations in the skills and knowledge that are required to successfully achieve a balanced outcome in the early termination of a large and mission critical contract.
The e-Borders programme, like so many others in recent times, was developed in an attempt to improve efficiencies and accuracy by combining many sources into a single national database of information that could be used more effectively for its intended purpose.
In 2007, the then Labour government signed an agreement worth around £750m with a group of IT companies headed by US defence giant Raytheon Systems to assist in the creation of a £1.2bn e-Borders programme. The programme's aim was to track passengers entering and leaving the UK, and check their details against police, security and immigration watch lists, effectively to "create a joined-up modernised intelligence-led border control and security framework".
In 2015, with the rise in threats from overseas, this would seem a fundamentally important programme, but in 2010 the current government cancelled the agreement with Raytheon Systems because, according to Theresa May: "Key milestones had been missed and parts of the programme were running at least a year late. Raytheon Systems Ltd had been in breach of contract since 2009. Prolonged negotiations had taken place under the previous government which had led nowhere." Cancellation of this contract has "cost the taxpayer £259.3 million, including £195 million in supplier costs".
The reason why this project is top of my mind today is that last month the government announced that the £224m compensation payment they had been ordered to pay Raytheon Systems for cancelling their contract had been set aside following a High Court hearing. According to Home Office sources, though, this is unlikely to be the end of this five-year battle.
A brief history of the e-Borders programme
In 2003 Tony Blair announced the need for a centralised system to check everyone in and out of the UK as part of the 'war on terror' and international crime.
In 2004 IBM delivered a £15m trial called Semaphore, a limited pilot system for the broader border control system that was to be e-Borders.
2007 saw the government signing an agreement with a group of IT companies led by Raytheon Systems.
In 2009 serious questions were raised as to whether the then two-year-old project was in fact legal under EU law. This focused on the issue of free movement of people around the EU and questions over the data other countries were being asked to supply on their citizens.
In 2010 the coalition government cancelled their contract with Raytheon Systems who subsequently sued for £500m, a legal battle that has been going on for the last five years.
In 2013 a report by the UK's Chief Inspector of Borders and Immigration, John Vine, said that "although the system probably has the capacity to receive all general aviation passenger data, that data is not currently being received. There are various reasons for this, one reason being that the government failed to appreciate that the data protection rules in other EU countries prevents information being shared with the UK." It seems that there has been a fundamental breach of due diligence here as the fact that this important data would not be available should have been discovered at the outset of the relationship.
In 2014 questions were asked whether the selected route to resolution, arbitration, was the best one for the issue, for the government and for the British people. Also in this year the e-Borders name was killed off as was one of the fundamental objectives of the programme, to count all passengers in and out of the UK for immigration statistics. The functions of the e-Borders programme have been incorporated into the Border System Programme.
Also in 2014, Keith Vaz, Chair of the Home Affairs Select Committee told the BBC that "the Labour government he had been a part of had made a 'huge mistake' by signing a £750m deal with Raytheon in the first place and the coalition had been right to cancel it". He went on to say: "When they signed the agreement with Raytheon, they did not put benchmarks in that agreement, as a result of that Raytheon was able to turn round and say 'well, we were not told what to do'."
In August last year it was announced that Raytheon Systems had won a dramatic victory to the tune of £224m in damages because the Home Office had "unlawfully terminated" their contract.
So, despite what has been reported as clear breaches in duties, contractual obligations and due diligence, a costly legal battle has gone back and forth for half a decade and it is unlikely to be concluded with this latest judgment. While this type of case is often complex and we are unlikely to know the full details, at least for many years, there are some good practice processes you can consider for your outsourced relationships if you would prefer to avoid a protracted and overly expensive early termination experience.
The 6 step early termination process
The insights we provide to you below are based on many years of being involved as technical expert witnesses for the courts, and understanding the key issues that courts take notice of when trying to understand whether terminating a major relationship early is an appropriate action to take.
It's common sense for everyone that early termination is a decision that should be avoided wherever possible, but there are times when it is the only practical course open for both parties. To determine whether such a course of action merits a more detailed review, we often find it can be helpful to think about these six key considerations in the first instance:
1. Consider whether termination the best course of action
Early termination of your outsourced relationship is a costly, complex exercise and there are often mechanisms that can be put in place to rebuild the trust both sides once had in one another's ability to see the relationship through to a successful conclusion. Have you investigated all of your practical options? Have you developed a business case for your early termination? Did you know that if you don't fully explore your options, this can put you in a much weaker position should your matter go to court?
2. Decide how service continuity can be maintained
If you remove your strategic vendor partner from the equation how will your services or project be delivered? Will you instruct a new provider/supplier and if so, who? Or will you be bringing responsibility for delivery back in-house, and if so, do you have the specialist experience, capacity and the resources to achieve better results than your current relationship would yield?
An appropriate plan of action is needed to ensure that every practical consideration has been addressed and that the transition process is as smooth and seamless as it possibly can be. Bear in mind that if you are in the public sector and you need to terminate certain services early because of mission critical issues or a potential statutory or legal breach, there are ways of circumventing EU procurement rules without being in breach of EU procurement law to ensure the safety of the service.
3. Prepare your evidence
Why is your relationship now in an irretrievable state? Whether you believe the situation will degrade to a point where you will end up in court, or you simply believe that it's necessary for effective exit negotiation, it's important to be able to independently evidence your reasons for exit so that you cannot be accused of any material bias. Clear, accurate and quantifiable issues and breaches need to be gathered and documented. This includes whether your vendor has lived up to their 'expert' responsibilities as relied upon during procurement and from that point onwards. Once all evidence has been gathered it is important to sanity check whether you have a strong enough case now that you have all of your supporting information to hand.
4. How you go about your termination is crucial to its success
Will you choose to approach exit discussions with your strategic partner through pre-formal negotiations, formal demands, formal mediation, export determination, arbitration or litigation? Each has its merits and costs, and which you decide to launch into may well determine the reception you are given and the end results. Enter your chosen forum with all the evidence you need to prove a strong case for exit, clear arguments, and a plan for exit that shows consideration for both sides.
5. Ensure your exit is properly resourced and managed
An agreement to terminate your relationship is just the beginning of the process. An early exit will consist of many interdependent steps that require skilful management and a well-resourced team to achieve. Timetables need to be adhered to, milestones identified, and responsibilities allocated and monitored.
6. Retain the right expertise
We may have mentioned that terminating a relationship early is a complicated affair, but one thing that can ensure a successful conclusion to your untenable relationship is the instruction of independent support. This is not a 'plug' for our services; having independent and specialist support that can review the relationship with professional detachment and have experience in ensuring that all practical routes to resolution have first been investigated, can save a huge amount of misunderstanding and costs. If it is established that exit is the only practical option and that you have appropriate evidence to support it, you will be able to exit your relationship swiftly and safely to move forward with your operations.
It seems from the reports that we have researched and quoted from in the course of this article, that the Home Office's relationship with Raytheon Systems had become very strained, and that they believed they had the evidence to back up their claims that their strategic partners were in breach of their obligations under their agreement.
However, it's equally clear there are those who believe this matter could have been handled in a very different way to achieve a better outcome. The 'back and forth' responsibility for the relationship not achieving expected outcomes, and dissatisfaction with the secrecy of a closed-door arbitration process that has taken so long and has continued to fail to resolve the dispute, seems to have protracted what could have been a very different and more positive outcome for both parties.