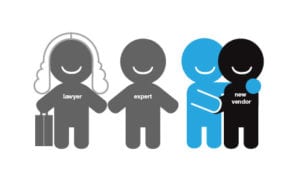 When Strategic Suppliers represent themselves as a specialist in the services you would like them to manage, the law implies certain obligations and responsibilities upon those suppliers, (their Expert Responsibilities) even if those responsibilities aren't documented in any written contract terms or schedules attached to the contract. If the Strategic Supplier acts as a specialist and it tries to exclude its expert responsibilities in the written contract terms, then it is likely a court would take a very dim view of those exclusions and would probably not allow the supplier to rely on them.  
Strategic Supplier Expert Responsibilities
When initially contracting with a new supplier or if you're considering asking an existing supplier to re-scope and re-shape its services, you must bear in mind the following points: 
Your 

suppli

er is responsible for ensuring that its service is fit for your intended purpose before they deliver the services for you. E

.g

. they must identify any material challenges prior to contracting with you for the services.

 
Your 

suppli

er must validate your requirements prior to contracting with you at the outset. This same obligation rests with them for the re-scoping of services going forward. If challenges arise during service delivery, your 

suppli

er cannot state at a later date that your pre-contractual requirements were ambiguous.

 
Your 

suppli

er cannot expect you to validate whether its service is appropriate for your requirements. The partner must make clear what process it will go through itself to validate whether its services are suitable to meet your expectations (or not).
Your 

suppli

er cannot "contract out of" being responsible for its advice as an expert provider.

 
These points relating to Strategic Supplier responsibilities are known as "implied" terms under the Sales of Goods Act 1979, Supply of Goods and Services Act 1982 and the Sale and Supply of Goods Act 1994. Implied terms are usually legally binding, regardless of whether they are actually contained within the contract wording. If a provider insists on contract terms that run contrary to one or more of the implied terms, then you should wonder how serious they are about rebuilding your relationship with them. 
Your Responsibilities to Your Strategic Supplier
While your supplier has specific expert responsibilities to you, you should also remember that the onus is on both parties to maintain a working relationship. The case of Anglo Group Plc v Winther Browne & Co Limited [2000] 72 Con LR 118, established some clear responsibilities on the client side. 
Your responsibilities are to: 
Clearly communicate any special needs to the 

Strategic Supplier

. If you become aware of issues that the partner might have missed during their scoping, you are obliged to raise this with them.

 

Take reasonable steps to ensure that 

the your

 

Strategic Supplier

 

understands those needs.

 

Devote reasonable time and patience to understanding how to work with your 

Strategic Supplier

.

 

Reasonably work with your 

Strategic Supplier

 to resolve the challenges that will almost certainly occur.
Inadvertently Removing Your Strategic Supplier's Expert Responsibilities
Another critical, but often unappreciated factor, is that your own behaviour can affect whether the Strategic Supplier has to abide by its contractual responsibilities. 
Your client–side team and Intelligent Client Function will often operate project management frameworks (such as PRINCE2) and contract management processes to support and measure the relationship's performance. However, vanilla project management frameworks usually only take account of the project's operational aspects, not the delineation of expert responsibilities implied in law. This can result in the majority of your contractual protection becoming unavailable. 
In practical terms, the problem arises because the project managers do the 'right thing' from a project management perspective and take control of the errant relationship, eroding the Strategic Supplier's expert responsibilities from a contractual point of view. Worse still, the project manager and the client organisation usually end up becoming the 'expert' themselves. This means that you can no longer rely on the supplier's expertise and the supplier can attempt to charge you for every change to their service, irrespective of whether they were the cause of the problem.  
More Effective Transparency in Responsibilities During Service Scoping/Re-scoping
By being clear about the service delivery outcomes you expect from the project/relationship, you can assure the successful commissioning of new fit-for-purpose solutions/services or significantly accelerate the process of service improvement and rebuilding trust with your supplier for existing solutions/services. This can be achieved by the supplier undertaking a scoping/re-scoping (due diligence) exercise, so they have a fair chance of evaluating your business expectations and you can contractually rely on the advice the supplier provides, in line with its expert responsibilities.  
In this respect, it is important that during the scoping/re-scoping phase, you contract for the advice you are relying on from the supplier separately to the solution they are going to deliver to you. In this way, you avoid the risk of costly misunderstandings arising in 6 or 12 months' time and remove the option for suppliers to claim that you held back information or miscommunicated an important deliverable when you perceive that they are failing to deliver to your expectations and requirements.