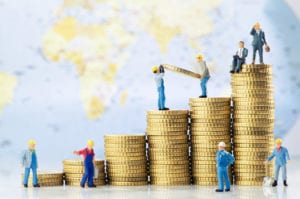 A wave of media attention has been building over the last 18 months on the financial stability of a number of outsourcing giants, including Serco, G4S, Capita, Carillion and Interserve.
Increasing attention is being focused on the last of this group: Interserve. With the announcement of its second debt refinancing in a year, inevitable comparisons with Carillion are starting to be made. So, what does this mean for Interserve's future and for the government contracts the organisation is still winning?
Interserve, From Then to Now
One hundred and thirty-four years ago, brothers Edmund and Augustus Hughes founded the London and Tilbury Lighterage Company Limited, which specialised in transferring cargo from vessel to vessel. Later the company diversified into dredging, gained a few international contracts, added construction to its services, then sewage treatment, road maintenance and sea defences. Eventually, the group renamed and Interserve grew to be one of the UK's leading outsourcing organisations, a FTSE 250 company with 80,000 employees across the globe and revenues of over £3bn.
However, over the last few years we have seen media speculation that Interserve continues to experience a number of challenges, culminating in its share price falling to a reported 30-year low, debt refinancing deals with a number of banks, and a plan for recovery that will reportedly mean job losses and the sale of divisions of the business.
Interserve's Reported Financial Challenges
According to the Financial Times, Interserve has "been plunged into difficulty by a series of ill-timed acquisitions and by expanding into probation, healthcare and waste-to-energy contracts, areas in which it had no experience."
The paper went on to report: "Interserve ran into trouble in 2013 when it bought Rentokil Initial's office cleaning business for £250m — contracts that turned out to be a 'mixed bag of low-margin work'. Problems mounted when it bought an oil-services business in the Middle East just before the oil price halved and contracts running a back-to-work scheme for the jobless, just as employment levels started to rise."
Some signs of uncertainty seem to have been on the wall earlier in 2018. In the six months up to the end of July 2018, it's reported that Interserve paid just 17% of its supplier invoices on time.
It appears that in March 2018, Interserve agreed to a financial rescue plan with HSBC and RBS. The rescue plan reportedly cost it £31m and involved 30% of its business being sold to lenders for 10p a share, and was rumoured to involve the loss of 1,500 jobs and the sale of a number of its 'non-core' businesses. In return, the banks gave Interserve borrowing facilities of £834m until 2021.
However, only this week the BBC has reported "Interserve: Major government contractor seeks second rescue deal'', stating that the company "struggles with £500m of debts". The Financial Times reported that the company was "looking for a deal to refinance its debt" once again.
The stock market reaction was reported as "Shares in Interserve – one of the UK's largest providers of public services – have collapsed after it revealed it is seeking a rescue deal", and "Sources close to Interserve's creditors have told the BBC they accept they may have to write off some of their loans to ensure the company's survival."
Interserve is reported to have put out a statement saying that the "fundamentals of the business are strong and the board is focused on ensuring Interserve has the right financial structure to support its future success". So, is Interserve looking to convince the media that everything is under control?
As an aside, internally at least, the company seems to be feeling positive. Earlier this year, it awarded its CEO a 125% bonus for their contribution to the company in 2017. Though according to another BBC article: "Former executives faced angry questions over dividends paid to shareholders and bonuses paid to executives, after it became clear the company was in financial distress." One has to question the optics of continuing to pay chief executives significant bonuses when to the rest of the world it looks like the company continues to go through operational and financial challenges.
Is There a Similarity to Carillion?
Both Carillion and Interserve have been heavily reliant on government contracts for their revenues. Both have been major outsourcing players on public sector projects, both saw sharp share falls, delayed contractor payments, and despite the announcement of financial woes, it is reported that both companies continued to be awarded public sector projects. For example, in August of this year it was announced that Interserve had won a £67m contract to continue providing facilities management services to the Foreign and Commonwealth Office.
However, the BBC cites specific reasons for Interserve's troubles, that atop the poor investment decisions of a few years ago, its issues have been exasperated by "cancellations and delays in its construction contracts as well as struggling waste-to-energy projects in Derby and Glasgow". And, because of continued confidence from the government, support of the banks and "lucrative contracts in the Middle East", there are reportedly enough differences between the two companies for it not to be considered a given that Interserve will have a similar trajectory to Carillion.
7 Steps to Protecting Your Interests Should You Suspect Your Provider to be Going Through Challenging Times
Interserve may well come through this stronger than ever. But if you are concerned that your own provider may not get through a period of uncertainty, there are a number of considerations you can put onto your radar as we outlined in our previous article regarding Carillion:
1.
What does your contract say?
A well-drafted contract will have clauses to cover you in the event that your provider deviates from their service level commitments to you, often an initial sign that there could be operational challenges within their organisation. These clauses should help you to identify how to encourage them to get back on course or provide the restitution you are entitled to. Some contracts may also cover situations where your provider gets into more serious financial trouble, though unfortunately many will not, in which case you could fall back on your provider's 'duty to warn'.
2.
Duty to warn
Stephenson Blake (Holdings) Limited vs. Streets Heaver Limited and J Murphy & Sons Limited vs. Johnston Precast Limited are two important cases in the argument for a provider's duty to warn clients should they know that they will not be able to live up to their responsibilities and commitments. This could lead to financial remedies for services that fail or professional indemnity insurance for providers that fail.
3.
Responsibility for your outsourced team?
Should your provider look as though it is about to cease normal trading, it's vital that you are able to cherry-pick the key staff members you need to maintain continuity when you take the service back in-house. Appropriate TUPE considerations need to be taken into account, along with a clear understanding of the contractual provisions.
4.
Monitor outgoings
When you become aware of the fact that your provider may no longer be able to service your needs, it's important to be hyperaware of all the payments that are flowing between you both. There may be some that are no longer appropriate. Check whether all performance bonuses are warranted before paying them (and if you decide to not pay them, make sure you have a clear and justified reason backed up by evidence for your reasoning). Also, while it can be a bit of a blunt instrument, when providers are consistently not responding to agreed mechanisms of performance improvement, it would be reasonable to consider withholding payment due to their breach of duty.
5.
Find a stand-in
If you have clear grounds, backed up by reasonable evidence, that your provider is consistently failing to achieve agreed service levels, it is prudent to invoke your back-up plan. This should include you having already reviewed the marketplace for 'step-in' providers that would be required in an emergency. If you're a public sector organisation, then you can consider activating the emergency procurement procedure to source a new provider to be available when necessary. Even if you are thinking of bringing the service back in-house, it often makes sense to have a stand-in there to cover the time it may take to prepare for such a move.
6.
Reclaim your data
Storing (minimum) monthly archives of your operational data from the provider on an ongoing basis should be part of your business continuity and disaster recovery planning, should your provider cease to be there or you have to change providers quickly.
7.
Exit management plan
Even if you think it will never happen, it's important that on an ongoing basis, you draw up and maintain detailed exit management plans to cover the entire process to enact a new service provider or to bring services in-house should the unthinkable happen. You need to be mindful that relying on 'old' contracts that do not make these provisions simple means you need to reshape the appropriate clauses at the earliest opportunity. Your processes will continue to evolve, so having a 'reshaping' process built into the contract to happen every six months is really critical. Your exit management plan must contain the latest version of all your knowledge on the project so it can be shared with a new provider and the handover can be as seamless as possible.
Conclusion
For a 134-year-old organisation, Interserve has done well to get this far. According to the media, though, financially it has seen better days. The share price dip, the expensive acquisition errors, and the debt refinancing requests – two in the last year – are enough to make some very concerned. However, it seems the government retains its confidence, evidenced through the projects it continues to award Interserve.
Photo Credit-iStock, Pogonici