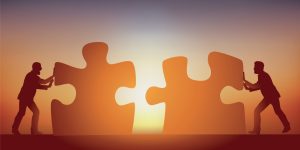 Commissioning is a vital process that can make or break the success of delivering high-quality services that meet the needs of both service users and the wider community. To ensure success, it's essential to have a client commissioning team with a diverse range of skills, experiences and competencies that can work collaboratively with an appropriate supplier in delivering commissioned services, towards a shared set of goals.
What makes a Great Client Commissioning Team?
In this article, we have outlined what 'commissioning' actually is, some of the challenges that arise throughout the commissioning process, what a great client commissioning team – ready, willing and able to face those challenges – looks like, the roles and responsibilities of each member of that team and how to identify and supplement the skills and competencies required for success.
What is commissioning?
Commissioning is the process by which organisations identify the needs of their communities and commission services or projects to meet them. This can (but not always) involve working with external providers including those in the private and public sectors, along with charitable organisations.
The commissioning process typically involves the following five stages:
Needs assessment: Identify the community's needs, usually through a process of consultation and research. This most commonly involves gathering information from service users, stakeholders and other partners.
Service design: Community outcomes and standards, informed from the needs assessment, should be clearly articulated. Working with internal and external providers, projects and services are designed to ideally meet those needs, the outcomes and the service levels required.
Procurement: There are a mix of options one can use to test the marketplace to identify its appetite to deliver those services and projects. The 'market' in this case can include any mixture of in-house, public and private shared services, along with charitable organisations. Using clearly defined outcomes, objectives and a 'target operating model', an early market engagement is critical to test whether projects and services can achieve the outcomes expected, within the cost, resourcing and timescales available. This will inform the practical feasibility of project and service delivery, and will inform any compromises and requirement realignment needed prior to investing significant time and funding into a formal procurement exercise. Once you have greater certainty about the feasibility of the project or service, a formal, competitive tender process can be undertaken where providers of different categories submit proposals outlining how they would deliver those services and at what cost.
Contracting: Once a provider has been selected, if the provider is external, you will enter into a contractual agreement with them, outlining the terms of the commissioning arrangement. Similarly, if you enter into a shared services arrangement with another public sector body, this may also involve a formal contractual arrangement or either a statutory arrangement, heads of terms, or memorandum of understanding. All contracting and arrangements of understanding should be clear on the outcomes the provider is expected to achieve, the payment arrangements, any performance indicators that will be used to measure the success of the service, and co-dependencies on both client and supplier resourcing that are likely to impact the successful delivery of the services.
Delivery and monitoring: The provider then delivers the services or projects, while the local authority monitors their performance to ensure that they are meeting the agreed outcomes and standards. This involves regular formal and informal reporting and review meetings, as well as ongoing evaluation of the service.
Commissioning is used to deliver a wide range of services and projects, including social care, health services, education, housing, infrastructure and environmental services. The process is intended to ensure that services are tailored to the specific needs of local communities, are delivered in an efficient and effective way and offer value for money.
The benefits of commissioning are numerous. Firstly, it allows councils to access a wider range of service providers, including specialists and those with new and innovative solutions. This can lead to improved service quality and resident satisfaction. Secondly, commissioning promotes greater transparency and accountability in service delivery, ensuring that services are delivered to agreed standards and are subject to regular reviews and assessments. Thirdly, commissioning provides greater flexibility in service delivery, allowing a council to adapt and respond to changing needs and priorities.
Commissioning complex services – common challenges that arise
As a practice, we have dealt with the recovery and remediation of the commissioning of hundreds of complex services and projects. Across that spectrum, we commonly see a range of challenges arise for clients during the planning, implementation, and performance evaluation phases.
The causes behind some of these challenges are many and varied, but the key theme typically revolves around a misalignment between both internal teams and external suppliers in their understanding of how the corporate outcomes flow down through objectives to be achieved, how the services align to those objectives, and the delivery performance of the services themselves.
In order to not only avoid misunderstandings, but also achieve commissioned services that are effective and offer value for money, you need to have in place what one of our clients termed as the 'golden thread'. This ties together the themes of the corporate strategy, commissioning process, service delivery and performance monitoring. They all need to be clearly articulated so that both internal stakeholders and the service provider have a common and mutual understanding of what is expected from one another and by when.
To achieve this alignment, it's important to take the following steps:
Corporate strategy. Developing a clear and comprehensive corporate strategy that outlines the outcomes, priorities, objectives and goals of the organisation and how these will be achieved through the delivery of services and programmes to the service users and/or community.
From design through to delivery. Ensuring that all services are designed and delivered with their strategic outcomes and objectives in mind, and that they are continuously reviewed to ensure they remain aligned with the organisation's strategy.
Appropriate commissioning practices. Using fit for purpose, but affordable commissioning practices to assess, procure (where appropriate), and manage services from a range of providers to ensure they meet the needs of the organisation and its service users, and that they are aligned with the organisation's strategy.
Ongoing service alignment. Regularly reviewing the alignment of council services with their overall strategic objectives, and making adjustments as necessary.
The above means it is important to undertake a lot of 'hard thinking' at the beginning when considering options for your service delivery. As with all things, you can attempt to shortcut this process, but in our experience of complex commissioning projects, this will mean that you are likely to end up with one or more of the following issues during the implementation of your service or project:
Lack of clarity about service specifications: Complex services often involve multiple stakeholders, each with different requirements and expectations, increasing the need for clarity at all stages of the process. However, and in line with our own experience, it's reported that nearly 85% of projects and services suffer from ambiguity in their service specifications and a lack of clarity about what those service should deliver.
Difficulty in identifying the right providers: Identifying providers with the necessary skills and experience to deliver the service can be challenging, particularly if there are only a limited number of providers available or if the service requires highly specialised expertise.
Ambiguity in contract interpretations. The rush to get a contract over the line without 'operational use case' testing of how the contract's wording is likely to work in practice is an inadvisable strategy when millions of pounds (or dollars) are at stake. Almost every large contract we have been involved with where there have been misunderstandings, and a formal dispute, has resulted from, at least in part, one party taking an 'ingenious' (to coin a term from a recent court case) interpretation of ambiguous contract wording. Just taking some time to properly test how the contract's wording will drive the 'right behaviours' between everyone in day-to-day operational scenarios (use cases) will not only save you a whole world of pain in running the contract over its lifetime, but will actually create a constructive and innovation-led strategic partner relationship that maximises value for money.
Poor communication: Effective and transparent communication is critical for ensuring that all stakeholders understand the agreed business outcomes and objectives, and the service specifications and expectations that support them. Poor communication can lead to misunderstandings, delays, and a lack of trust between stakeholders.
Cost overruns: Complex services can be expensive to deliver and cost overruns can occur if the expectation, service scope and budget are not managed effectively. If a supplier or client attempts to reduce the project scope to work within more limited financial constraints or timescales, this will often result in reduced service quality, delays and in more extreme situations, complete project and/or service failure.
Challenges in managing partnerships: Trying to get two people to agree on a common consensus can be challenging enough; achieving consensus across multiple stakeholders and organisations takes that challenge to another level. Mix in the different motivations and drivers between the ideologies of public and private sector providers, and this will mean that a lot of time has to be invested in keeping everyone singing from the same hymn sheet. The appropriate amount of time is rarely invested here, often resulting in misalignments and a descending spiral in the relationship.
Difficulty in managing risk: Complex services can involve significant risks, such as regulatory compliance, financial risk and reputational risk. Effective risk management is critical for ensuring that risks are identified, assessed and mitigated effectively.
Challenges in evaluating service outcomes: Evaluating the outcomes of complex services can be challenging, particularly if multiple outcomes need to be measured. Effective evaluation requires a clear understanding of the service specifications and a robust evaluation framework.
The key lessons we have learned are that the commissioning process requires careful planning, effective communication, and strong partnerships between stakeholders. Appropriate governance can help to not only avoid the challenges, but also achieve a great operating model that delivers significant benefits for client and service provider alike.
Why the type of suppliers and service providers you try to commission is important?
In larger commissioning relationships, there are primarily three categories of external service providers:
General suppliers. Typically contracted to provide goods or services to you, without necessarily creating a long-term relationship or strategic partnership. The roles and responsibilities of general suppliers are usually limited to transactional services. You know what you want and provide a specification and contract that supports the delivery of those services.
Expert Suppliers. Expert suppliers are contracted to provide goods or services that require specialist knowledge or expertise to deliver them. This is often where both you and the supplier each bring expertise to the table. The roles and responsibilities of expert suppliers are focused on the delivery of high-quality goods or services, using their specialist knowledge or expertise. They may also provide input into the design or delivery of the goods or services, and may work closely with you to ensure that they meet your expectations when it comes to outcomes and objectives.
Strategic partners. Strategic partners are typically contracted to provide goods or services over a longer-term period with the aim of building a close collaborative relationship with you to achieve shared goals and objectives. Strategic partners are usually the drivers in the design, as well as the delivery of fit-for-purpose goods or services, and may provide input into your overall strategy. They are also likely to be involved in ongoing performance management and continuous improvement efforts. Their advice is often relied upon by you to assure their services are delivered in a fit-for-purpose manner to achieve your organisational outcomes.
This usually doesn't apply to general suppliers, but where expert suppliers and strategic partners have represented themselves as specialists in a particular field or that they can deliver a specialised set of services, there are many examples of case law where it has been determined that, as a result, they now would have additional "Expert Responsibilities" and a specific "Duty to Warn". Whenever we have been involved in High Court cases, providing Expert Witness support and opinion about disputes over commissioned service provider performance, despite each case being unique, a pattern of repeated issues can be identified. To mitigate these issues it's important to remember the following:
Fitness for purpose. If a supplier does have specialist expertise, it is usually under a duty to make sure that it undertakes appropriate due diligence on the outcomes, objectives and service expectations of the client in order to advise whether it can provide services that are likely to be fit for their intended purpose.
Allow due diligence to take place. The client must not prevent the supplier from undertaking detailed due diligence to help it understand much more clearly, what it can deliver, what it cannot and what the compromises on the service are likely to be in terms of what it cannot deliver.
Detailed due diligence validates client requirements. The supplier cannot use the excuse of not being asked to undertake due diligence by the client to later argue that the client's requirements were misunderstood. If the supplier needs a more detailed understanding of the client's requirements, it must clearly communicate this need to the client and undertake detailed due diligence. In disputes, suppliers may try to argue that it was 'obvious' that due diligence was necessary, but the High Court usually disagrees. If it was indeed obvious, the supplier should have suggested due diligence from the beginning and clearly warned the client that misunderstandings over service requirements were likely to arise without it.
What does a Great Client Commissioning Team Look Like?
A great commissioning team is made up of individuals with diverse skills and experiences who work collaboratively towards a shared goal. The team should include individuals with expertise in project management, needs assessment, service design, procurement, contract management, performance management, and stakeholder engagement. Additionally, the team should have individuals who can assess market demand and engage with potential providers.
Note that the team you build will depend heavily on the size of the commissioned relationships you become involved in. For transactional type services, it is unlikely you will need the depth and size of a large team. Similarly, if you are involved in a large strategic partnership, i.e. waste and recycling services, medical treatment commissioning or transformational outsourcing of some kind, then the commissioning structures under consideration need to ensure that it is fit for purpose, but at the same time does not become overly complex or burdensome.
Where you only have very limited resources available and commissioning is a part-role for someone (or a team) alongside their day job, then it can be more helpful to 'cherry-pick' those individuals who have more appropriate and in-depth knowledge of working with different levels of service providers across the organisation. In this way, you can share knowledge and the team can form part of a wider commissioning strategy group. And, to add value to the commissioning governance process it is important to also build the capabilities of less experienced individuals who will be accountable for specific services .
The Roles and Responsibilities of a Great Client Commissioning Team
Commissioning a service requires a client team of individuals with a diverse set of skills and expertise. Each team member plays a crucial role in ensuring that the project is completed successfully, on time, and within budget. From project management and needs assessment to early market engagement, procurement and stakeholder engagement, every aspect of commissioning is important to develop and deliver effective services that meet the needs of those service users.
The key attributes of the team are:
Project Management. Overseeing the commissioning project, including planning, scheduling and monitoring progress against targets. They should have excellent organisational and communication skills, be able to manage risks and issues that may arise and have experience in delivering projects on time, within budget and to the required quality standards.
Needs Assessment. Identifying the needs of the population or service users, as well as any gaps in the current service provision. This information is then used to inform the development of a service model that addresses the identified needs and gaps. The needs assessment team member should have excellent analytical and research skills, be able to gather and analyse data, and have experience in conducting needs assessments.
Service Design. Developing a service model that addresses the identified needs and gaps, taking into account available resources and stakeholder input. They should have experience in service design and be able to work collaboratively with stakeholders to develop a service model that meets the needs of service users.
Skill Set. Developing a procurement strategy and managing the tender process to select the most appropriate provider(s) based on factors such as quality, cost, and capacity. They should have experience in procurement, be able to develop a procurement strategy, and have excellent negotiation and communication skills.

Assessing market demand and the process of early market engagement are important aspects of commissioning and could be considered as part of the procurement role. However, it could also be considered as a separate role, such as market research or market engagement, depending on the size and complexity of the commissioning project.

The role of market research or market engagement usually involves identifying potential providers, conducting market research to understand the supply of services, and engaging with the market to gather information on the availability of potential providers and the likely constraints, roles and costs of services.

If this role is incorporated into the procurement role, the procurement team would be responsible for ensuring that market demand and early market engagement are properly considered when developing the procurement strategy and selecting providers.

Contract Management. Monitoring the performance of the provider(s) and ensuring that they deliver the service as agreed in the contract, as well as managing any issues or disputes that may arise during the contract period. They should have experience in contract management, be able to monitor and evaluate service providers, and have excellent communication and negotiation skills. Most importantly, they must also have a detailed knowledge of the 'Expert Responsibilities' of suppliers/providers 'and their 'Duty to Warn'.
Performance Management. Measuring and reporting on the performance of the service against agreed outcomes and targets, and taking action to address any issues or areas for improvement. They should have experience in performance management, be able to measure and report on service performance and have excellent analytical and communication skills.
Stakeholder Engagement. Working with stakeholders to ensure that the service meets their needs and expectations, as well as communicating with stakeholders to keep them informed about the project and any changes that may arise. They should have experience in stakeholder engagement, be able to work collaboratively with stakeholders and have excellent communication and interpersonal skills.
Assessing Your Commissioning Team's Skills and Competencies
To determine whether your existing team has the right skills, competencies and experience, you can conduct a skills audit to identify any skills gaps or areas where additional training or development may be required. This in turn should lead to the development of a training plan to address these issues, providing opportunities for team members to develop. Once you understand your needs and capacities you may consider what external support you require to deliver the training or development your commissioning team needs.
Conduct a skills audit: Reviewing the skills and experience of your team against the specific roles and responsibilities required for commissioning the service you need. A skills audit helps to identify any skills gaps or areas where additional training or development may be required. The specific steps involved in conducting a skills audit usually include:
Defining the skills and competencies required for each role in the commissioning team for the specific service required.
Reviewing the skills and experience of each team member against those required skills and competencies.
Identifying any gaps in skills or experience.
Identify skills gaps: Identifying skills gaps involves reviewing the results of the skills audit and pinpointing areas where team members may require additional training or development. This step is important to ensure that the team has the necessary skills and knowledge to perform their roles effectively. Identifying skills gaps helps to ensure that the commissioning team is equipped to performance manage high-quality services from the service provider. The specific steps involved in identifying skills gaps usually include:
Reviewing the results of the skills audit to identify areas where team members may require additional training or development.
Identifying specific skills or knowledge areas where team members may require support.
Discussing the results of the skills audit with team members to gain their input and perspectives on areas where additional support may be required.
Develop a training plan: Developing a training plan to address the identified skills gaps, and provide opportunities for team members to build on their skills and competencies. This step is important to ensure that the commissioning team has the necessary skills and knowledge to carry out their roles competently in order to effectively performance manage the service provider. The specific steps involved in developing a training plan often include:
Identifying the specific training and development needs of each team member.
Developing a plan to address each identified training and development need.
Identifying appropriate training and development resources, such as internal training programs, external training courses, or mentoring and coaching support.
Consider external support: Consider engaging external consultants, mentors or trainers to provide additional expertise and support to the commissioning team. Engaging external support can provide the commissioning team with added insights and perspectives to help them deliver high-quality services. The specific steps involved when considering external support usually include:

Identifying areas where external support may be beneficial, such as where team members lack specific skills or knowledge.
Researching potential external support options, such as consultants or trainers with expertise in the required areas.
Evaluating potential external support options to determine which would be the most appropriate and cost-effective.
Supplementing and Building Capability of a Great Commissioning Team
To supplement and build the capability of your commissioning team, you can recruit new talent, develop a talent pipeline, and foster a culture of continuous improvement. This involves investing in the development of existing team members, providing opportunities for career progression, and succession planning. Additionally, you can use this as an opportunity to develop your culture of continuous improvement by encouraging feedback, learning from mistakes and celebrating successes.
Develop a talent pipeline: Invest in the development of existing team members, providing opportunities for career progression and succession planning.
Develop a culture of continuous improvement: Encourage feedback, learning from mistakes and celebrating successes.
Recruit new talent: Where in-house expertise does not exist and there is no opportunity to develop it, you may consider recruiting individuals with the skills and experience required to fill any identified skills gaps or support the development of the team.
Foster collaboration and teamwork: Encourage team members to work together towards shared goals and recognise the contributions of all team members.
Conclusion
In conclusion, a great client commissioning team is made up of individuals with diverse skills, experiences and competencies who work collaboratively towards a shared goal. The team should include individuals with expertise in project management, needs assessment, service design, procurement, contract management, performance management, stakeholder engagement and market engagement. It is important to assess your commissioning team's skills and competencies, identify skills gaps and develop a training and/or recruitment plan to address them. Additionally, supplementing and building the capability of your commissioning team is essential for ensuring long-term success.