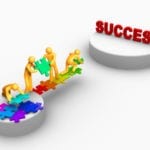 When complex strategic relationships between public bodies and private sector vendor organisations start to veer off track it can often seem too daunting a task to refocus vendor performance on the original business outcomes expected and agreed. With productivity levels slipping, trust in question and your strategic partner's aspirations evidently very different from those agreed at the outset, what should your next step be?
We believe the answer to this lies in asking yourself the right questions to see just where you stand today, so you can decide through informed choice what to do tomorrow. Because of the delicate nature of this situation, we have created a free guide for client organisations experiencing challenges in strategic vendor relationships, whether they be for service commissioning, complex technology projects or business process outsourcing.
The blame game: it doesn't usually help
While very tempting to enter into a blame game where the other side are always in the wrong, or to start looking for ways out of your relationship with them, the first action on your to-do list should be to ensure that the steps you are taking to improve vendor performance (or your own) are independently informed. This is particularly important if you believe you have tried everything practical to get the relationship back on track, but performance is still poor. If you end up thinking you will need to exit your contract early, something we discussed at length in a recent article, this can be a very time-consuming and costly affair, so you need to be absolutely certain you have considered all reasonable steps to realign the relationship to achieve your business outcomes first.
You are not alone
Complex strategic partnerships are hard to manage – very hard. It is often the case that with the right guidance and process, they can be brought back into line, though of course this is not always possible, and it's important that we learn from those who have gone before us down both routes. One heavily publicised example of a partnership not achieving the expected outcomes, for either party, was the recent dismantling of Southwest One (the partnership between IBM, Somerset County Council, Taunton Deane Borough Council and Avon and Somerset Police Force).
We felt other organisations, from both the public and private sectors, could learn a lot from this experience so we dedicated an article to it in the wake of the County Council's own recent report on the subject earlier this month. And credit is due to Somerset County Council for publishing its high level thoughts and baring its soul to help inform others on its own learnings from the experience.
What makes this particular partnership worthy of note is that this relationship was tipped to be a game changer at the time: an example of the ideal partnership between the public and the private sector. It shows that even with the best start, things can go in a direction no one could anticipate at the beginning. It's how the inevitable daily grind is handled that will determine the ultimate success or failure of the venture.
A quick sanity check
There are many reasons why vendor performance might dip and these partnerships go off track. And while this is by no means a comprehensive list, here are three key considerations:
Could your own team be contributing to the problem? Uncomfortable though the concept may be, we have worked with clients who unknowingly have allowed their own actions to hamper the vendor in their ability to perform their duties and achieve agreed business outcomes. Given that the first port of call for most vendors backed into a corner on performance issues is to start the blame game, it is also useful to sanity check whether, even with the best of intentions, any responsibility for performance issues lie with your own team. If it does, this can usually be resolved quickly given the right process. However, if the responsibility lies with the vendor, then you can put into place the key actions listed below to get matters back on track promptly.
Are the written contract terms driving poor behaviours? Overly complicated, ambiguous or conflicting contractual terms can cause parties to disagree about interpretation of roles and responsibilities. This could be actively preventing optimal performance. A review should be undertaken of the practical aspects of contract terms/KPIs to see if these could be driving the wrong behaviours.
Is your vendor deliberately 'misunderstanding' its roles and responsibilities? Often the vendor's response when confronted with under-performance is to state that your requirements or objectives were unclear. It can be quite frustrating that after all of the dialogue you had with the vendor during the procurement process, that the requirements you both agreed to, and appeared clear at the time, now seem to be the bone of contention.
Your vendor does have a 'duty to warn' you of issues that can be misunderstood during the buying process and the impact of such a misunderstanding on your business outcomes. If it does not warn you of likely issues during the procurement process, then (a) it cannot complain afterwards that your requirements were unclear/ambiguous and (b) your vendor has to remedy those misunderstandings at its own cost, not at yours.
Remember, that your strategic partner has 'expert' responsibilities towards you
Also referred to in the above mentioned earlier article and important to any outsourced relationship performance issue review is a look at the responsibilities your vendor is legally required to achieve.
When taking your reflective view of your current situation and how it compares with what you expected from your vendor at the outset, it is perfectly acceptable to look beyond simply the KPIs agreed in the written contract. It is important to also include any representations the vendor made about their expertise and capabilities pre-contract that may have led you to believe that their performance levels would achieve your business outcomes. This review could well reveal relatively simple ways of resolving the problems your relationship is currently facing, or provide you with additional insights should you decide to escalate matters further.
A completely confidential way of self-assessing your current position
Having worked on over 500 strategic partnerships with private and public sector organisations on how to resolve, manage or exit their complex relationships, we understand the sensitivity that surrounds these, the need to be seen to resolve these issues internally, and the unfortunate practice of 'hoping issues will get better on their own'.
Our experience tells us that this subject can be difficult for some organisations to deal with. Therefore, we decided to offer a discreet way in which anyone facing the challenge of a problematic outsourcing relationship can confidentially self-diagnose to get a clearer picture of exactly where they stand, and steps on how to move forward. Our completely confidential DIY self-analysis tool is the culmination of years of our experience. The information it provides will give you our insights gained from dealing with hundreds of similar situations, and the steps you can take to progress to a more positive position.
6 Actions to Realign Vendor Performance, Quickly
Action 1: Reappraise your overall objectives
Knowing clearly, categorically and quantifiably what you are looking to achieve from the relationship in terms of financial, organisational and operational goals will help you to ensure that this can be unambiguously communicated to the vendor so you have a starting point for a resolution.
Action 2: Reappraise your innovation governance
Innovation that drives performance up is just as important as ensuring a basic level of service in line with current KPIs. To achieve this you should have a structured approach to innovation sharing and a system for rewarding those who shine in this area.
Action 3: Prioritise your goals
The primary goals you hold dear should be discussed with your vendor so you can establish the best way of achieving them together. Plan ahead with annual goal timetables and prioritise those of greatest importance.
Action 4: Arrange for your vendor to re-scope your priorities and business outcomes
Drawing your vendor into the discussion about the priorities and business outcomes you wish to set them ensures greater understanding and buy-in. Vendors will be required to undertake due diligence on them and will be able to supply you with clear costing and timescale information.
Action 5: Work out the delivery process
Once your vendor has a clearer idea of your re-scoped priorities and business outcomes they will better placed to build a team with the skills, knowledge and passion for performance enhancement to ensure that targets are met.
Action 6: Begin implementation
Under this action is a list of numerous steps to a successful implementation to put your relationship back on track, but as with all of these action points what is returned here will be specific to the answers you give when using the self-diagnostic tool.
When all else fails
It's disappointing that not all strategic partnerships can be realigned to benefit both parties, though we would often recommend that you try all possible practical steps to do so. So, if you suspect that matters have gone beyond the point of no return, you may decide that exiting a relationship that is no longer working is in your best interests so you can finally move forward in a more productive manner.