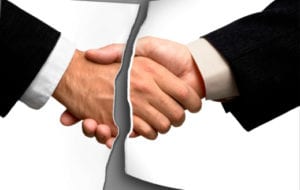 When it was announced recently that One Connect Limited, the £400 million strategic partnership between BT and Lancashire County Council, was to be wound down, it is likely there would have been surprised looks in the room for individuals not aware of the perceived controversy surrounding this partnership. This unwinding with BT is hot on the heels of Sandwell Council also unwinding its own relationship with BT only months ago.
Press reports have alluded to One Connect having had challenges for some time, though more about that later in the article. The fundamental questions to ask here are (a) whether the behaviours and expectations of either party have contributed to the premature conclusion of their relationship, and (b) were the aspirations of both parties just too incompatible? This also raises the question of whether partnerships between public and private sector entities can ever be successful?
Different bedfellows, but can they get along?
Businesses in the private sector are often stereotyped by public sector organisations to be profit hungry organisations, intent on achieving their financial KPIs above all else, and answerable to demanding shareholders who expect nothing less than a balance sheet curve with an ever-increasing incline.
But what about the private sector's take on the public sector? If you are to believe the press, public sector organisations are usually tarred with the 'steady' brush – focused more on quality of service to citizens and maintenance of the status quo, than with pound signs in their eyes. The press often refers to the public sector as the 'worker bees of society'.
Our own experience tells us that neither of these definitions is in context with public perception. However, they do highlight some fundamental principles of these two types of organisation working together: one pulling more for profits and the other for quality of service and citizen experience. Misalign these and this is where so many of these strategic partnerships don't achieve each other's expectations.
The lessons learned from the Southwest One relationship we recently wrote about at length seems to indicate a number of similarities between One Connect and Southwest One. The difference being that Southwest One started its life between multiple parties including IBM, Somerset County Council, Taunton Deane Borough Council, and Avon and Somerset Police. Southwest One and One Connect, as with all of these strategic partnerships, are brave innovations to try to deliver public services at higher levels of quality and better citizen experiences but at a lower cost. Chastising any organisation for thinking outside of the box to try to innovate in order to deliver real value for the public good is a nonsense.
Those organisations that try new things should be praised on three fronts: (a) for taking innovative risks to find new ways to achieve the wider social values goal, (b) understanding that when it doesn't work out, to realign it or get out, quickly, and (c) being humble enough to understand that it is only learning from failure and changing your behaviours that gives you the foundations for success in the future.
Whilst Southwest One was tipped for partnership stardom, as was One Connect, the perceptions of these partnerships has not lived up to either sides' expectations. FOI requests indicate that unwinding Southwest One cost the public purse several millions. But is this the price to pay for taking innovative risks? Well, no. There are early processes, procedures and lessons learned that can be adopted from organisations that have been there before you. This will save you a significant amount of heartache and war wounds, if you are prepared to act on the lessons learned and advice received.
These strategic relationships are difficult. In fact, any relationship is difficult. With divorce, just between two people, hitting 50% in some parts of the country, what is the likely success rate when hundreds or thousands of people are involved in the partnership/relationship?
So can private and public sector organisations work together successfully to achieve the wider 'social values' goal? With several high-profile disintegrations of strategic partnerships, and BT also being on the receiving end from the breakup of their £300 million strategic partnership with Sandwell Council a few months ago, before being in the news again with the winding down of One Connect, this question remains highly topical.
From high expectations to exit strategy, why does One Connect appear to be misaligned?
Just three short years ago, Lancashire County Council and BT saw only a bright future of shared goals and mutual aspirations ahead of them. But it seems that along the way, things have not exactly gone as planned.
At the time Geoff Driver, leader of Lancashire County Council, said of the partnership: "We have a long track record of delivering excellent services to the people of Lancashire and this strategic partnership will help us build on the good work we've done and deliver even better value for money for Lancashire's taxpayers. By using our combined expertise and technology we will cut red tape, simplify processes used for carrying out many day-to-day tasks, and provide services far more quickly and efficiently. We will also use our strategic expertise to drive further savings in the future."
However, a number of heavily publicised incidents later, Council leader Jennifer Mein felt compelled to say recently that she believed the authority had been "ripped off". This was followed by Unite union representative Les Parker saying: "I think that this is the beginning of the end of the use of privatisation in public services, because this is the worst example that I have known in my experience of the private sector exploiting public need."
There has been quite a bit of controversy surrounding One Connect:
In August 2013 a disciplinary investigation was launched into the actions of chief executive of Lancashire County Council, Phil Halsall, who was accused of favouritism after awarding a £5 million fleet maintenance contract to One Connect.
In October 2013 Phil Halsall left the council by mutual consent.
In November 2013 it was discovered that One Connect was going to charge a 20% mark-up on a community alarm services contract that would have cost the taxpayer £1.4 million.
There is also an ongoing police investigation into 'financial irregularities' which include over £500,000 paid to the former chief executive of One Connect, David McElhinney, for working two and a half days a week between May 2011 and March 2013.
Primary lessons learned; heed the warning signs
In a nutshell, and ignoring the controversy for a moment, it seems to be Lancashire County Council's view is that BT has been unable to move with the times. This is, specifically, the perspective of the times of severe austerity that the public sector now finds itself in. The government's austerity measures seem to run contrary to the revenue-enhancing principles of some private sector providers. Unless these cultures can embed themselves in innovative principles and behaviours that start to resolve the issues caused by the austerity measures, one has to ask, like the woolly mammoth at the end of the ice age, will they face the challenge –evolve or perish?
From the articles we've reviewed, One Connect specifically seems to have misaligned its potential due to two important factors:
A lack of strength in their Intelligent Client Function (ICF). Without the right skills and numbers, ICF teams can quickly become overwhelmed when things start going astray. The role of the ICF team is to foster the relationships between the partnership parties, to ensure that everything runs smoothly and to steer things back on course when they start to veer off in one direction or another. Ill-considered ICF resourcing could mean that warning signs are missed until issues become too great to be able to pull things back into line with the manpower available. We have discussed the skills required for a successful ICF team in a previous article.
A lack of true behavioural innovation on both sides limiting the promise of the partnership. What drives costs down, quality up and the partnership forward, is innovation. It's a large part of what a public sector body hopes to gain from their private sector partner, and without it you have to question the value of the relationship. Lancashire County Council's responsibility to cut costs as part of their overall austerity measures could have been an exciting challenge for the right partner. But the pressure on both BT and the council to come up with governance that drives truly innovative behaviours does not seem to have come to fruition.
In conclusion
BT is part of a select group of private sector organisations that align themselves with public sector partners to forge new ground in the supply of public services. Unfortunately, the hopes and dreams of combining the very best of both worlds for the public and private good have not been met in reality. In some cases, these relationships have ended up unravelling.
Ironically, these big partnerships are supposed to be fundamentally transformational in nature, seeking new ways to deliver better services at lower costs through innovation and expertise sharing – Lancashire County Council even describing their goals at the outset as "Improving services and providing value for money for taxpayers". But these partnerships seem to have been unable to themselves adapt to the economic changes that have shaped their environment. Evolve or perish, what held true for the woolly mammoth holds true for the world of public/private partnerships today.