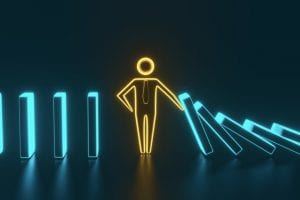 We are living through unprecedented times. Britain is in 'lockdown'; all but 'those who cannot work from home' are being asked to stay at home and the government is paying companies to encourage staff and non-key workers onto furlough leave from their work.
With the world around us all changing rapidly beyond recognition in just a matter of weeks, what can you do to,
(a) understand a little more about what is coming over the next 12 to 18 months, and
(b) manage your complex strategic supplier relationships through this highly critical period?
On the first point, as inspiration for some foresight to our immediate futures, I read an interesting article from Esquire by Chris Stokel-Walker. I think it provides an insightful early spectrum of projecting the possible landscape for us all and we've paraphrased it below.
Coronavirus – What to Consider Over the Next 18 Months
2020 – APRIL
Supermarkets and the delivery arms for logistics firms will thrive, but they will struggle to keep up with demand. Restaurants and bars are likely to stay closed, so we'll be either ordering lots of takeaways for delivery or, perish the thought, we'll be cooking it ourselves.
Where your organisation has anything to do with delivery and/or warehousing logistics – from Amazon packages to medical supply deliveries – then you'll be hiring more vans and drivers because it's probably going to get busier. However, sometime around the end of April, before the government's support plans for employees and freelancers kicks in and every bar of chocolate and biscuit you've been stockpiling has been consumed, people will realise that they may not have enough money to comfortably see them through this crisis.
Projects will start to be postponed, then as time moves on, more likely cancelled. Workforces in the private sector are already being laid off and it is suggested it will get worse. The lucky ones whose businesses have been put into stasis will be furloughed, or placed on part-time hours from home.
Everyone will start to think about spending less – even online. No matter what the government does, it is unfortunate that many more will have passed away. The superstars currently on the front line of the NHS, already severely over-pressured, are likely to be struggling even more to keep up with the tidal wave of patients.
2020 – BY JULY
The article went on to suggest that by July we could hope to be seeing 'the curve' flatten for both cases and people passing. A professor of medicine at the University of East Anglia even suggested that he'd expect the lockdown may have ended by June, which to me sounds a little on the optimistic side, but we live in hope.
As we hit summertime, the warmer weather and social distancing measures may have put this first wave of the crisis onto its downward slope, but we have been warned that for the next 12 to 18 months we may well see relaxing and reinstating of lockdowns in order to prevent a new spike in the illness.
This will put businesses in a challenging position as the way we work will continue to change significantly over the year. During this time, face-to-face in person meetings are only likely to resume on a small scale as globally we become more familiar with video conferencing instead.
The aviation sector may not recover for years; the retail sector will change, possibly forever, with many fewer high street stores; and many more of us will be working from home for the medium term. The way we work, the way we interact with one another, and the way businesses are operated, will have to change to avoid a second wave of this virus causing even more damage than the first.
2020 – BY SEPTEMBER
We may well now start to see the impact of a global recession. The government has, quite rightly, thrown everything it can at this crisis, emptying out the war chest, borrowing where possible.
But what happens six months down the line when the initial round of funding and support has run out, when businesses are severely challenged operationally, furloughed workforces can no longer be supported by the government, unemployment skyrockets and numerous sectors look around and start to take stock?
With fewer people coming into offices, many may continue to look to downsize their accommodation and increasingly operate in a hotdesking fashion with facilities available when staff pop in.
More pressure will be placed on broadband connections and service providers as greater capacity will be needed, home workers will start to expect office-level speeds and reliability, and 5G may need to push up its rollout schedule to keep up.
2021 – MARCH TO SEPTEMBER
It's likely that we'll still be in a recession. If a second wave of the virus hits us in the wintertime then we may well just be coming out the other side from the last set of prolonged lockdowns, but we'll be much more used to them by now.
All of this change forced on us by the global crisis may well continue to spark further innovation in energy production as we see the evidence of positive impact of less emissions for ourselves for the first time.
Potentially, this could cause greener power production to rise to the top of the political agenda and for R&D teams to solve some of the problems that a lack of funding had restricted pre-COVID-19.
At some point in this period it is likely that a vaccine will become available to the masses. Initially rolled out to the most vulnerable in society, it should trickle down to us all eventually – much like the 'flu shot'.
The economies of many countries will have suffered, and significant change will necessarily have taken place. As with other times of global suffering, there will be the opportunists and the generous. Countries will vie for a place in a new world order, smaller economies may suffer due to trade wars as governments look to restart as the threat of COVID-19 recedes.
Three Crisis Steps to Maintain Your Complex Supplier Relationships

 
This may all sound like a dystopian future, but we're resilient and we will adapt. The point being made is that we must all recognise that significant change will continue and to adapt with it is vital.
To maintain the relationships you have fostered with strategic supply partners and to ensure their continued support on your projects, it makes sense to follow these three steps.
1. Fix first, argue later
There will be many factors at play here: ego, commercial and contractual obligations, pride, reputation, and more – all of which are likely to influence where you and your supplier stand on the 'confrontation to collaboration' scale during this crisis.
It's so important to 'fix first and argue later' (if arguing is required at all). The first thing to note is that your contract is unlikely to hold the contextual answers. It may point you in a direction and it may even provide some recourse as a client who is not receiving the service they are contracted to receive.
However, there are bigger forces at work here and, as Sarah Fox, international speaker, author and friend of the firm says (in her quintessentially direct manner) in a recent article about this subject, it's time to "put your big girl/boy/person pants on, stop acting like toddlers, and make some flawed but critical decisions in collaboration with your project partners".
Sarah was talking primarily about the decisions in the construction sector around which party (client or contractor) should be responsible for the close down of building sites, how to go about it and the issues faced by those not working collaboratively. But her point holds true for all sectors: find a way through this period with your strategic partners, try not to get bogged down in confrontational arguments and contractual wrangling.
2. Keep track of what's good and what's not-so-good
This next step is difficult to do in the current circumstances, but it's really important you do it nonetheless. Please (please!) keep track, in a written record, of what both your own team and your strategic supplier's team are doing well and what they are doing not so well in this challenging period.
This isn't so you can berate the supplier for every little thing they have done wrong at the first opportunity when the pandemic is over. It's to use this data as a learning exercise that both of you can benefit from going forward. It's an opportunity for both you and your supplier to honestly and openly discuss what went well, and where challenges existed.
Then you need to work through a plan to get matters improved between you for the future. We cannot tell whether further lockdowns will ensue after the summer or if COVID-19 will become like the common flu which mutates and hits us each year, so it pays to plan ahead, just in case.
3. Lead the relationship by demonstrating your own trust, the rest will follow
Unfortunately, it's just a fact of life that some clients and strategic suppliers could use the current crisis as an excuse for ongoing poor performance (that's the continuation of performance that was already poor before the pandemic took hold).
It's important to remember that everyone is under pressure – be pragmatic, not a pushover; people often don't have clarity of thought in a crisis, so it's important to be as objective as possible.
However, to get through this, everyone needs to earn and inspire trust – it's the only way to encourage collaborative working. But to earn trust it's important to demonstrate that you are leading in commercial trust behaviours.
4 Steps to Help you Maintain Your Relationships
The following are four steps to help you maintain your relationships in even the most trying of times.
STEP #1: Be open to trusting others
Preconceptions about strategic suppliers in general, or one in particular, based on assumption or experience, can taint everyone's ability to form or reform productive working relationships. Therefore, no matter even if the individual or organisation has, in the past, let you down, it is important to at least be open to the possibility of rebuilding trust with them.
Of course, this does not mean forgetting (or not documenting) what has happened in the past. It's about giving everyone a second (or a third at the outside) chance to make the right impression and dispassionately assessing their suitability for your trust. Then, if there is a commercial benefit attached to attempting to rebuild that trust, to be open to this possibility.
STEP #2: Be trustworthy to win other's trust
What you do says far more about you than what you say, because everyone knows that there is quite often a chasm of difference between intention and action. The difficulty arises from the fact that others can only judge you from your actions, and, therefore, no matter how generous your aims, it is what they see and experience of you that will help them to form their opinions about your trustworthiness.
To rebuild trust with others you will need to make the first moves. Members of your team who don't already advance with trust, will need to rethink their behaviours. They should offer a flag of truce and look to mend bridges. Be the person you want them to become and often you will find that they follow.
STEP #3: Clarity of message reduces the opportunity for lost trust
The transition stage from mistrust to trust is a delicate time, particularly when the pressure is on during this pandemic crisis. It's where all your efforts can either produce rewards or be reduced to naught.
To prevent it being the latter, it is imperative that you state your intent clearly and plainly in order to sustainably build the relationship with mutual trust at its core. This clarity should then be continued, using language all parties can clearly understand, delivering on your promises, and maintaining robust lines of communication so any misunderstandings can be discussed and not left to fester.
STEP #4: Trust begets trust
Through investing in your supplier relationships and building commercial trust, you have the opportunity to extend the positive influences this generates far beyond your immediate working relationships. By creating an environment in which vendors are trusted, and know it, in which positive behaviours are rewarded, and innovations valued, you improve the prospect of keeping the wheels on your service delivery during this really difficult period.
Not only that, but you will often find that your suppliers start to reflect similar behaviours with their subcontractors, getting even more from them. Trust begets trust, and this can only benefit your complex supplier relationship at this time.
Conclusion
It is a rare strategic relationship that does not involve a trust 'wobble' every now and then, but moreover, during this crisis, it's how you approach the resolution to this potential problem that will separate you from the crowd.
Be trustworthy yourself in order to attract trust. Be mindful of the honesty and ability of others and give them the opportunity to prove themselves to you. Be clear and concise and do your best to try to not jump to conclusions or allow preconceptions to skew your opinions on someone's trustworthiness.
Commercial trust has a vital role to play. When crises are not impacting on the business world, the figures talk for themselves. Since commercial trust became a fundamental part of PepsiCo's management strategy, revenues increased by 72% and profits were up 100%.
Since initiating a commercial trust policy, eBay saw their financial returns rise to a point where they achieved 75% higher than the industry average, and similarly Google saw their revenues grow to 76% above industry average. Costs at American Express fell to 16% lower than their industry average. And Grameen Bank's 98% debt recovery success, 23% above their sector's average, can likewise be attributed to their commitment to their commercial trust policy.
The coronavirus crisis will end and when it does, will your strategic relationships be stronger, putting you in a better position to lead a recovery or will you be bogged down in legal matters for years to come? Commercial trust and your efforts to build and maintain it with your partners could well be the most important strategy you employ in these challenging times.
Photo Credit: iStock