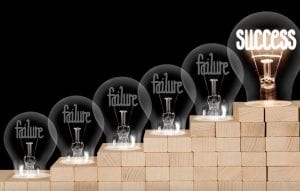 Stakeholder and strategic service provider understanding can vary significantly when it comes to effective KPIs and their purpose is often misunderstood. Many strategic service contracts structured by client legal teams focus on KPIs being 'transactional'.  
In most strategic service delivery relationships that are not achieving their expected objectives, we find that several of the common issues relate directly to KPIs. Firstly, the KPIs themselves are not aligned to the business objectives to be achieved. Secondly, they often measure the wrong indicators. Thirdly, they are often used as a stick to beat a provider with, thus driving behaviours that are misaligned from those that were intended.  
The impact of measuring the wrong things
It is key that when you are defining or re-shaping KPIs, you make them 'holistic' so that you drive the behaviour that you intend as well as measuring the right indicators which align to the business objectives you need to achieve. In order to do this, you have to test the operational process of the KPI, by developing a KPI 'Use Case'. You then run the KPI 'Use Case' through different operating scenarios so you can experiment with both the intended behaviour it will drive, but also the circumstances in which behaviours you have not anticipated start to manifest themselves. In respect of the latter, you should ask yourself in what circumstances could the supplier and/or your own team trigger unintended behaviour if this KPI was in force? 
What do effective KPIs look like?
We have found that in the most successful service delivery relationships, effective KPIs are constructed in such a way that: 
They are a

ligned with the overall business objectives to be achieved

 

There 

is

 a

 'balance' of KPIs to provide a 'rounded' and 'holistic' set of behaviours from both the client and the provider that align with the client's wider business values, as well as maximising value in service delivery 

 

T

hey 

can be

 used as a 'learning tool'. The KPIs are reshaped every 6 months according to the insights provided 

regarding

 what is working and what is not in terms of each party's behaviours. 

 
The most effective KPIs are modelled on a balanced scorecard basis. The latest third-generation version of this scorecard consists of a structured report, supported by proven design methods and automated tools, that can be used by Intelligent Client Function teams to keep track of the execution of activities by both their own staff and the objectives to be achieved by the strategic service provider.  
Want to learn more about effective KPIs?
For more guidance on what good KPIs look like, see our related article: SMART KPIs: How Do I Ensure They Are Realistic and Aligned to Business Outcomes? 
Have Your Questions Answered
Do you have a question you'd like answering? Simply send your question to advice@bestpracticegroup.com and entitle your email 'FAQ'. We'll respond to you directly and post the 'answer' article to our FAQ pages.