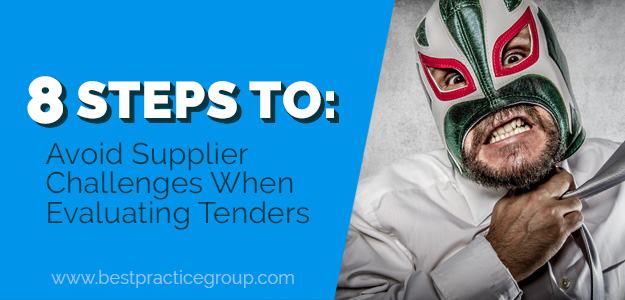 While there is no doubt that public sector tendering rules and regulations are a complicated minefield to traverse, their requirement for a transparent, non-discriminatory and fair tender evaluation process helps to protect public sector bodies from the risk of supplier challenges. Therefore, after years of working with both the public and private sectors, we felt it was time to demystify the scoring process that underpins modern-day tendering – to look to provide a simple end-to-end review of tender evaluation.
So this article aims to distil this process into eight, easy to follow, steps for calculating the accurate robust scores upon which to judge your tenders, while minimising the risk of receiving a supplier challenge on your final decision. Any challenge, warranted or not, can end up being a time-consuming and costly eventuality – one that can delay a project and impact on reputations – it's clear that they should be avoided at all costs.
Step 1: Ensure the evaluation process has been clearly communicated
You will have issued your evaluation criteria with your ITT – but have you gone into enough detail about the evaluation process to remove any doubt in the bidders mind that you have sufficient governance in place to ensure a fair and transparent process? One sure-fire way of increasing your likelihood of being challenged is to give your bidders any opportunity to claim there has been some favouritism shown, bias or unfair advantage. A lack of clear, concise information or poor communication of this information, creates the perfect breeding ground for this kind of perception. Bidders need to be provided with a level playing field in your tendering process – which means that they need to have a clear understanding of what is involved in your process and what is expected of them.
To avoid supplier challenge issues at a later date, it is important that not only should all bidders be provided with the same information, but that this is done with as much clarity as possible, keeping records of all the communications where these instructions are imparted. This can be made easier with the use of a procurement portal where communications are all managed and archived in one place.
Clear communication of the bidding process also offers bidders the opportunity to ask questions or object to the process. Even if you do not receive a response back from your bidders it is important to make the effort to seek confirmation that they are completely happy in both their understanding of, and the format of, the bidding process before they start to submit.
Step 2: Adequately prepare your team
The tendering process on any project is likely to be a fairly labour intensive affair for your organisation and it may be the first OJEU procurement that some of the team have been involved in. To comply with the 'level playing field' requirement of public sector tendering, no tenders can be opened until after the deadline has passed, then it's a case of 'all hands on deck'. Therefore, it is paramount that the right people for the right roles are sourced, trained, briefed and available when and where they are needed, and for as long as they are needed. Ensure your team have this time booked out in their diaries and they keep to the deadlines you set them to try to avoid any delays to the published timeline.
Step 3: Stage one filter
Before you can even consider a bidder's proposal they must pass the initial due diligence stage. Do they have the appropriate level of insurances, what is the state of their financial health, do they have a legal history that could cause worry? These, and other fundamental pass or fail response questions must be asked in order to whittle the number of tenders down to a pool of potentials whose proposals can be considered further. Inclusion of this step can save a considerable amount of time that would have otherwise been wasted in evaluating wholly unsuitable prospective partners, adding stress to an already challenging workload. Stress that could increase the potential for errors or delays – either of which are likely to result in supplier challenges.
Step 4: Gaps and ambiguities
Clear though you may have been in your tender template, the quality and clarity of the answers that bidders supply you with, will vary. There are likely to be issues with missing information, lack of clarity, and misinterpretations that will all make it more difficult for you to properly evaluate their suitability. For fairness, and to assist in the selection of the right strategic partner, it is important that you give bidders the opportunity to clarify all ambiguities before you start scoring.
Client-side this means a top-level evaluation of all tenders to identify where further questions are required, then the development of a questionnaire to use to gather answers from each bidder in writing, or to meet with them to gain all relevant answers.
Step 5: First pass scoring
Split the tender up into its logical constituent parts and allocate the scoring assessment of each section to relevant stakeholder groups or departments. A thorough evaluation of each bid must be made and scores allocated based strictly on your organisation's 'evaluation framework'.
Thorough documentation and minuting is essential here, and throughout the process, as all decisions must be transparent and able to be evidenced should they be challenged later on.
Step 6: Tender moderation process
Once individual team assessments have been completed, and scores generated for each portion of the tender process, it is time to bring all the teams together for a criteria by criteria analysis, to review the scores that have been allocated, to discuss, adapt where necessary, and come to a consensus on a final score for each bidder in each section of the tender.
It is vital that this scoring process is managed efficiently and effectively to keep the meeting moving forward, to maintain a fair and objective environment, and to score tenders based on submitted material NOT on a comparative basis with other bidders, which of course would be contrary to public sector procurement rules and regulations.
Step 7: Final approval stage
Scores are added up and the winning bidder selected based on their numeric superiority, but there is still one further stage of approval to go through before the contract award can be announced, and that's project/programme board approval.
This is the final check that the bidder selected is indeed considered to be best suited for the task ahead of them. The board's discussions must also be documented, and their reasoning for approval or otherwise noted.
Step 8: Announce and inform
As soon as reasonably possible after a final approval has been gained, ALL parties must be informed of your decision. As previously mentioned, poor information or communication can cause all manner of issues, raising tensions and increasing the chance of supplier challenges from disgruntled bidders. So this step is just as important as all those that have gone before. A full announcement and debrief document needs to be produced and sent to each bidder, both those selected and not selected, to explain the reasoning behind your decision. This should provide them with enough explanation to help them to appreciate why the winning bid was more suited to the task than theirs, a view of their scores in the evaluation process, and strengths and weaknesses in their tenders – all designed to justify the decision beyond any chance of a logical challenge.
Avoiding further Supplier Challenges
Unfortunately you are not out of the woods yet. Bidders have two deadlines within which to submit a supplier challenges – one 10 days after they have been informed of your decision (these 10 days are known as the Alcatel period which is the most normal time for a supplier to lodge a challenge), and one 30 days after they have become aware of, or should have recognised, the challengeable issue (a requirement by EU legislation).
If you have followed a clear and templated path, backed by strong governance and documented evidence then you should be fine, but we cannot stress enough the importance of doing all that you can to make bidders feel part of the process – that they have a say in how it will work and that they are kept informed throughout, with you living up to your timing responsibilities and making no hint of favouritism. Challenges to your decision can be costly and time consuming, and could come about for reasons beyond your control, but if the steps above are followed then you will at least have the legal high ground.
Once this challenging sandboxing period is up, you can finally award the contract to the winning bidder and start to move forward with your project.