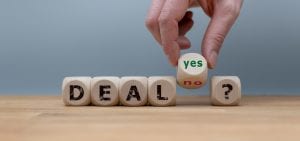 Last month we wrote about G4S's resistance to GardaWorld's £3bn hostile takeover bid, saying that the board had "… unanimously rejected this offer as it continues to significantly undervalue the company". However, The Times now informs us that rival US security company Allied Universal, which had previously offered £3.3bn, has improved its offer to £3.8bn. The Board of G4S has given the green light.
Change of this magnitude can cause a significant amount of anxiety, so if your strategic partner is going through a takeover, hostile or otherwise, how can you ensure that your service delivery is not only protected, but given the best chance of improving? We look at six steps to improve supplier performance, no matter the commercial change your partners are going through.
The G4S – Allied Universal Deal
G4S was regarded by many as one of the UK's biggest commercial success stories. It was formed in 2004 when Securicor merged with Danish company Group 4 Falck, and it has become the world's largest security company. With over half a million staff in more than 85 countries around the globe, revenues are reported to be around £7bn.
For months G4S has been locked in a war of words with another reported potential bidder, GardaWorld, with some media sources reporting that the Canadian rival was questioning G4S's financial strength and suggesting they had pension funding issues.
Allied Universal's deal includes a boost to the G4S pension fund to the tune of £535m and is reported to be worth £2.45 per share, 10 pence higher than GardaWorld's highest offer which totalled £3.65bn. The price for G4S shares has been all over the place this past year with a pandemic-led 16-year low of 69 pence per share in the spring. The Chairman of the G4S board, John Connolly said that the board believes "… this offer represents an excellent opportunity to create a leading global security company" and means shareholders will "realise value for their investment at an attractive premium … We are, therefore, unanimously recommending it to our shareholders."
While some (shareholders especially) will look favourably on the conclusion of months of 'will they, won't they', there will be clients and staff of G4S who may be nervous of what the takeover means for their jobs and for their service delivery. While change will inevitably bring with it a certain amount of worry, there are ways in which change can often be beneficial.
Six Steps to Turning the Challenge of Change into Improved Performance & Trust
No matter what challenge you face together with your supplier, we have found that often this can be turned into an opportunity that will benefit you both if approached in the right way. After working with clients on more than 500 complex and strategic relationship management projects, evidence dictates six key steps to turning any challenge into an opportunity to improve performance and build greater commercial trust.
Place your business case at the centre of everything
The first step to improving your relationship is to take stock of what has been working well and where challenges exist. Compare this with the expectations all parties agreed to at the outset of your relationship. Return to your business case – the conclusions you laboured over to evidence not only your reasoning for taking up the challenge of the project you embarked upon, but also the promises that were made between you – so you can clearly identify where parties have met, exceeded or where challenges remain to achieve goals along the way so far. The starting point of change must be to identify what you wish to change (your 'future operating state'), why it is so important to do so and the cost of not doing so, backed by evidence and reasoning.
What does your contract say?
Some strategic relationship expectations will be implied between you and some are enshrined in case law, while others will have been specifically written into your agreement  – the latter being far easier to utilise as evidence in any discussions with your supplier. Once you have identified the improvements you hope to make – changes that could put your relationship back on track, or those that can elevate the way you work together and the outcomes you'll achieve – the vital next step is to determine whether there are already agreed mechanisms for achieving your goals. Your contract is likely to hold many of the answers you seek: standards, expectations, escalation procedures, and so forth. Therefore, it's always a good first step to go through your agreement in detail to see how many of the solutions it already contains. After all, this is a document that both sides agreed to and it is a far simpler 'sell' to require a supplier to live up to their obligations than make new requests at this point.
Could the problem be at your end?
A relationship can sour, or become less 'functional' than it could be, for many reasons. While tempting to point the finger at others, before you do so it's important to ensure that you are fully aware of your own part in this and whether your team has adversely contributed to the position you find yourself in. A strategic relationship involves many thousands of interactions between you and your supplier, a great deal of which relies on everyone doing what they need to do in order to deliver their little part of a larger whole.
If you have seen responsiveness or quality issues creeping into the relationship, is it possible that your teams could have inadvertently contributed to this? If they have provided your supplier with material reason to claim that the issues you raise have originated from your side, then this needs to be fully investigated and evidence reviewed to discuss this with your supplier. If, through this process, you identify genuine issues at your end, then now is your opportunity to make the relevant changes to ensure that not only are these issues resolved, but that greater commercial trust is achieved on top of improved performance.
What improvements are you looking to make?
With a reinvigorated vision of what you are looking to achieve, a clearly evidenced list of issues and blockages to the best outcomes and clarity on your part played in any relationship or productivity degradation, you are now ready to itemise what improvements you are hoping to make and why. The clearer your view of what they should be, the benefits that will result, and the evidence of how continuing along the path you are currently following will not deliver on expectations, the easier it will be to get your strategic supplier on board.
A fresh pair of eyes can offer greater clarity
While we recognise that this is not always appropriate, engaging an independent team of experts to offer advice and guidance in this matter can be of significant benefit. You will have insights into your supplier relationship, but having an external advisor with years of experience on hundreds of similar relationships, means that their critical friend analysis of both your plans and the opportunities that you may not have identified, could be invaluable. Their extensive experience may also help to provide a more detailed roadmap to preparing, presenting and managing change which could improve your chances of gaining agreement from your suppliers.
Prepare fully for your supplier meeting
The goal you are aiming towards is to improve both your relationship and its productivity. However, no matter how fastidiously you gather awareness, knowledge and evidence for this change, it could all fall apart if you prepare poorly for a meeting with your suppliers.
The wrong word, approach or suggestion could set your relationship on path to choppier waters, but an awareness of your supplier's motivations, emotions and preferences, a collaborative approach rather than finger-pointing, and an argument that's not only backed up by evidence, but also leading to a win-win for all concerned is most likely to receive the warmest reception.
Understanding each of these elements, gathering intelligence, entering discussions with both an open mind and constantly measuring the temperature of the room in order to adapt your delivery, are all vital pieces of the puzzle.
Conclusion
G4S and Allied Universal have a long way to go. The deal has first to be agreed by G4S's shareholders, then the long and complicated process of combining the assets, processes and personnel of a business that is likely to be three quarters of a million people strong, will ensue. However, clearly both parties feel that the resulting entity will be bigger and better for all.
There are likely to be challenging times ahead for this new entity, and it is up to its clients as to whether they choose to treat this as a reason to be anxious or an opportunity to grasp. If your supplier is going through challenging times, consider the six steps listed above – they could help you to refocus on the best opportunities your collaborative strategic relationship could offer.
Photo credit: iStock