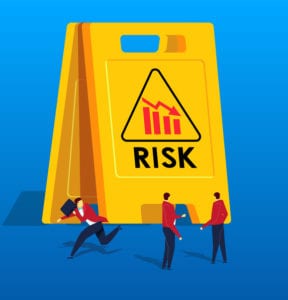 Service delivery innovation is the 'holy grail' solution sought by many in the UK across both the private and public sectors since we entered the austerity era. We have all been asked to do more with less. But is innovation really the panacea for shrinking budgets that it's promised to be, or do the risks of such pursuits outweigh the potential for reward in all too many cases?
---
Among the leading areas impacted by austerity in many organisations is information technology. It seems that for many in charge of this department, which is often likely to find itself at the forefront of business change, that the pursuit of innovation has become their chosen means of attempting to meet increasing expectations of thrift. According to the 2016 CIO 100 list, approximately 70% of Chief Information Officers allocated at least a third of their budgets to innovation projects and new developments in technology. In fact, 40% of CIOs spent over half of their total budget in this way.
This is not an isolated statistic as the 2016 Harvey Nash CIO Survey showed a shift from IT change programmes that look to improve efficiencies (37%), to IT initiatives that support revenue growth (63%). This suggests that CIOs are refocusing their aspirations on improvement – not just fire fighting. Indeed, in recent years we've seen for ourselves a substantially increased number of propositions for shared services and joint ventures, particularly in the public sector. The underlying theme for the great majority is to help drive not just cost savings but increased numbers of revenue streams and market reputation, among other benefits.
With larger budgets to fund such innovations being a rarity, the Harvey Nash survey goes on to state that: "The Creative CIO frees up funding to drive innovation by delivering savings in other areas. For example, simplifying the IT estate, improving operational discipline and exploiting open source, cloud and other technologies. Yet only 31% of respondents have a formal process to allocate resources to drive technology-enabled innovation across IT and the business. By taking charge and driving innovation, the Creative CIO is prepared to try, fail and learn quickly and without repercussion."
The challenge with innovative programmes, projects and relationships, is that while they usually have simply stated goals, they are often remarkably complex to implement. They question the status quo, push barriers and often, in doing so, make a lot of people very nervous. And, as with anything new, such innovations are rarely well-defined, shaped or understood, leaving room for ambiguity, misinterpretation, and missed expectations. Put simply, the greater the innovation to drive simplicity and value, the higher the implementation risk that needs to be considered and managed.
As many of you will know, whether you are veterans of the IT business change management process or not, dealing with issues once they have surfaced can be disruptive and costly; it's far better to identify risks at the outset and manage or avoid them. This will never be a perfect solution and challenges are bound to arise, but preparation and awareness will ensure swifter solutions are found.
The paradox of mitigating risk, while pursuing innovation is neatly summed up by Fitness First's CIO Ed Hunt, who said, "…you are the steward of risk mitigation and cost containment, yet you're expected to innovate. If you spend most of your effort focusing on risk mitigation, you'll reject most innovation."
So how can today's innovators hope to balance these conflicting interests while delivering value – what are the risks to watch out for and how can they be countered?
1. Reputation fallout
With resistance to change often present in many organisations, it's a case of building your reputation, and the organisation's confidence in you, with rapid small victories before going for a big win, or you may fail deeply. As the fallout of not delivering on expectations can tarnish your reputation and that of your organisation, it's important to mitigate this risk by ensuring widespread stakeholder buy-in and ongoing support – particularly when implementation gets wobbly. Not only will the innovative concept no longer be your idea alone, but, with more minds working the problem, it has a far greater chance of success.
2. Knowledge pooling
The complex nature of innovative initiatives and programmes can encourage many to step back while a few eager individuals become all-seeing, all-knowing project gurus. But what happens if they leave? In an interview with news outlet CIO, Ed Hunt explained that as part of Fitness First's journey to 'transformation' it was necessary to upskill their team, to make all individuals accountable for knowledge transfer and in turn, to innovate. Therefore, each team member rotates to a different set of responsibilities every six months so that expertise and knowledge can be shared among those in the department, because, as he explained: "You can never have one person who is the guardian and master of everything."
3. Clarity and communication
Confusion and misinformation can hold back a business change project involving IT solutions, especially when new strategies and structures are being used which have not been explained fully or correctly. Fear of the unknown or the 'new' can also cloud judgement and amplify any ambiguity here. Without a considered stakeholder management plan, those who lose visibility may be left to form their own opinions and ideas about what is being delivered and when. In turn, this contributes to the problems caused by unmet expectations; the first casualty of which is usually trust.
4. Collaborative working
Clear communication is essential, but even the most meticulously thought-out programmes will inevitably encounter challenges. Such eventualities will require a collaborative approach to solve them. This is where all of your groundwork in relationship building and focused stakeholder management from the outset of the business change pays off. With properly aligned goals and a mutually high level of commercial trust in both on-the-ground teams and management, you will have a greater opportunity to solve problems.
5. Prioritise your investment in talent
Resourcing an experienced team with the suitable overlapping skills to manage a transformational business change project that is supported by IT projects, can be difficult. First, you need the foresight to anticipate the potential challenges you're likely to run into, so that you can build a team capable of handling them. Then, you need to keep them, as business transformation takes a long time. Underinvestment at this stage could see gaps appear and risks going unmanaged. The Harvey Nash survey shows that 65% of CIOs feel they're being held back due to a lack of talent, which is why 44% anticipate that their teams will grow in 2016. It's no surprise then that 89% of CIOs are also concerned about talent retention.
---
Conclusion
Finding the right balance of a push for innovation alongside adequate risk management is a challenge in itself, but find it you must if your transformational IT projects are to be a success. The alternative will attract misalignment, unmet expectations, skills shortages and disruption. Early investment in the right people and plan of action is imperative to reduce long-term risks and to retain the talent necessary to deliver a positive outcome.
Unfortunately, another balancing act comes to bear here as budgetary constraints and the need for skilled individuals must be reconciled to achieve best value on any project. As battle-scarred CIOs will know, an investment in the tools of success will minimise the risk of dealing with the costs of failure later on.
Are the risks of innovation outweighed by its rewards? The answer to this depends on your willingness to challenge the status quo, to resource for success, to apply adequate foresight to avoid predictable risks, and to offer clarity in outcome expectations and communications throughout. If you can stay true to your vision and see to it that your stakeholders share it with you, then you stand a far better chance of achieving the level of transformational success you had planned for.
Photo credit: iStock