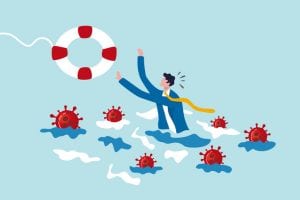 According to the Organisation for Economic Cooperation and Development (OECD), "the global economy is now experiencing the deepest recession since the Great Depression in the 1930s, with GDP declines of more than 20% and a surge in unemployment in many countries".
Consequently, the global supply chain has been hit hard. Due to the knock-on impact of this on so many businesses across the world, it is becoming increasingly evident that weaknesses in the existing system need to be addressed.
In March of this year, as Covid-19 started to spread across the world and rumours of a potential lockdown in the UK circulated, people began buying more of what they considered essentials. Supermarkets, especially, felt the strain. Media outlets played images of empty supermarket shelves, exposing the vulnerability of supply chains to fluctuations in demand and the problem worsened as panic buying set in.
According to a Which? survey in the early days of the pandemic here in the UK, 69% of people asked were concerned about the availability of food, 76% had experienced shortages and because people got worried, in a week in mid-March, they collectively made 15 million more visits to the supermarket than they did in the equivalent week in February.
Characterised by frequent orders, short lead times and low stock levels, the current supermarket supply system is designed for maximum efficiency. Although this helps to keep prices low, it is also a system that's vulnerable to systemic shocks. Besides illustrating the anxieties of the population, the images of empty shelves brought home concerns about the strength of supplier relationships and whether they are being managed in the right way.
As production and logistics slowed or shut down during the pandemic, many clients and suppliers discovered that they lacked the flexibility to adjust their relationship to cope.
Lending a Helping Hand to Suppliers
Measures were needed to boost inventory and offer greater continuity of supply during times when everyone was feeling the strain. These measures are often effective at paving a way to greater commercial trust and stronger working relationships going forward. In order to achieve this, some organisations have demonstrated a shift in focus, away from competing priorities, and toward supporting their suppliers where possible.
Morrisons is a well-known example of a corporation offering a helping hand to its suppliers. In March it temporarily set aside its standard payment terms in a move to support its supply chain through the Coronavirus outbreak. The supermarket is reported to have committed to pay 3,000 of its small suppliers and farmers on immediate terms, in order to boost their cash flow, at a cost that's estimated to be around £50m.
A spokesperson for Morrisons commented on the initiative. "All our efforts are currently focused on protecting our colleagues and customers, and working together with our own food makers and our other suppliers to ensure food is available to all across Britain, especially the vulnerable and most in need."
In turn, Morrisons is building even stronger supplier relationships with greater levels of trust due to significant collaboration. Although operating with more expensive trading terms, the supermarket can boast greater confidence in its supply chain and its ability to meet any ongoing demand fluctuations, something that would likely cost a considerable amount more to attempt to find elsewhere.
Morrisons is not alone in this initiative. A wide-ranging set of measures to support suppliers have been adopted by others, such as Waitrose – it too has looked to accelerate payment times to their most 'vulnerable' suppliers. However, Sainsburys, that had introduced immediate payment for its smallest suppliers, is now looking to end this support in favour of payment terms of 14-days which it reports is quicker than current standard terms.
Supplier Relationship Management – 4 Steps to Working More Closely with Your Suppliers when Changing Payment Terms
Ultimately, if you support your suppliers, they are likely to support you. A collaborative working relationship combined with commercial trust often results in your business building relationships that will reward you long into the future.
As you will know, adaptation of existing payment terms is not something to take lightly. The current environment is certainly one in which this will not only be prudent for some, but necessary. We have, therefore, put together the following steps in order to help you identify ways to optimise your relationship with your suppliers, if you find that you need to support them through more favourable payment terms:
#Step 1: Maintain an eye on their financial stability
How can you know whether, even with your generosity, your supplier is strong enough to survive the stresses that bring you to the conclusion that they could benefit from faster payments? From the outset of any strategic relationship, it makes sense to ensure that a shared understanding exists. That you are 'in it together'.
As a result, you will need to conduct periodic financial assessments on their business to ensure that they have the stability to complete what is expected of them. This should be done at the outset of course, but also periodically throughout the relationship and in particular, during times of heightened strains on their business. A bank reference will often be a good start, so long as you are specific about your reasoning for needing it with them.
#Step 2: How can you know that the money is going where it needs to?
If you wish to formulate more favourable payment terms to support your supplier, then you'll want to ensure that all this money is going towards their business stability, so they can deliver on the agreed outcomes of your project.
When a supplier is beholden to shareholders, it is important to ensure that this money is not provided in the way of dividends when the supplier needs it for operating capital. Consider asking for assurances that if you pay early, it won't be extracted in the form of non-operational extractions (including dividends). Get an agreement, signed by all relevant parties, that dividend payments will not be made for an agreed specified period. The money you pay in support should boost a supplier's ability to maintain performance levels, and where possible, keep to agreed schedules.
#Step 3: Become their default invoice factoring/discounting option
When a supplier's finances become strained and they need it most, sometimes it becomes more costly for them to have access to the trade invoice factoring/invoice discounting services they so badly need to keep going, if they are able to access them at all. To keep them viable and focused on your project, you could offer to structure your advanced/early payments so they do not need as much credit, or offer a similar service to the factoring/discounting service they could find elsewhere but on more favourable terms.
#Step 4: Build flexibility and collaboration into the deal
It is always advisable to not only look to develop flexible, collaborative relationships with your supplier, but to build this into the contracts you create.
We would always recommend building a review and refine meeting into your agreement so that at least twice a year, you can sit down with your supplier to discuss opportunities and risks so that contracts, processes and environments can be adapted to ensure best results.
Where you are assisting your supplier through more favourable payment terms, you might wish to leverage this as an opportunity to build in additional flexibility, while also maximising the chance to bring your working relationships closer together. This will allow you both to take every opportunity to improve the relationship, the prospects of the project and the outcome as well.
Conclusion
Optimising your supplier relationships is achieved through cooperation, communication, and flexibility. Closer collaboration with your suppliers, especially in a time of heightened stress, not only strengthens relationships and builds mutual trust, it can also deliver benefits of efficiency, innovation and productivity.
Morrisons, along with a number of other leading organisations, has clearly recognised this. However, the true test will come over the next year or so, as we see whether the lessons learned during the pandemic will be applied to strategic relationships when things start to get back to some form of normality.
Covid-19 has exposed some of the cracks in the traditional supplier-client relationship, the question now is, what will you be doing to strengthen yours going forward?
Photo credit: iStock