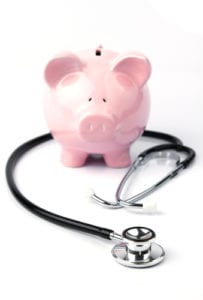 Outsourcing challenges, what can we learn from the recent NAO report into the seven-year contract NHS England entered into with Capita in 2015 and worth a reported £330m?
The contract was to deliver the transformation of primary care support services for tens of thousands of primary care practitioners.
The reported aims of this contract were:
To reduce costs by 35% in the first year of the contract
To reduce ongoing administrative costs
To create better and more efficient quality support services that are easier to use.
Essentially, the intention was that Capita would take over the running of back office services for NHS England, through 1,650 staff located in 47 offices, yet the NAO reports that the contract was beset by outsourcing challenges…
NAO Report on the Contract
A report published by the National Audit Office (NAO) on this contract between NHS England and Capita states that "both parties misjudged the scale and nature of the risk in outsourcing these services". The impact it had on delivery of these services had the "potential to seriously harm patients", though none has been identified, but as a result these services had "fallen a long way below an acceptable standard".
Summary
Primary care support services provide a range of administrative and back-office functions to around 39,000 primary care practitioners. In 2014–15, primary care support services cost £90 million.
The table below sets out the core services provided, including the administration of:
• Payments to GP practices
• Payments to opticians and pharmacies
• The pensions of GPs
• Entry and changes to national performers lists that provide the public with reassurance that GPs, dentists and opticians in the NHS are suitably qualified and have passed other relevant checks.
Core Primary Care Support Services Provided by Capita Business Services Ltd (Capita)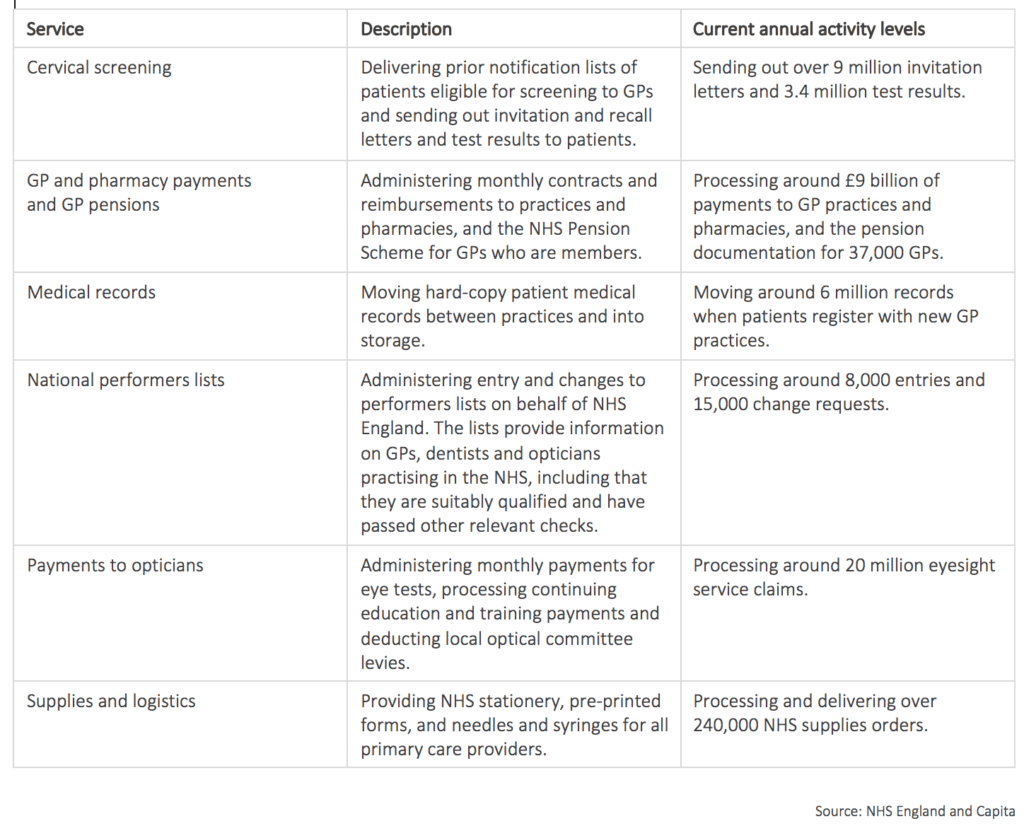 However, the NAO document reports that: "In May 2016, primary care providers began raising concerns with NHS England about failures of the PCSE contract, including delays in transferring medical records and problems with the responsiveness of the customer support centre. In September 2016, NHS England served default notes, placing five of Capita's nine support services in a formal process to rectify services. It also embedded an 'expert management team' from NHS England in Capita. In December 2016, NHS England stated that Capita had failed to deliver key aspects of the service, putting primary care services and patients at risk."
To date NHS England have penalised Capita to the tune of £5.3m in contract penalties.
The NAO Report
But what went wrong, and do we understand why? It seems there have been issues on both client and supplier sides, but a few extracts from the NAO report will offer some background:
 "NHS England did not know enough about the services it inherited to set achievable service specifications and performance standards from the start of the contract." Each of the 47 support team offices had its own local arrangements, using a part paper, part outdated IT system-based process that required replacement, making staff mobility problematic. "NHS England lacked adequate data on the volume and cost of the services before the contract was awarded, and there were no consistent measures of performance."
"NHS England's decision to contract with Capita, both to run existing services and also simultaneously to transform those services, was high risk." And the fact that NHS England did not completely understand its own services on a holistic basis itself made this even more risky.
 "The failure to update performers lists may have compromised patient safety in cases where practitioners should have been removed. 87 women were notified incorrectly they were no longer a part of the cervical screening programme."
A new online portal was launched for primary care providers to use to order supplies, a new courier service was instructed, and a new labelling system for moving medical records was introduced. But was an implementation strategy tested with local primary care providers prior to the implementation itself, because it is reported that providers struggled with these changes. This, combined with NHS supply chain issues, were beyond Capita's control, as, it seems were the number of calls its support centres received as a result.
Although it appears NHS England did not have a fully holistic grasp of its own services under the contract, the NAO report also suggests that Capita underestimated the impact of closing support offices, reducing staff numbers and losing the local knowledge they had. By the time measures were put in place to retain the best staff, it was too late and many were lost. As each of the 47 offices in turn had their own way of doing things, those who were left struggled with the systems they were now expected to use.
"Without comprehensive service indicators, NHS England cannot tell whether the services meet the needs of primary care providers." Some measures were included in the agreement with Capita, but of the 78 key activities, 23 were without performance measures and 13 of these had the capacity to affect patient safety if not delivered correctly.
Governance is a vital element of any agreement. The NAO report suggests that despite NHS England's concerns about the rate and extent of support office closures and staff reductions, there was no mechanism within the contract for it to require Capita to gain its agreement before closing more.
Four Primary Lessons to Overcome Outsourcing Challenges
The relationship between NHS England and Capita continues, but with millions levied in fines, and failings on both sides identified, it is hoped for the patient's sake that lessons can be learned from this experience.
Four lessons we ourselves have learned over hundreds of these more complex major outsourced relationships that we perceive are most relevant to the NHS England/Capita situation, are:
1. Textbook argument for an ICF team
In many major outsourced relationships it pays to have a dedicated, multi-skilled team at the heart of the project, one with the role of gaining a better insight into the motivations, capabilities and real-world situations of those on the supplier side, and who have a seat at the decision-making table client-side so their direct knowledge can influence policy and process for the efficient running of the project.
NHS England did eventually embed an 'Expert Management Team' into the relationship to work alongside Capita, but only once the service had started to falter. Experience tells us that such a team, created to be part of the governance structure from the outset, could have highlighted weaknesses and knowledge gaps, particularly in early stage due diligence, and could have helped to steer the relationship in a more successful direction.
2.

The importance of outcome articulation
Without clarity on your destination it will be impossible to identify when you've arrived. Two and a half years into the contract, NHS England and Capita still clearly have areas of ambiguity hanging over them as there still seems to be much disagreement about the interpretation of various measures. Yes, they had agreed a financial objective, but a clear articulation of service outcomes on a balanced scorecard basis seems to have been, and continues to be, missing.
A contractual mechanism should have been reverse-engineered from a balanced scorecard of the holistic outcomes to be achieved from the delivery of the service. This would usually create a framework for parties to look to and would have been a better way of driving the 'right' behaviours between everyone to achieve the right clinical outcomes, rather than imposing penalties after the fact.
3.

Ongoing monitoring and reshaping
With most major outsourced relationships lasting for many years, there needs to be a mechanism in place for adapting the relationship and the contract that guides it to the realities of the world around them. In our experience, a biannual reassess and reshaping process of service outcomes, built into the agreement from the outset, is the best solution.
In this process parties freely discuss progress, issues and where technological advances, capability or capacity weaknesses or strengths, trends and more could or should influence the evolution of improving service delivery and the updating of the agreement between them. This way, agreed outcomes can be achieved via the most effective and efficient means, and where those outcomes change, the agreement should be realigned accordingly.
4.

A client's responsibility for a supplier's poor performance
NHS England has been applying financial penalties to Capita for what has been reported as poor performance, but does all the blame for this lie with Capita? A client should never simply jump to a conclusion in such circumstances. Could the fault lie with poor client pre-contractual diligence in its articulation of its original outcomes of the service constraints? Or could it be due to the supplier not undertaking sufficient due diligence or not providing appropriate warnings to the client in areas where the client's expectations were not articulated clearly enough?
There may also have been poor lines of communication between the parties and governance that could have been better aligned, which meant that client support, resources and guidance were not delivered in a timely fashion. When a supplier fails to deliver to a client's expectations, the client must also look within itself just as carefully as it does into its supplier's actions.
In Conclusion
The NAO report did highlight a number of service challenges that have resulted in the potential for increased patient risk and the delivery of PCSE falling below expected standards. Fortunately, there are no reports of anyone actually being harmed. In turn, Capita are reported to have saved the public purse £60m in administration costs in two years. These are some positives to consider as well.
Moving forward, it's all about what lessons both Capita and NHS England have learned from their experience working together to date if they are to support one another and encourage the right behaviour to achieve the outcomes everyone is aiming for.
Photo credit: Shutterstock