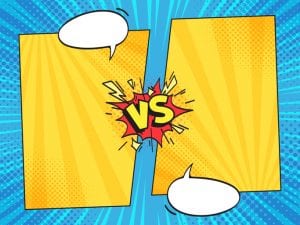 Disputes can often be regarded as the roadblock that prevents strategic supplier relationships from living up to their potential. They are the result of a collapse of commercial trust, poor communication and misaligned service delivery that signifies the breakdown of a relationship you have spent, potentially, years developing.
The legal route is one usually taken when all other forms of resolution and compromise have either been ignored or exhausted, so the statistics presented in Norton Rose Fulbright's 15th Annual Litigation Trends Survey make for dispiriting reading.
However, the hope is that through greater knowledge and education – of how to build commercial trust through clear expectations and robust service/solutions delivery – can come assured ways of preventing disputes in your relationships.
Contractual Disputes Trends, The Survey Said…
The survey asked 287 general counsels, associate/deputy/assistant general counsels, heads of litigation and others from the legal community, via phone and the web, for their thoughts on major dispute trends in their sector. The results were rather worrying. More organisations than ever before – 35% – believe that they will see the number of disputes rising in coming years and they identified contracts as the second most common reason for actual disputes in the 12 months prior to the survey.
Others are: labour/employment, personal injury, IP/patents, product liability and environmental/toxic tort. This is a trend and an order that seems to have remained largely unchanged over the last five years.
Split by sector, contractual disputes were way out in front for those in the energy sector; in second place for those in financial institutions, integrated marketing communications, and technology and innovation; and in third place for those in transport, and life sciences and healthcare.
35% believe they'll see an increase in disputes
Those predicting things will get worse are higher in number than ever before. In 2016 they were 24% of the survey group, in 2017 they were 25% and in 2018 they were 27%. This survey was conducted just over a year ago, when the worries were based on fears of trade wars and economic downturns, suggesting that businesses needed to 'prepare for potentially turbulent times ahead'.
At that time, little did they, or anyone else, know that there was a global pandemic on the horizon. Early indications from different sectors identify that this is likely to have made matters worse than the survey could have considered. Only 9% of those surveyed believed that they would see fewer disputes going forward.
Why are disputes predicted to be on the rise?
The survey suggested that there are four main reasons for assuming that the number of disputes will rise in the coming years.
Failing deals. The more deals that fail the more opportunity there is for companies to dispute why. With economic and pandemic pressures joining forces to make it increasingly difficult for parties to deliver on projects, the environment is ripe for deals and relationships to fail.
Economic reasons. With fewer new projects on the horizon due to the economic downturn, and as existing project relationships become strained to breaking point, suppliers may be more inclined to litigate to recover monies being held back by unhappy clients, or to seek compensation should a project terminate early, for whatever reason.
Employment reasons. It would be logical to assume that staff who view their career prospects through a bleaker lens in a time of greater unemployment may be more likely to sue employers who are forced to downsize due to failing deals and economic downturns.
Opportunistic reasons. In a time of turmoil there will always be some who will look to take advantage of others, stirring the pot to encourage disputes for personal or commercial reasons.
Cybersecurity and data protection disputes
With 52% of survey respondents feeling more nervous about disputes relating to cybersecurity and data protection – as part of outsourcing, services and project solutions contracts – this is a trend worthy of mention as well.
Cybersecurity has been an issue for many years, but with the increased sophistication and boldness of those looking to illegally access corporate systems, and high-profile hackings that seem to always be in the news, it is not surprising that this may be an anxiety for an increasing number of people.
Data protection was thrown into the limelight with the introduction of GDPR, which strengthened data protection regulations and created stricter penalties for non-compliance.
And, with technology reaching into every aspect of our working lives and this being something that is likely to continue to deepen as time goes on, the threats this invites and the damage this could cause are likely to be on more people's minds going forward.
The approach many are using to mitigate this increased perception of risk is to conduct more regular in-house and independent audits to determine the strengths and weaknesses of existing systems and processes in order to resist the potential for internal or external individuals or organisations looking to gain illegal access to data and systems. Fewer opportunities for illegal access will, ultimately, lower the risk of related disputes.
Government guidance on contractual disputes
Back in May, when Covid-19 was just past its last peak, the government set out guidance on how businesses should respond to the impact and strain caused by the pandemic through responsible contractual behaviour.
Essentially, they reminded businesses, both public and private, of the importance of a number of good practices to prevent and/or mitigate disputes, at a time when execution of one's contractual duties may be more challenging than usual.
The goal is to help all parties recognise that they are in this together, and that it will be better for everyone to find a 'fair and responsible' way of resolving issues before they escalate into disputes.
Four Actions to Take
Despite the ideal aim of contractual relationships being to produce collaborative partnerships, all too often parties find themselves working towards far more insular goals. Our own experience, along with government guidance, identifies that while progressing formal disputes can offer a short-term benefit (bringing the real issues with the relationship into focus), it risks a long-term disadvantage to the project and in the marketplace.
When challenges strike, collaborative behaviours are key to a successful outcome and this can be assisted through the following four actions.
1. Take a moment to consider a wider perspective
How quick are you to react when your strategic supplier misses a target? While a rapid response is vital to encourage the right behaviours from your strategic partners, this speed must be accompanied by a degree of strategic overview.
Some clients that have less of an understanding and experience of strategic supplier relationships often initially react to a supplier letting them down with the full force of their contractual recourse, assuming the worst and therefore creating an environment where the commercial trust they have spent time building is degraded or lost. In fairness, if the transgression over services is persistently poor despite working closely with your strategic partner to get matters back on course, then you may have little other option.
But for early and initial transgressions, it does not have to be that way. Most suppliers will do their best to live up to their promises and responsibilities – a degree of awareness regarding the challenges they are facing and the efforts they are making in order to meet targets is needed before a decision is made on how to react.
This strategic overview – often informed by your intelligent client function (ICF) team whose role is to work most closely with their supplier side counterparts, to understand them, to be the first to know when trouble is afoot – will help you to identify when to react in a strong or supportive way.
2. Collaborative working requires a degree of flexibility
It may be tempting to jump to an insistence that a supplier lives up to the letter of their contractual responsibilities right away. However, when one takes a more holistic perspective on strategic relationships, another approach can be that often a short-term willingness to adapt could well offer long-term rewards. You just need to make sure that any departure from the contractual terms or expectations is formally agreed in the context of what needs to be delivered, by when, and what the commercial considerations are that need to support it.
Disputes can be costly in many ways and in the worst case they can damage a relationship so deeply that one or both parties may wish to exit the agreement early. This can be a significantly costly exercise that needs an appropriate business case, along with a positive and negative impact analysis. The best way to sidestep this possibility is to face material challenges in service delivery or attitude with a collaborative mindset. First, to identify whether the supplier's issues are genuine, then, if they are, to offer a degree of commercially acceptable, but temporary flexibility on KPIs and contractual obligations to allow your supplier to catch up.
It goes without saying that this needs to be for a specified period only and the adaptation should be included within formal amendments to your contract. However, your willingness to go through this difficult period 'with' your supplier will earn you commercial trust points which, if handled through governance in the right way, will often see you rewarded with increased productivity, innovation and commitment from your supplier in future.
3. Realign your objectives to suit real-world changes
We always recommend that our clients build a biannual review and refresh of outcomes, objectives and expectations into their agreements with strategic partners. We call this 're-shaping'.  It allows the immense complexities of the relationships to be assessed and realigned to suit changes in the real world that may have thrown the parties off course.
This process should also be adopted when a significant trauma hits the relationship, such as a takeover or the impact of Covid-19, something with massive implications where objectives, outcomes and KPIs may need to be reconsidered, contracts realigned and expectations shifted.
If the goal is a continuous and clear understanding of one another in a collaborative partnership, such processes are vital and must be conducted in an open and frank manner.
4. Lessons learned can offer insights for the future
Looking at the relationship from your supplier's perspective, having a greater understanding of the challenges they face, offering flexibility and seeing the way they react to this, and having regular formal and informal governance to talk frankly and honestly about the way things are going, will help you to identify where things are going right and where they are not.
This level of commercial intelligence, gathered, assessed and considered, can help you to identify the mechanisms and motivations that will help you to improve your relationship, handle disputes more effectively and encourage increased productivity.
Conclusion
The ongoing challenges of Covid-19 are likely to impact on many strategic relationships well into 2021 – the result it seems is likely to be an increased potential for contractual disputes. In the light of this difficult time for everyone, we believe that it has never been more important to do all you can to encourage collaborative working relationships.
An acknowledgement that 'we're all in this together' and of the value of your existing supplier relationships, that you are willing to evolve with changing real-world stresses and strains and to always keep an eye out for those who would look to exploit the system and your generosity, are all important ways in which we must adapt to succeed in this new year.
Disputes are the roadblock you do not want to come up against, but greater awareness of their growing prevalence and of the ways in which you can avoid them impacting on your relationships can make a big difference.
Photo credit: iStock