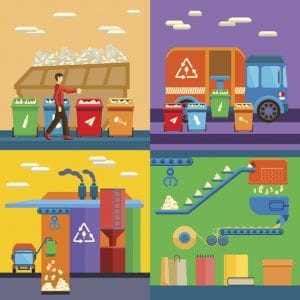 Environmental concerns have been high on the political agenda for a number of years, so when Britain's number one energy-from-waste business, Viridor Waste Management – a subsidiary of the FTSE 250 environmental utility infrastructure company Pennon Group PLC – is sold to an overseas private equity group, it's big news.
Strategic Supplier Changing Hands – What Next for Service Delivery?
Whenever a strategic supplier changes hands, some will question whether there may be a reduction in commitment to service delivery. Often, when the new owner is a non-domestic venture capital entity, these worries may be more acute, even in the absence of any evidence to suggest there will be an issue.
It should be remembered that there are times when the sale of a strategic supplier business can be a positive move for its clients. An injection of new minds into the mix can improve corporate adrenalin, drive innovation and often improve productivity and value even further.
This article provides you with five signs to look out for that will give you fair warning that your supplier is putting itself up for sale. This may help supplement your own foresight so you can take the steps you need to consider whether further diligence is appropriate for your own service delivery.
The Viridor Deal 
KKR is a New York-based organisation which has invested hundreds of billions of dollars into hundreds of investments in organisations within sectors such as property, infrastructure and, of course, energy.
In anyone's book £4.2 billion is a significant sum, but that's the price KKR (formerly Kohlberg Kravis Roberts) paid for Viridor. Breaking this sum down, they reportedly paid £3.7 billion for the company, but also took over £550 million in debts and liabilities. More surprising than the scale of the sum that was paid is the value the American organisation placed on the business.
Business valuation is a complex series of considerations. KKR paid over 40 times Viridor's profits last year and 4 times its turnover; it must be a very strategic purchase for KKR.
The Company
So, what is Viridor Waste Management and what does it do? With its origins in the 1950s and its change of ownership and name to Viridor ('to become green' in Latin) in the mid-to late-1990s, the company has grown to a business with a reported turnover of £852 million and 1,200 staff in local authorities and waste conversion facilities.
This makes it the largest organisation of its type in the country. The business collects commercial and local council/city waste, recycling plastics and creating power which it sells back to the National Grid from the incineration of general-purpose waste.
It is reported that the company processes around 7 million tonnes of waste per year and creates enough energy to power over 700,000 homes, with a commitment to do its part to create a 'circular economy'; one where a high enough percentage of resources are reused to minimise waste.
Why has KKR purchased Viridor, and Why Now?
Viridor was conceived through mergers and acquisitions. It has also grown organically. So, as an organisation, it is used to change, innovation and adaptation.
With profit growth and 'a pipeline of new energy-from-waste projects', KKR saw an opportunity to buy into this growing marketplace.
With the UK and many countries across the globe taking their environmental responsibilities more seriously by promising to reduce the volume of waste going into landfill, this is a sector that is seen to be both stable, in these most trying of times, and growing in importance.
5 Considerations Should you Find that Your Supplier is for Sale
The first thing to do is to look at what signs there are that the purchase of Viridor may be a good or bad thing for the company's clients? Historic evidence suggests that KKR has plenty of experience, having reportedly invested in around 280 organisations over the years, so some confidence can be gained from this.
However, what we do know is that most changes bring with them a perception of a degree of uncertainty. If your own strategic supplier is going through a merger, an acquisition, or is itself being acquired, it makes sense to look out for these five signs which could indicate whether matters are going in the direction you desire for your strategic relationship and, ultimately, service delivery.
Innovation and R&D tail-off
When an organisation is considering making itself look its best for sale, it will often reduce or stop all investment in 'peripheral' activities to focus on making its financial position look as healthy as possible.
Unfortunately, many of the activities they carry out with your organisation to attempt to improve efficiencies or achieve more impressive outcomes fall under this category.
However, this is just a sign, not evidence of anything, so it's important to simply identify that a reduction or cessation of such activities has taken place and to investigate why at this point.
Reduction in availability of key staff
In every strategic supplier relationship, there are individuals who are the knowledge holders, the gurus, the ones you turn to most often or rely on for strong management of the process or to deliver exceptional results.
Therefore, should you notice that they are gradually becoming more thin on the ground, are no longer available or accessible, individually or wholesale, it may be time to start asking the right questions.
The very best staff are often those closest to the heart of the supplier organisation and, therefore, most likely to be first to get wind of changes. They could be reallocated or decide to move on themselves to a more stable position.
Once again, this alone cannot be seen as definitive proof of anything but it's important to investigate further.
Coalface staff numbers start to dwindle
An organisation with lots of strategic projects on the go may be considered more valuable, creating evidence of a significant pipeline of project work.
This may be an unsustainable state of play, but as a valuation of the business is simply a snapshot of its potential, it does not have to be a lasting thing.
So, if the supplier's team allocated to you seems to shrink or you find you're sharing them very thinly with other projects, then first of all question whether, at these new reduced resource levels, your supplier can deliver the service that is expected of them and second, whether this is a sign of anything else you should be wary of in terms of service delivery.
This one goes hand in hand with the two above for as staff and talent levels drop, reduced productivity often follows. Not only should this be an indicator of issues to investigate, it's also an important point to bring to your supplier's attention as soon as it's noticed.
The worst case scenario is that there is a reason, at a strategic level, for this and things are unlikely to improve anytime soon. The best case scenario is that once brought to your supplier's attention, they can address the matter and reasonable productivity levels can be re-established.
Your supplier wants to schedule an unscheduled meeting
Of course, this could be nothing, but if you already have noticed any of the other four signs then it would be worthwhile preparing for the possibility that your supplier may be about to give you news that could provide challenges in your pricing or service levels, or both.
As with issues in any strategic relationship, it will always save future misunderstandings if you have been documenting them. This will provide a clear and detailed account of every time you've noticed that your supplier is performing over and above your expectations, in addition to not performing to agreed levels.
This gives you a considered balance to take the rough with the smooth in preparing for your discussions with your strategic partner. Enter the discussion/virtual/actual meeting with an open mind, but supported by all the evidence you'll need.
During your discussion, it's better not to lead with the poorly performing elements as an opportunity to berate them with all of the bad news. It's an opportunity to start a dialogue to see if there is a way through this – for your supplier to adjust their talent and staffing levels, improve performance and invest again in innovation.
This may have nothing to do with a sale of the supplier's business and even if it does, being open and up front with them will give everyone an opportunity to identify the issues, worries and changes afoot, so they can be addressed.
Conclusion
KKR seems to have good reason for interest in Viridor. Partner and Head of European Infrastructure, Tara Davies, stated to The Times recently, that the organisation was keen to make "long-term investments in companies which are addressing major sustainability challenges". KKR is an established business, founded over 40 years ago, with well over $100 billion of assets under management, so at first glance it looks like Viridor will be in good hands, but time will tell.
All five of the signs mentioned above should, individually, be reason for a client to stop and think, but none on their own should necessarily lead you to believe that anything challenging might be happening at your supplier's side.
However, if you should notice two or more together then heed the signs. Dig deeper, investigate and see if there is a reason, because if there is, the sooner you can shine a light on it and the sooner you can look for a long-term solution.
Photo credit: iStock