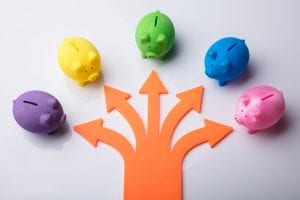 What could have been hailed as a success story of a public sector project brought in on time, has sadly found its way into the media spotlight for costs that have shot well past budget expectations.
The report also indicates that it looks like many of the challenges may have been avoided if project and stakeholder communications had been better. This article looks at the procurement issues that have surrounded the refurbishment of Ysbyty Glan Clwyd Hospital in Bodelwyddan, Denbighshire, Wales. We also outline the four observations and actions based on our experience of similar strategic relationships and projects we would recommend that all clients do to improve governance on their projects and in their supplier relationships.
Hospital Project Background
Two years before the project started, two 'incidents' with asbestos in the hospital were primary factors in driving the decision to refurbish the site and improve its facilities.
This improvement meant a number of new operating theatres, a new emergency area, new and updated wards, a new pathology department, a critical care unit, a new catering department and updated X-ray and outpatients' facilities.
The refurbishment of the hospital was originally costed at £110.4m; it was estimated that the project would take seven years to complete and, during the improvement, the works produced a significant 300,000 tonnes of contaminated waste. The good element to this project is that given its scale and aspects of its complexity, it was finished pretty much on time. The less attractive element is that it reportedly went £60.4m over budget – approximately 55% in additional costs.
A recent report by the Wales Audit Office (the WAO – the English equivalent is the National Audit Office [NAO]), states: "This report demonstrates the fundamental importance of good governance and robust oversight of complex capital projects. Whilst the complex refurbishment has been delivered largely on time, the very significant cost overrun might well have been avoided if concerns about the original business case had been properly addressed at the outset." It also reportedly stated that there were problems with "an understated target cost, an unauthorised contract strategy and an ineffective project governance framework".
The concerns noted here are those raised in an audit by NHS Wales Shared Services Facilities Services, which reportedly discovered poor depth of design and costing detail, procurement processes and business case for the work. It also points to issues not being communicated to the health board and the identification of early signs of an overspend which appears to not have been passed on. This prompted the comment that the agreed budget "might be well below that required to complete the project".
The audit also reportedly discovered unpaid invoices and unauthorised contract strategy changes.
4 Observations to Prevent Procurement Overspend Happening to You
The Association for Project Management (APM) defines governance as "the framework of authority and accountability that defines and controls the outputs, outcomes and benefits from projects, programmes and portfolios". It's the determination, implementation and oversight of the processes of management and is, therefore, fundamental to the success of any strategic relationship.
To improve governance, evidence of high-performing complex supplier relationships provides observations for the following four areas:
Objectives and goals
It's far more difficult to manage a relationship if the parameters and aspirations of that relationship have not been clearly defined and confirmed as understood.
OBSERVATION: Evolve the business case you developed for your needs into a set of clearly articulated goals and objectives for you to discuss with your supplier counterparts. It is vital to not only ensure that these goals and objectives are clearly defined, but also that they are equally clear to your suppliers and understood by them. Ambiguity and wish fullness are not your friends here and no matter how obvious you might believe your instructions have been, it is always good practice to ensure that your partners understand exactly what you expect from them.
The team you delegate to
Every individual involved in the project management of your strategic relationships is an integral cog in the wider machine, or at least they should be. However, that machine will only run as well as the least well connected part will allow it to. If those you surround yourself with do not have the skills, commitment and ongoing development to collaborate fully with your suppliers, this often results in that machine failing.
OBSERVATION: No one person can carry a complex project in a sustainable manner without it becoming very high risk to complete within its original objectives. It takes a team, all working in unison, all skilled in the right disciplines and committed to completing tasks in a timely manner, appreciative of their dependency upon one another in the smooth running of the project.
At the outset, project directors and managers must determine who they wish to have on their team and whether they possess the right attitudes and attributes. If they do not, it may be time to upskill them, instil clearer behavioural expectations or replace them with those who do.
Communication weaknesses
The more people there are involved on a complex project the more opportunities there are for information, intelligence and insights to be lost along the way. Most complex projects start out with a clear hierarchy of communication; however, who you communicate with and how you convey your message will determine whether it is understood, passed on and acted upon. Ego, communication skills and self-preservation instincts can often stand in the way of everything that should be passed up the line from reaching the top.
OBSERVATION: Management needs to be able to motivate through their on-the-ground behaviours – leading by example, They need to be skilled communicators and they must ensure that all those the project relies upon not only know what's expected of them, but are also competent communicators and they too, lead by example. If any weaknesses in this area are identified before the start of the project, additional training should be offered or staff in key hub positions replaced.
Real-world project risk
Stresses instigated at client or supplier side can influence not only the progress of a project, but also the decisions that determine how and whether changes to the established plan of action should be made. Anything from the state of the economy or a global pandemic to disagreements within teams and pressure exerted from higher up the food chain, can create a metaphorical bump in the road for your relationship, which usually spins it off in a direction that nobody expected or wanted.
OBSERVATION: A project with an Intelligent Client Function (ICF) team whose primary role is being sufficiently immersed in the client-supplier relationship to fully understand the motivations, strains and troubles of their supplier counterparts, is a project that's better prepared for real-world project risks. Better informed means better prepared for handling those risks and minimising the potential for them escalating into problems with financial or schedule ramifications.
Conclusion
The Welsh Government and the health board have had to come up with the additional £60.4m, which will no doubt sting as that money could have gone towards front-line healthcare. And, while what happens seems to have involved challenges across a number of areas of project management, the WAO's audit suggests that the local health board has implemented improvements which would help to prevent such a situation occurring again under their watch.
Photo credit: iStock