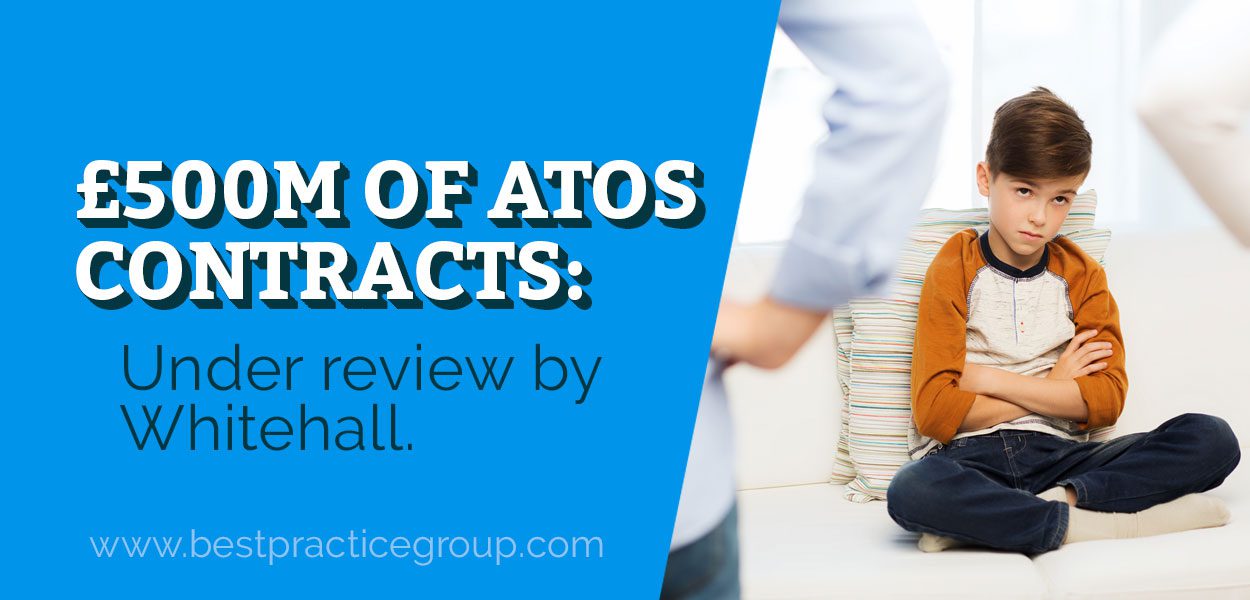 Despite sticking to the letter of their contract, we see £500m of Atos contracts under review by Whitehall. Time and again you will hear us discussing the benefits of a well-worded contract, of the need for it to be clear, complete and flexible to the needs of the project. But what happens when it's your perfectly worded contract that is working against you? Then, it seems, you need to be looking to your Intelligent Client Function (ICF) team for answers.
So why are the Atos contracts under review by Whitehall?
---
French-based outsourcing company Atos is reported to be in trouble because it seems that they have not adequately been executing their duty of care on an £8m NHS project. After a National Audit Office (NAO) review the Public Accounts Committee (PAC) recommended that every single one of Atos' £10m plus contracts with the government – totalling somewhere in the region of £500m – should be reviewed. Extreme though this may seem, there does seem to be good reason for Whitehall to take such a measure.
In 2007 Atos were selected to work on the General Practice Extraction Service (GPES) contract, a critical IT project that was managed by the NHS Information Centre and sponsored by the Department of Health. Unfortunately, costs spiralled from £8m to £11m and what was delivered late was reported to not be fit-for-purpose. However, Atos argues that they had followed the letter of their contract. So, if this is the case, how come the project seems to have gone so far off course?
The PAC stated that: "In their approach to this project Atos did not show an appropriate duty of care to the taxpayer … We are not satisfied Atos provided proper professional support to an inexpert client and are very concerned that it appears to have acted solely with its own short-term best interests in mind." Words which go some way to explain the wide-reaching review of Atos contracts, but should the blame rest with Atos or was the NHS also culpable for the failures of this project?
NAO's review of the GPES project
---
On the Atos website they describe the project as follows: "The launch of GPES means that, for the first time ever, it will be possible for the NHS to harness the full potential that primary care data offers for reducing inequalities, tackling inefficiencies and delivering best-quality local care."
When this £40m project to support better patient care, of which £8m was being paid to Atos for their contribution, did not deliver, the NAO investigated.
Their published findings made three key assessments:
1. Delays. Though the project was supposed to be completed by 2009/10 it did not come online until 2014 and many customers have yet to receive their data.
2. Mistakes. Procurement and management issues resulted in losses of public funds through asset write-offs and settlements with suppliers, and more needs to be spent to either improve GPES or replace it.
3. Shortfall. GPES in its current form is unlikely to provide the planned NHS-wide service due to the need for more flexible data extraction tools.
Daniel Thornton, programme director at the Institute for Government, said: "While it is unusual to recommend a review into all contracts with a single provider, it isn't unheard of – and we might expect more of this in future." Suggesting that he believes outsourcing firms may now come under greater review in the future.
Atos were confident in the face of this review stating that they "look forward to working with the Cabinet Office with whom we have a transparent and open relationship and we look forward to maintaining our green rating for delivery across Whitehall".
Other outsourcing firms have been taken to task in recent years – most memorably, Serco when they were banned from bidding for public sector contracts (a ban that has since been lifted) for allegedly overcharging and mischarging the government on their prisoner tagging contract – but this does not seem to have had the impact it was designed to have. Now, with the threat of all their contracts being reviewed, maybe those that are being more cavalier than they should be with their public sector relationships will sit up and take notice.
Where does the fault lie?
---
The question still remains, who was at fault in this case – Atos or the NHS? While it seems clear that Atos should have taken more care to inform their less experienced clients of the issues they faced as they arose, or in advance if it can be reasonably expected that they should have known better, clarity on this issue is muddied by the following three factors:
1. Apparently the client changed their brief part way through the project which significantly impacted on Atos' ability to deliver what was expected of them.
2. Atos delivered without testing, and the client accepted and paid without testing. Atos claims that this was because they were only responsible for part of the project and that they did not have access to the rest of it with which to conduct the testing. There really is little that the client can say about not testing or demanding test results on what Atos produced.
3. A clear skills gap on the client's side left them open to exploitation, and without the right management team in place to sense check, to test, to review progress against objectives, even to fully understand the project and the supplier's role in its delivery, the risks were significantly increased.
What lessons can we learn from this?
---
While unfortunate and costly for the public purse, it's always important to learn from mistakes so that they are not repeated. Here are the top three lessons we feel should be learned by any organisation looking to outsource their projects, especially their IT projects.
1.Contract for the advice
This is not a classic example of where contracting for the advice will have been beneficial, because the client changed its brief during the project. However, to have done so would have required Atos to assess the impact and costs involved in such a change on the project, while providing a workable revised solution. Had they done this, the client would have had a binding 'tool' they could have used to improve their situation at a later date – perhaps one to enforce a proper testing phase. So, while not a typical situation for contracting for advice it would still have been advantageous.
2. Have a detailed, well-governed strategy
As we know, when dealing with technical systems, changing the strategy, and ultimately the brief, after the event, is highly likely to cause problems. Not least because this can be the perfect excuse for outsourcers to hike their costs and to place blame should everything start to fall apart. It is of paramount importance for you to have a signed off a detailed business case that clearly quantifies the expected outcomes of the project so that they can be benchmarked and monitored in future.
Had there been an adequate, detailed and well-governed strategy in place here – including a thorough testing stage and an insistence that this was completed to everyone's satisfaction before the project had been accepted – things may have gone very differently. This clearly points to a lack of skill/capability on the client-side team that should have been recognised and rectified from the outset.
The NHS Information Centre (NHS IC) contracted with Atos to develop a tool to manage data extraction. In March 2013, the NHS IC accepted delivery of this system from Atos. The system transferred to the HSCIC [Health and Social Care Information Centre] from 1 April 2013, who found that it had fundamental design flaws and did not work. The system test did not reflect the complexity of a 'real life' data extract and was not comprehensive enough to identify these problems – NAO Report
3.Build a well-resourced and capable ICF team
Intelligent Client Function (ICF) teams should be the 'norm' when it comes to outsourcing. They are the diverse group of individuals who bring consistency of governance, technical and project expertise, and who hopefully are given the autonomy and authority to build strong working relationships with the vendor-side teams and steer the project in the right direction if and when it starts to deviate from its planned course. They are the early warning system when things go wrong and the knowledge base when anyone needs to know where the project is now, where it has been and where it is going. Without such a team you increase your risk of things going awry.
On top of standard project management responsibilities, your ICF team will also take responsibility for making sure that your outsourced provider is doing what they should be doing, acting on their responsibilities, and not only performing their duties as set out in the project agreement, but also that these duties will result in the expected outcomes of the project.
The investigation report points to a client-side team that didn't have such expertise.
The NHS Information Centre (NHS IC) changed its procurement strategy and technical design for the GPES extraction systems during the project. This contributed to GPES being unable to provide the planned number and range of data extracts. – NAO Report
Conclusion
---
In the wake of past heavily publicised scandals people have started to call for closer scrutiny of outsourced providers, especially when it's public money at stake.
While researching this article we did find that the media had been keen to point out that Atos had followed the letter of the contract they'd signed with the NHS, but it is clear that this was not good enough in these circumstances. An expert client-side team was plainly needed to ensure that what was in the contract would be likely to create the results they were hoping for, and to then monitor progress against this.
The need for more thorough testing is clear, and red flags must be raised in the wake of this project where not only was adequate testing not completed but it was also not insisted upon, resulting in a multimillion pound solution that simply did not work on delivery.