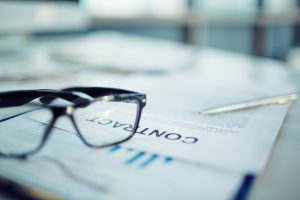 One of the most common mistakes organisations make is not planning their vendor termination strategy as carefully as they planned choosing their strategic vendor in the first place. Getting out of the agreement (safely and quickly) often takes more work than getting in, because there are potentially more financial, operational, and reputational risks. Following the right process to exit is essential.
Vendor termination letter template
If you have reasonably exhausted the main avenues for improving your vendor's performance and have reached the conclusion that you have no alternative but to terminate your contract with your vendor, then you will need to formulate an exit plan. As part of this plan, you can consider the following vendor termination of contract letter as a baseline for some of your thinking:
Example letter template
To: Contact name and position, supplier company name and postal address [as defined for written notices to be served within the contract terms]
Today's date
Dear [name of contact in written contract that receives formal written notices]
RE: Formal termination of contract for your services, reference [title of contract, title of service provided, date of contract and any other appropriate information]
Further to our letter before action dated DD/MM/YYYY, addressed to [name of contact in written contract that receives formal written notices], we confirm that the breaches listed in that letter were not appropriately remediated by your company within the time outlined and such time has now expired.
As a direct result of the lack of appropriate and timely remediation by your company, this letter confirms termination of the contract between us as of today's date, in line with clause(s) [x.xx, x.xx, x.xx].
You will receive details of the process for our exiting of your services by close of business on dd/mm/yyyy.
Yours sincerely
Name, position, organisation
Key criteria in your reviewing this vendor termination letter template
Any formal communication with your strategic vendor that confirms termination is a very significant step. You need to be certain that your behaviours, evidence, and termination procedure all align with the written contract terms. If your termination procedure isn't aligned, your strategic supplier can claim that you have wrongly repudiated (i.e. wrongfully discharged your obligations under) the contract. This can open you up to a significant financial damages claim.
Protect your organisation, job and reputation. Click here to read these very important 10 steps before terminating your vendor relationship.
Take appropriate legal advice. Please take formal legal/commercial contract advice before attempting to use this vendor termination letter template. Unless this advice is through us, in all reasonableness we (Best Practice Group plc – BPG), are unable to accept any liability for your using this template in any form.
Follow the formal contract process for termination. Any termination for breach should be preceded by following the formal escalation termination processes and clauses outlined in your written contract. If you do not follow these processes, it is likely a court will find your termination process and supporting termination letter to either (a) be deemed invalid, or (b) accepted by the opposing party as 'wrongful repudiation' of the contract. In other words, the opposing party does not think you had appropriate grounds to terminate the contract, but they accept the termination on the basis you pay them damages for the early termination of their services. Therefore, if you are terminating the contract on the basis you think you are entitled to some form of compensation, or you just simply want to get out of the contract without paying any further service charges, it is likely your claim will fail unless you follow the appropriate process in your written contract.
Letter before action. As part of your formal escalation process detailed in your written contract, any termination letter must usually be preceded by a 'letter before action'. This letter usually outlines:
the background to the procurement of the service,
what your material expectations were,
where those expectations have not been fulfilled and therefore, has put the vendor into breach of your contract with them,
what you want from them to remediate those breaches,
how they should deliver that remediation, and,
what timescale for each breach you will give them. Note that the timescales for remediation will usually be detailed in your written contract.
Termination process. It is usual that when a breach of contract occurs, contracts include terms that define the timing and process for proper termination of your agreement. BPG can provide you with appropriate legal and commercial contract advice that can help you determine this timing, process and issues that may arise as a result of the early termination of a contract.
Proof of sending/receiving. It is sensible to make sure you have evidence that your termination notice was both sent and received. It is not unusual for the recipient to deny it has received such a notice. Alternatively, using an organisation like BPG to send the notice on your behalf will provide an added layer of proof that the notice was in fact sent.
Prevent surprise in the letter landing 'cold'. With the larger and more complex vendor relationships, it would normally be appropriate to arrange a meeting to let the key vendor stakeholder know that you are terminating the relationship, before sending the confirmation letter itself. Contractually, the issuing of the termination letter is critical, but can be outlined as a "confirmation" of the conversation you have had with the vendor.
Cover the contractual angles. As in the example above, it is wise to ensure you outline the specific clauses in the contract that deal with termination for breach within your letter. BPG can assist in identifying not only the direct clauses, but any others that are likely to have a material impact on the termination process.
Reference the 'letter before action' correctly. In the notes above, we've outlined that most escalation processes within written contracts usually advocate a 'letter before action' is sent to the supplier. This letter should provide specific details and evidence of the breaches of the agreement, along with timescales for remediation. It is important that your 'letter before action' is correctly referenced within the termination letter, thus avoiding any misunderstanding and/or accusations that you haven't correctly followed the termination process you both contractually agreed to. BPG can discuss any questions you may have regarding how to accurately describe the process and the actions you want the supplier to undertake in this letter.
Conclusion
Setting out your arguments clearly, with solid and independently validated evidence, will help your strategic vendor to understand that it will cost them more to resist the termination and exit than it will to comply, agree and support the process. Always be sure to align your termination and exit negotiation strategy with the written contract terms, and always seek independent and qualified advice in respect of formal termination. Damages for adopting the wrong termination and exit procedure can be penal.
If you have reached the stage of deciding upon an early contract termination and need some assistance or would see value in a confidential (no obligation) chat about your project, please call 0845 345 0130 or email advice@bestpracticegroup.com. The conversation will be completely confidential, informal and you will speak directly to an experienced practitioner in large and complex vendor relationships who can help you find your own way through this challenging situation.