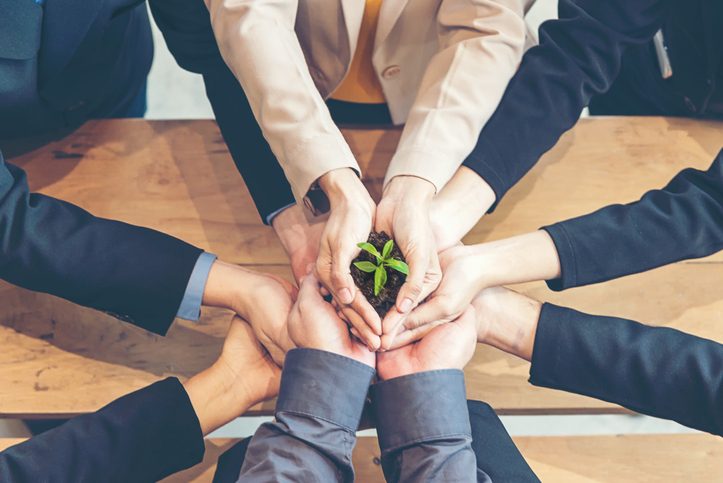 We have noticed (and continue to encourage) a steady increase in the use of social enterprise companies in the day-to-day service delivery activities of the modern-day organisation/business. Where profits and positioning were once the unchallenged, primary goals, it seems that both 'good' businesses and public sector organisations are increasing their interest to encourage social enterprises into their procurement and service delivery process.
The money these 'client' organisations invest each year is going to social enterprise companies with more altruistic goals. By way of example is the insurance company LV, which it's reported has a goal of increasing the percentage of its annual £750m company spend on social enterprises. In fact, it was reported in January that LV joined a group of businesses which aims to collectively spend £1bn with social enterprises, in a move that underlines just how serious it is about this ethos.
But what is a social enterprise, why is their popularity increasing and how could they benefit your organisation?
What is a Social Enterprise?
Social enterprise is a concept that was devised in the 1970s to define a business that prioritises the social, community or environmental benefits it looks to achieve in the world alongside or above the profits/surplus it makes. In other words, it's a business with the ethos of a charity that does not rely completely on voluntary/charitable contributions to propel it towards its objectives.
Because it's a business, it strives to make money to be self-funding, but because it's a social enterprise, it reinvests a proportion of its trading surplus to further its social objectives or to fund social programs. A social enterprise can be in any sector because it's not what they do that makes them what they are, it's how they interact with and invest in social causes generally.
Deloitte (a 'big 4' audit/accounting/consulting organisation) defines a social enterprise as "An organisation whose mission combines revenue growth and profit-making with the need to respect and support its environment and stakeholder network. This includes listening to, investing in, and actively managing the trends that are shaping today's world. It is an organisation that shoulders its responsibility to be a good citizen (both inside and outside the organisation), serving as a role model for its peers and promoting a high degree of collaboration at every level of the organisation."
In their 2019 Global Human Capital Trends report, a survey of around ten thousand CEOs from around the world, the number one issue they chose to highlight was Societal Impact. This was two steps ahead of Customer Satisfaction. In the same list, Financial Performance was relegated to fourth place. In the 2018 version of the report, it found that 77% of respondents thought 'Citizenship and Social Impact' were important to their business, but 51% shared that they were not at all ready for this change. And this trend towards the importance of social enterprise is only set to increase as the 2019 report showed that 96% of respondents believe that societal impact would be as important, or more important, in 3-years' time to their organisation.
Benefits of Working with a Social Enterprise
There are three primary benefits to working with a social enterprise:
1. They tend to be lower cost
I appreciate this is a sweeping statement, and while some social enterprises are large in scale and can be comparable in price to their private enterprise counterparts, many range from a couple of employees to SME level, and prioritise their non-profit goals over their profit-goals. This ensures that a large number of social enterprises are extremely competitive on price.
2. They help you project the more altruistic side of your brand image
Businesses believe that societal impact is important because their customers have increasingly told them this is the case. The modern buyer wants to spend their money in places that make them feel good about themselves, to contribute wider to communities and support them. Therefore, when it comes to a choice between an organisation that prioritises social and environmental goals through the use of social enterprises and one that does not, our experience is trending towards those that do, rather than those that do not.
3. They can help you to attract and retain your talent
According to the 2018 Global Talent Trends study by Mercer, "Working with a sense of purpose boosts employee motivation, productivity, morale, and overall job satisfaction." and, "thriving employees are three times more likely to work for a company with a strong sense of purpose." This 'purpose' may come from many areas, but for the company to have a strong vision; to do good that it shares with its staff and allows them to contribute to, is often a significant start. It is also a fact that the more satisfied your employees are, the more they will share that satisfaction with others, the wider the reason for this is known and the greater the likelihood of attracting talent to you who share your vision.
Challenges of Social Enterprise
There are two key challenges of a Social Enterprise, as follows:
1. The potential need for additional support
Social enterprises come in all shapes and sizes, but should you find yourself working with one that is a little more commercially naive than their private sector peers – one that struggles to deliver on time, to manage the capacity needs of your organisation, or for any other reason – it might be worth offering them an additional line of support to help them get up to speed. Social enterprises offer more than the sum of their deliverables, so client organisations are often more lenient with them, and more prepared to invest in a little additional time to support them in their growth into the sort of supplier they are needed to be.
2. The 'expert supplier' trap
As a social enterprise grows and its clients increasingly rely on its narrow area of expertise, it may well unwittingly become an 'expert supplier'. This sometimes becomes an issue, because along with this status comes a whole host of implied responsibilities and contractual duties which the social enterprise themselves may be unaware of. While it may be embedded in the very DNA of a social enterprise to not focus as much as other organisations on contractual obligations in the strict sense, as well as producing a surplus, as they grow this does become an important internal conversation they must have. Monitoring and meeting these additional responsibilities and duties costs money and, therefore, it would make sense to adapt their financial ethos 'slightly' to compensate. It's an important transition that any social enterprise growing into an 'expert supplier' needs to go through.
Conclusion
Social enterprises are a growing phenomenon. According to some reports, around 9% of all small businesses in the UK today are social enterprises. That's almost half a million businesses with a social or environmental focus which they feel is more important than their profits. That's an incredibly positive thing to say about the 'community' spirit of many in the entrepreneurial or business leadership echelons of our country. It's clear why social enterprise has become so popular. As the digital age has shrunk our world, we have become increasingly aware of the impact our activities have on the people and world around us and in increasing numbers people are looking to make a positive impact, to do good in small ways each day. This consumer trend has become a movement and this movement is driving change. Are you following or leading this change?
Photo credit: iStock