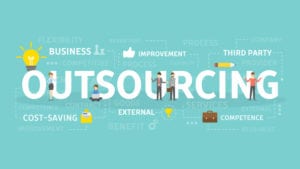 'It's not the theory, it's the execution' is the essence of an article on outsourced IT that I read the other day in Public Technology. It made a poignant point about the difference between political and actual reality when it comes to public sector outsourcing.
Attitudes to Outsourcing
By their election, the Conservatives are the current masters of outsourcing. They are oft berated by the opposition for their 'obsession' with involving the private sector in far too much public sector work. However, history documents that it was a Labour government that initially escalated the use of outsourcing. Today Labour's mantra is to not only leave the outsourcing model, but to bring back in-house a broad swathe of outsourced projects at significant cost to the public purse. So, who is right?
In our attempt to understand what's behind this question we were intrigued to review a recent report from the Institute for Government (IfG) think tank which was cited as the source for much of the detail in the Public Technology article.
Evaluating Outsourcing Policy
The IfG has been evaluating the government's outsourcing policy, which they deemed in serious need of assessment in the wake of numerous high-profile project failures and supplier collapses that have "cost taxpayers dearly". What they found was quite surprising. While a significant number of failures were highlighted, the IfG report determined that outsourced IT projects were actually among the most likely to be successful. Of the 11 service areas assessed, IT was in the second tranche with a green/amber rating (behind waste collection, cleaning, catering and maintenance, but ahead of healthcare [clinical services], employment services, adult social care, private financing of construction and probation).
According to the report, government spend on outsourced IT projects increased more than six fold in the decade up to 2007, but in recent years there have been fewer major projects of this ilk, with many more being split up into smaller challenges or handled in-house due to increasing efficiencies in the public sector, which narrowed the gap in cost benefit for outsourcing.
Government's Outsourcing Playbook – Recommendations for Best Practice
While critical, the IfG report does suggest that "in some areas, outsourcing has delivered substantial benefits, saving money and improving services" and the government's outsourcing playbook has made a difference. The playbook itself is reported as containing three primary best practices:
That all new outsourcing projects be piloted first
For considered, workable, KPIs to be developed
A make vs buy analysis to be run to determine the viability of outsourcing verses in-house resources.
The IfG report had one further best practice to add. This is that greater governance was needed. To achieve this, they suggested greater accountability expectations so that ministers in charge of projects who did not achieve their stated goals could be held accountable for their failings even after they have left their post. Such a move would certainly refocus the attention of some at the top and this can only be a good thing for client intelligence in an outsourced relationship.
Groundbreaking Statements Revealed
Finally, the IfG report had some grounding things to say. First that the government had consistently overstated the savings that can be attributed to outsourcing projects reporting that "Politicians and senior officials often cite 20%–30% savings when making the case for outsourcing services today. But while this was possible for some services outsourced in the 1980s and 1990s, we found little evidence that such savings are available today". Secondly that IT outsourcing appears "to have delivered some savings", but it was difficult to say precisely how much. And thirdly, that Labour's policy commitment to bring outsourced services back in-house by default "would be a mistake".
IfG senior researcher Tom Sasse said: "A lot of confusion continues to crowd the debate over outsourcing. Labour's policy of bringing services back into government hands by default, risks throwing away the benefits of outsourcing. But at the same time, the government must address the causes of repeated outsourcing failures."
5 Steps for Improving Commercial Skills in Outsourcing Relationships
Taking all this into consideration, and with the hundreds of complex relationships we have helped to optimise, we have five key steps to suggest for improving commercial skills in outsourcing relationships to help ensure delivery of greater value:
1. What good looks like
Knowing and communicating 'what good looks like' (your target future operating model) is something we refer to a lot in our articles. Fundamental though this may seem, the full essence of goal setting is rarely recognised or shared and this is one of the core reasons why so many outsourcing relationships on major projects become misaligned partway into their life cycle.
Put simply, knowing what good looks like is about knowing where you wish the outsourcing relationship to take you, the outcomes you are hoping to achieve once the services are running in a business-as-usual state.
Purely an aspiration for what you are looking to achieve is likely to end in significant misunderstandings – resulting in a poor relationship and chargeable scope and time creep. If you are unsure of the precise, quantified, results you are looking to achieve, how will you and the supplier know whether you have reached them?
Determining what good looks like will require a team effort, calling in the assistance of stakeholders from across the organisation to help you to identify where you currently stand, where you hope to end up and why you are looking to change things in the first place. The greater clarity you are able to achieve, the easier it will be to communicate your aspirations and expectations to your outsourced partner and the better chance they will have of achieving your goals.
2. Early market engagement
When you know, with absolute clarity, where you are looking to take things, because you know 'what good looks like' to you, it's important to make sure that your aspirations and expectations are, in fact, realistically achievable.
Going out into the market to ask the simple question 'can it be done' will give you far more insight into the real-world issues and challenges that may face you along the way.
Resist the temptation to tell suppliers how you yourself imagine they could, or should go about reaching your project's goals. You don't want to restrict their advice because you want to access their raw thoughts, to tap into their expertise and find out all the useful help they are prepared to give you, to sense check your expectations.
The information you gather from these industry experts will help you to tweak or rethink your plans and determine what capacities, expertise and experience you need to determine through your procurement process.
3. Key Performance Indicators (KPIs)
Most major outsourcing projects are lengthy affairs, often lasting many years. With timescales such as these it's all the more important to establish milestones to be hit along the way in order to determine progress against the grand plan.
KPIs are often linked to payments for milestones reached in a project, but they don't have to be. It's just important that there are some mechanisms in place to both encourage a provider to stay on track, and to identify that they have done so.
It's important to involve your provider in the development of these KPIs because:
1) their involvement in their creation will ensure buy-in to their achievement,
2) if you collaborate on their development then you have a greater chance of your provider fully understanding not only your goals but also your reasons for them, and
3) it's important, wherever possible, to make your provider feel a part of the evolution of your project, because the more they feel a genuine part of the process the more they will be invested in achieving your goals.
4. Contractual clarity
Similar reasoning from the KPIs section above should be considered for the contractual agreements you create with your providers. The creation of something fair, clear and understood that has been arrived at as a result of thorough discussion and negotiation with your provider will increase the chances of their buy-in, investment in the process and engagement.
All too often contracts are wordy documents drawn up by legal teams that are signed and filed away, rarely to see the light of day again. However, a good agreement is one that guides the relationship, that steers it in a more successful direction, has direction to offer should things start to slip or disputes arise and will be a living document that is updated and adapted to suite the real-world challenges and successes of the project.
Built into the agreement should be six-monthly reviews and objectives meetings with your provider where you have an opportunity to discuss progress and retune your agreement. We often go into a contractual relationship at the beginning with far less appreciation for the capacities, motivations, abilities and skills of our strategic partner than we have a year or two down the line. A review and revise session can take advantage of this greater relational intelligence to adapt the contract to better suit strengths and compensate for weaknesses.
5. Environment management
Adapt to play to your and your supplier's strengths. Avoiding the weaknesses and driving best behaviours to achieve your outcomes is the holy grail of any outsourced relationship, but how often does this happen in reality?
Have you ever worked on a project where client and provider were 'in sync', where they actually spoke with one another and, though they didn't always agree, they always found a way forward where everyone came together to pull together to find ways around challenges and strive towards shared goals? What about innovation? Have you worked on a project where a provider did not just complete the minimum work required but strove to find new and innovative ways of achieving your goals, and that through these efforts new ways were found to go beyond what was thought possible or reach outcomes faster than expectations?
It is rare, but this outsourcing relationship is possible if you develop the right environment for your project, if you encourage all the right behaviours, build commercial trust and write into your agreement all the right reward and positive behavioural clauses and mechanisms required to keep the project focused on the main prize.
Conclusion
The IfG findings seem to be balanced. They highlight the fact that there have been many high-profile outsourced project issues, that the government should have been more considered in its approach to certain suppliers whose demise should not have been so much of a surprise, and that they need to be more realistic with their expectations from collaborations with the private sector. But they also said that this should not blight the entire concept of outsourcing because some projects are successful, that IT projects are among the most likely to succeed (based on historic evidence), and that the wholesale cancellation of outsourcing, as is Labour's pledge, may not be the most effective course of action.
So, just like most things in politics these days, views on outsourcing are polarised, but the IfG has attempted to focus on the need for a little more realistic expectation and careful strategic planning, as we've highlighted in our five steps above.
Photo credit: iStock