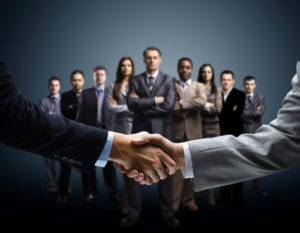 If you are looking to renegotiate your outsourcing relationship, you are not alone: Outsourcing contract renegotiations are on the rise.
Around 75% of all existing outsourcing relationships are renegotiated at some point during their lifetime according to Gartner Research.  And contrary to what you might think, not all of these renegotiations are down to bad performance — contracts can be renegotiated for many positive reasons. Not only that, but contract renegotiation can be triggered either by the service provider or the client.
The fact is this: change can be good. If the outsourcing contract is not aligning to your changing circumstances (for whatever reason), there is no need to wait for the contract to expire to implement change. Taking a proactive approach to your outsourcing relationship can make a huge difference to the efficacy of the outsourced service and result in improved outcomes for all parties involved.
With the above in mind, in this post I want to cover seven reasons why you should renegotiate your outsourcing relationship. If any of these resonate with you, then it may well be time to take stock of your current situation and give serious thought to renegotiation. (Please Note: public sector organisations may need to consider a new procurement exercise if a variation is seen as being a material contractual amendment.)
1. Because It's Easier, Cheaper and Less Risky than Exiting
Although, at BPG, we have plenty of experience in helping organisations exit poorly performing outsourcing relationships, it is always the last resort. Even if a client comes to us with their heart set on exit, our first step will always be to carefully evaluate the existing partnership in order to ascertain if there is any chance of improvement. On multiple occasions, we have been able to address key issues and turn the relationship into one that both parties are happy with.
The reason for this is quite simple: exiting an outsourcing relationship can be very challenging; even if you have a strong case for negligence or poor performance. As such, if you are considering exiting an agreement then our first piece of advice would be to see if there is any value in approaching your vendor with a view to contract renegotiation. You may be surprised to find that they are as willing as you to mold the partnership into something that is more beneficial to both parties.
2. To Improve Vendor Governance Processes
In our experience, outsourcing partnerships often fail due to a breakdown in communication and/or management (i.e. governance). The administrative overlap between client and vendor is a real hot spot for outsourcing issues. Outlining how the two parties work together is as important as stipulating what business outcomes you want from the vendor — there needs to be high levels of commercial trust and open communication between the two parties.
If you are generally happy with the performance of the outsourced service but wish to improve the level and style of communication with your vendor then you may wish to renegotiate the contract to reflect a more unambiguous approach. On the assumption that the agreement is operating to a relatively healthy standard, you have the benefit of being able to view the effectiveness of the solution in real time, which should make it far easier to come to an agreement regarding management.
Ultimately, if the provider is doing a good job overall then the contract should reflect your confidence in their ability. If the provider is doing what it says it is going to do, when it says it is going to do it, this leads to trust. Trust can inspire and empower the provider. Furthermore, it encourages innovation — the cornerstone of any effective outsourcing relationship. Your partnership with the vendor should be shaped in such a way that it engenders trust, and by extension, innovation.
3. To Improve the Performance of the Vendor
Poor performance on the part of the vendor can quickly lead to a client's lack of faith in them being able to deliver outcomes. That mindset is toxic to the potential success of an outsourcing relationship and must be avoided at all costs. The fact is that if you renegotiate your outsourcing relationship it can make all the difference between failure and superb performance.
Poor performance can be down to many reasons, including:
The vendor has become complacent

A lack of trust and/or innovation
Non-utilisation of modern technology/processes (e.g. cloud computing)
None of the above are necessarily the fault of the vendor — the contract, as much as anything else, could be dragging performance down. It can be all too easy to jump to the conclusion that your vendor is wholly to blame when the chips are down, but that mindset is rarely productive. Instead, focus on what you might be able to do in terms of enacting a contract renegotiation to turn things around.
For instance, consider the following:
If the vendor is not meeting your objectives, is there a possibility that your current business outcomes are not aligned with those outlined in the contract terms?
Are you promoting a culture of trust and innovation with your partner?
Is the contract service still fit for purpose?
Are you offering all the resources/investment necessary for success?
The fact is that outcomes and objectives can change, and contracts can quickly become dated as time passes and technology and processes improve. Instead of seeking to apportion blame for a poorly performing contract, seek to re-negotiate so that it has the best possible chance of success.
4. To Cut Costs
Costs are a big issue in any outsourcing contract. According to Gartner, 40% of companies believe that they are paying too much for outsourced services. Perhaps you entered into the contract when economic conditions were more favourable, or perhaps the financial position of your organisation has changed since the contract began. Whatever the reason, cutting costs is a big incentive for contract renegotiation.
The key to cutting costs is to look for efficiency savings that can benefit both parties. If you go into renegotiation with the sole aim of cutting your costs with little or no regard for the vendor, you are unlikely to reach a positive outcome. Furthermore, be careful not to push too hard for price reductions on their own to achieve the same service levels — this invariably leads to a decrease in quality.
5. To Increase the Scope of Services
Contract renegotiation should not necessarily be seen in a negative light. There are positive reasons as to why you might choose to renegotiate — a proactive approach to improving and developing the outsourced service is likely to benefit both parties.
If your existing relationship is running smoothly, your outcomes are consistently being met, and the contract is sufficiently flexible to allow it, there is little reason why you shouldn't consider developing the agreement further. However, your cautious approach should not change due to the success of the outsourced service. Ensure that you contract for advice separately and maintain the vendor's expert status to ensure that they are accountable for their performance on the new services.
6. Due to Major Business Change
There are many internal reasons (unaffected by the vendor) that you might wish to renegotiate an outsourcing contract, such as a change in business conditions or a merger/acquisition. While any healthy outsourcing relationship should be able to cope with minor changes and adjustments, a major business change should always result in a formal renegotiation of any existing outsourcing agreement(s).
The key to renegotiating under such circumstances is to ensure that the original objectives are still valid, and if not, that they are changed to reflect your new requirements.
7. To Remove Manipulative Contract Clauses or Flaws
Although a vendor may seek to implement contract terms that are strictly in their favour, that is not the only reason you should seek to adjust the terms of your agreement. As previously mentioned, a poorly-worded contract can drive poor performance, regardless of your vendor's potential ability to deliver your outcomes. As such, it is of vital importance that your contract is worded in such a way that it gives both parties the best possible chance of satisfaction.
Conclusion
Under all circumstances, if you are going to renegotiate your outsourcing relationship, you must keep one key thing in mind: successful partnerships are borne out of win/win relationships. If you enter negotiations with the intention of squeezing everything you possibly can out of the vendor, then you are highly unlikely to reach a beneficial outcome.
Furthermore, any renegotiation should be given plenty of time to reach a successful conclusion (or otherwise). The process can take some time and you want to give yourself plenty of breathing space should you need to re-tender.
If you are interested in renegotiating a contract with your vendor, we have a five step guide along with a specific blog on renegotiating a PFI Contract.
Photo credit: Shutterstock

Photo Credit: MyTudut