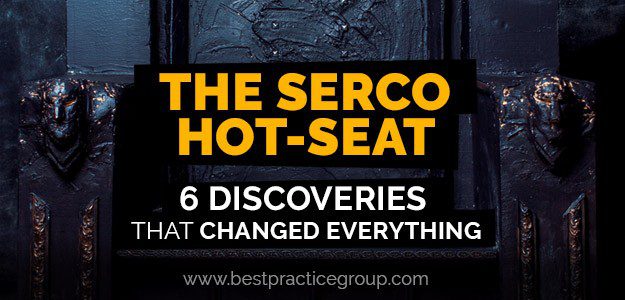 When a civil servant in the Ministry of Justice spotted some discrepancies in Serco's paperwork during routine contract renewal processes, nobody could have quite imagined what impact this was going to have – both on the UK Government and Serco. Two years later, plenty of dirty washing aired, a change of leadership, and promises aplenty, but what has changed? and what was it like in those first few months after Rupert Soames took over as captain of the Serco ship?
It seems, from various reported interviews Soames has given since his appointment, that things were somewhat more chaotic than he'd expected when he turned up on his first day at work. The impression he is reported to have had is that while there would no doubt be other challenges to face, it was the company's flagging reputation that was the most pressing issue to deal with to get things back on track.
Unfortunately for Soames, it appears the situation turned out to be a little more complicated than that. Profit declines exceeded even the most pessimistic of expectations from the tagging scandal fallout, and he was forced to issue his first profit warning and launch into an attempt to raise millions in short-term funding to allow him time to implement his turnaround plans. So what did Rupert Soames find in his first few weeks on the job that influenced how the months that followed panned out?
The six reported game-changing discoveries at Serco:
1. Contract portfolio management
By all accounts Soames is a pragmatic man, used to seeing clear, simple top-level organisational, financial and operational data so that he can make strategic decisions based on what they reveal. So when he arrived at Serco and asked to see a breakdown of their 700 or so contracts to see which were in profit and which were haemorrhaging money, he was rather surprised to find that there was no such document.
2. Monthly accounts
Equally surprising was when he asked to see the company's monthly accounts and found that these were not in the detail he would have expected. For a practical businessman like Soames this was incomprehensible, but because Serco's contracts were long-term in nature, it was reported that they had only ever produced their accounts on a quarterly basis. One of Soames' first orders, therefore, was to sort this out quick smart. He co-opted his ex-finance director from Aggreko to head up the process of bringing Serco's accounts in line with his expectations. In addition, they instructed a team from a large external accounting practice to dedicate themselves to not only bring the financial data up to scratch, but to seek out any hidden risks in their contract database.
3. Tagging scandal fallout
We don't need to labour over this point as it has been discussed at length in the press, but the tagging scandal – its associated £68.5m payback, the then loss of Serco's right to bid for government contracts (until recently), the reputational fallout and the many other accusations that came out of the woodwork as a result – hit the company hard, so it is important to recognise its place here.
It is a discovery because what was being reported and the depth of the issue that Soames found when he arrived and had to deal with in his first few months, appear to be two very different animals.
4. Contract negotiation
The market for outsourcing had almost doubled in size since the coalition government had walked into No.10. However, although Serco is a major player in that market, profits did not reflect that potential. What Soames reportedly discovered was a large number of poorly negotiated contracts that left little in the way of profit, especially when political, economic or other circumstances changed in unexpected ways.
Contract negotiation being so fundamental to either business success or becoming the vehicle of its failure, made this a major issue for Soames to resolve – hence his initial instructions to the external accountancy practice to search for those contracts where the company's exposure was greatest, and the major changes that he initiated later on to turn the company around.
5. Risk management
To make matters worse, it was reported that contracts had not only been poorly negotiated from a profit standpoint, but all too many had exposed Serco to the potential of significant losses. As we all know, one of the fundamentals of contract negotiation is to ensure that the contract supports the right governance process so that the right behaviours drive good business outcomes for all parties.
In turn, this helps to mitigate risks and minimise the possibility of things going wrong. As part of this process, both an operational and financial contingency would usually be built in to prevent (a) poor delivery and (b) the provider suffering from excessive losses. This simply did not exist in an effective enough form in a number of Serco's contracts, and this seemed to worry Soames the most.
From media reports, it seems the most problematic contract was Serco's agreement to maintain Australia's fleet of 14 Armidale patrol boats and the knock-on effect when things started to go wrong.
The agreement Serco had with the Australian government was that these boats needed to be available for use for a total of at least 3,600 operating days a year, that's approximately 70% of the time. The problem was that circumstances change and as the influx of migrants shot up over tenfold in the five years from 2007, the Armidale fleet found themselves overly stretched.
The more they were used, the bigger the problems that beset them became and the costlier the repair bills were for Serco. Initially this was a manageable issue, as the greater numbers of refugees flooding into the country actually boosted Serco's profits, thanks to a separate deal they had with the Australian government to run the transport and detention of these asylum seekers in immigration camps, charging by the individual.
So successful was this contract that it became the company's biggest cash cow, netting them a reported £450m in 2013. But a change in the Australian government's policy towards such refugees, sending them all to Papua New Guinea, meant that this income stream was severely hit and the true crippling cost of maintaining the Armidale fleet began to sting.
To make matters worse, the number of asylum seekers heading to the UK also increased, and as Serco was responsible for housing them, and that agreement resulted in the company actually losing money on each one housed, Serco's troubles were compounded.
6. The reported £500m financial hole
Post contract portfolio assessment, and with time to discover more issues around negotiation and risk, Soames recognised that a raft of contracts had problems. These included the Armidale agreement and the contract with the UK government to house asylum seekers, which could have cost the company a significant £500m of unexpected costs.
This was the sort of figure that could have put Serco at material risk, so something dramatic had to be done. Soames initiated sweeping changes that shifted Serco's contract policy to only bid for certain public sector contracts (which they were recently allowed to do again), concentrating on what they did best. He started to sell off recent acquisitions to raise capital and reduce loss-making portfolio entries. And, as a result, tens of thousands of jobs had to go.
Change is slow when you run a global business, so when Serco announced that it had posted a loss of £1.35bn for 2014 – over twice the company's profits from the previous **four years combined – it was reported that it didn't come as much of a surprise to many analysts and pundits. But the leaner, more focused Serco, was focused on a road to bring it back from its darkest couple of years.
This year, Serco is expected to have revenues of £3.5bn, down significantly from its peak postings, but certainly heading in the right direction. Soames remains positive that things will work out in the end, but he's playing the long game, reshaping the company from the ground up – from the working environment and corporate language to the contracts that they take on and the way they negotiate them.
For all those who thought that Rupert Soames might simply be the captain to go down with the sinking Serco ship, there is much positivity to be taken from these latest financial results. Maybe he is the man with the plan that could just put this outsourcing giant back on the right track after all.
If you missed them, you can still catch up on part 1, part 2 and part 3.