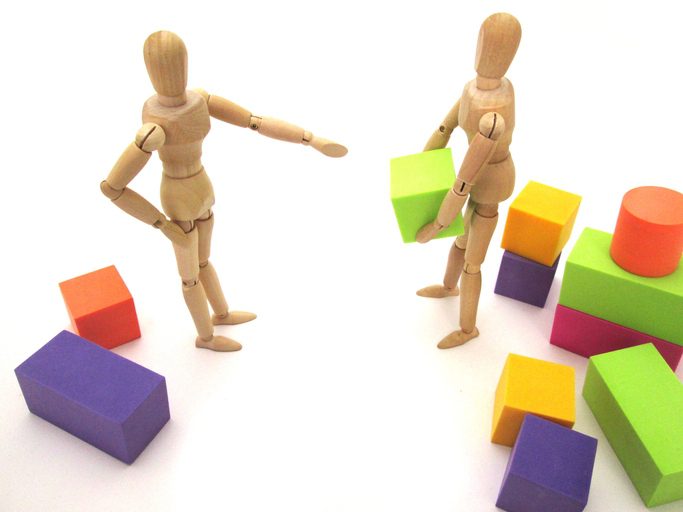 When Interserve went into administration there were many who slipped all too easily into the perception that this was going to be Carillion all over again. You didn't need to look very far to see pundits and papers warning of doom and gloom.
However, Interserve and Carillion are very different examples of what could happen when an organisation fails, so we thought we'd share a few insights into why one went so horribly wrong and the other seems to be offering up lessons for others to learn from.
Carillion (liquidation, as opposed to administration)
When Carillion went into liquidation, it left over 40,000 employees asking what they were supposed to do now, 450 public sector projects with a question mark over them and tens of thousands of contractors and subcontractors unlikely to be paid.
The domino effect of the collapse of Carillion was wide reaching and its financial ripples continue to impact the market today. While there were warnings that finances were not as they should be, it was reported that the government kept giving Carillion new contracts; the inference being that for some reason the government was turning a blind eye, hoping that it was all just sort itself out. However, in January 2018, and with £1.5m in debt to banks and its own pension scheme, the company went into compulsory liquidation.
The government had to step in, everyone ran around trying to save pieces of this once dominant service provider, then, when more help was needed, the liquidators engaged not only existing providers, but also 'step-in' providers – temporary service providers willing to accept the risk of taking over contracts, but for a price, sometimes for a significantly higher price than the original had been. Step-in providers serve a vital role, offering the promise of stability and continuity, but they are often in a strong negotiating position because of the lack of perceived choice in 'emergency' circumstances.
Interseve (administration, as opposed to liquidation)
In March 2019, Interserve was placed into administration. It had a workforce of 68,000, over 7,500 ongoing client contracts, and was on the FTSE 250. However, over the last four years its shares had dropped to a fraction of what they had once been. It had experienced profit warnings (much like Carillion), breached bank covenants and admitted that its debts were higher than expected. Finally, it was determined that the organisation would not be able to remediate its financial position. It had to choose either a form of administration or liquidation.
The choice was made to go into a pre-packed administration arrangement. This saw the banks to which it owed money take over ownership and EY being instructed to handle the process from that point onwards.
There were losers in this arrangement – thousands of Interserve's shareholders saw their share value turn to zero overnight as the company moved to become a completely separate legal entity. However, many jobs were protected, many projects continued, and continuity was established. The transition was smoother because it had all been planned in the pre-pack administration deal.
Not all suppliers, or their funders, have the foresight or management turnaround ability to install a pre-pack deal like this. In these circumstances, it would be sensible to question whether administrators are acting in a balanced manner. If financial and operating circumstances do not improve under the administrators – service levels decreasing and so forth, then it would be wise to address this fairly robustly or to start looking for new providers. Whether you're looking to renegotiate or do your due diligence on a new provider, you need to have clarity on where you are today, where you should be, and where you wish to end up (your future state).
Thinking of Moving to a New Supplier? 8 Steps to Take
If you do decide to move to a new supplier and determine who might be the best candidate(s) to help you achieve your business outcomes, there are a number of steps to take.
Step 1: The Business Case
Clarity is a theme you will see me repeating here because it is so important, and nowhere is this more so than in the business case. It's vital to ensure that all stakeholders whose voices may add the right nuance to the information you gather are asked for their input to help form a clear picture of, among other things, the outcomes you expect to achieve. And that this is not only agreed by all parties, but also fully understood by them as well.
Step 2: Clarity of Responsibility
The understanding that extends from a clear business case must expand out into a clear interpretation of both supplier and client responsibilities in the relationship. If this is to be for a renegotiation with an organisation like Interserve, then there may well be some preconceptions that need to be torn down before the new expectations are instilled and understood by all. However, clarity and understanding of who is responsible for what is important, no matter the circumstances.
Step 3: Key Contractual Principles
Once everyone appreciates their roles and responsibilities and the outcomes that are expected, this information can be used to provide the framework for a legal document to guide all parties in the pursuit of these goals and to set the KPIs that will measure performance along that pathway.
Step 4: Supplier Assessment Process
To ensure the most robust and transparent system of determining whether your existing administrator, supplier or new supplier are best suited to helping you achieve the outcomes you're aiming for, you'll need a defined, clear and adhered to, scoring strategy. It's important to not only have a way of assessing all relevant aspects of a supplier's ability to service your needs, but that it is fair and can be clearly communicated and understood by all parties. This is for accuracy of selection, to avoid disgruntled suppliers who do not win the contract (or to provide you with the means of clear defence of your choice), and as the start of the process of building commercial trust.
Step 5: Ask the Market
Early market testing is a vital part of the process, because this is where your assumptions are sanity checked by third parties who often have far more specific delivery knowledge. There is a wealth of knowledge out there if only you are able to tap into it, and pre-procurement is the stage to do this. Absorbing expert opinion into your plan of action, allowing their insights to help guide your decisions, can reduce the risk of going down a path that will make it far more challenging to achieve your objectives.
Step 6: The Procurement Process
The five steps above are designed to provide you with the level of knowledge you need to determine the best procurement regulations to follow: Open, Restricted, Competitive Dialogue, Competitive Procedure with Negotiation, Innovation Partnership, or one of the Public Sector procurement frameworks. Because you have dispelled any ambiguity from your project thinking, not only will to be easier to set up the procurement process and determine the right supplier for your needs, but they will have a clearer idea of what's expected of them and a roadmap to achieving your objectives.
Step 7: Supplier Due Diligence
Your new supplier, or, if you're in the process of renegotiation, your existing supplier, is under a duty to warn you if they believe there is a material likelihood that your plans or their solutions have any weaknesses. This includes whether they have the capability and capacity to achieve your goals and if there are any limitations, along with the consequences of those limitations, in their ability to achieve the business outcomes you have expressed to them.
This is important for practical and legal reasons. Firstly, to ensure full transparency to allow for additional solutions to be considered. Secondly, should expectations be misaligned, to evidence that you did what you could to determine whether issues were reasonably foreseeable. Should everything be in order, the contract will then be created to encapsulate all this knowledge, to offer a framework to progress by. It will also be a means for ensuring that relationships are maintained to validate that the project advances no matter the strains that befall the parties along the way.
Step 8: Ongoing Management
You may have heard us mentioning the ICF team, the intelligent client function team, in most of our articles. That's because we're passionate about the importance of having such a team of cross-departmental specialists involved to build the relationships and maintain the project knowledge to keep complex relationships operating at maximum value for you both. They are your eyes and ears on a project, able to identify issues long before they become a problem and able to offer solutions only they can know of due to their closer ties with the supplier-side teams.
Clever use of an ICF team can minimise the risk of complacency or abuse, of either side misunderstanding or not living up to their responsibilities, and can help to achieve business outcomes or identify opportunities to surpass them much more quickly.
Conclusion
It is still too early to tell whether or not the administrators for Interserve are doing a good job and are acting in a balanced manner. This will take a good four to five more months to establish. However, to be able to identify whether they are doing a good job, it's imperative that you appreciate your current position, your expected position and the outcome you are looking to achieve. The eight steps above should go some way to helping you identify these and who is best placed to help you to achieve them.
Photo credit: BBuilder, iStock