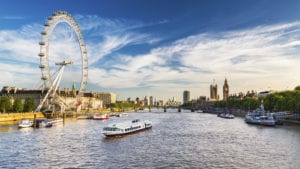 Another failed procurement funded by taxpayers, the London Garden Bridge, a floral link between Temple and the South Bank and a tribute to the late Princess Diana, was going to be one of the prides of our capital. It was intended to be an extension of our green spaces and a sign of our aim to move towards a more environmentally aware society.
This £185m failed procurement project was also going to make for a very pleasant way of crossing the river, encouraging greater interaction between the north and south of London and drawing in more tourism.
Project Abandoned
However, after all the passion from the then mayor, Boris Johnson, the promises of millions in public and private funding and the work of many institutions and organisations, the project was abandoned in August 2017.
An inquiry initiated by the current mayor, Sadiq Khan and conducted by Dame Margaret Hodge concluded that the bridge was not going to offer value for money and "It would be better for the taxpayer to accept the financial loss of cancelling the project than to risk the potential uncertain additional costs to the public purse if the project proceeds." Now, almost two years on, there are still questions to be answered about why the project ended up this way and why so much taxpayer's money was spent (nearly 30% of the anticipated overall project cost) on the procurement phase of a bridge that will never be built.
TfL Report Shines Spotlight on how Poorly our Money was Spent
The continuing age of crushing public-sector austerity means every penny of public money needs to be certain of value. In this respect, the BBC reported that the Transport for London (TfL) breakdown of costs, in which it was revealed the Garden Bridge Trust paid its own executives £1.7m.
The greatest sums were spent on construction contracts (£21.4m) and designers (£9.5m). Whilst it is easy to speculate, in principle, these sums seem to be the wrong way around. In excess of £21m for contracts? Really? Separately, £161,000 was invested on a website. From a value for money perspective, all these figures do sound a little excessive.
The report also outlined a spend of £417,000 on a gala dinner to find donors for the bridge project. Not everyone will agree, but while this sounds like a lot of money, finding donors (or any grant/charitable funding) is hugely time consuming, very expensive and commercially very high risk. The ability to get the right audience with the means to invest in this type of project (if that is what it achieved) is worth its weight in gold. However, in this case it does not seem to have paid off and as a result this sum is now up for scrutiny just like all the others in the report.
More questionable is the £425,000 paid to ITV. The report indicated this was to appease their worries of noise disruption that the bridge's construction might have caused.
By the time the project was abandoned, over £53m had been spent, and £43m of this was paid by you and me (taxpayers), via TfL and the Department for Transport.
Failed Procurement – 'Procedural Errors' Highlighted
The report also stated that in 2016, the Greater London Authority (GLA) Oversight Committee identified a series of procedural errors and significant failures in the procurement process. As an example, it was indicated that Boris Johnson had shown support for one particular design before the procurement process had even got underway.
The committee concluded that "The controversy which has beset the project has stemmed from the mayor's prior contact with bidders, TfL's mishandling of the procurement process and the favourable treatment and access offered to one of the bidders in advance of the process."
An article in Supply Management suggested that "mayor Boris Johnson should have been more upfront about the range and nature of contacts between his office, Transport for London (TfL) senior management and Heatherwick Studio, which was awarded the contract for design services for the Garden Bridge."
And in the same article, Mayor Sadiq Khan is reported to have said "There hasn't been the necessary standard of transparency and openness" around the project.
In April 2017, Dame Margaret Hodge's review stated that "there was confusion as to [the project's] purpose, through a weak business case that was constructed after contracts had been let and money had been spent". She concluded that the procurements awarded to the main designers, Heatherwick Studio and the primary engineering firm Arup, "were not open, fair or competitive procurements" and her review revealed "systemic failures and ineffective control systems at many levels". She also recommended "that greater transparency is introduced for procurement processes and more effective checks and balances are put in place to ensure that public money is properly and well spent." A co-director of one of the other design firms asked to tender for the project, David Marks, told the BBC "This competition didn't smell right from the start. It is clear that we were just there to make up the numbers and the outcome of this tender had in reality already been pre-determined."
Clarity of Expectations are the Key – Three Lessons Learned
How much of this is party political and how much can be laid at Boris Johnson's door is unclear, but when public procurement procedures ensue, we all know that every 'i' needs to be dotted and every 't' crossed. We need to ensure transparency and fairness through decisions that are documented, justifiable and compliant with the requirements of the process.
Clarity is vital and the articulation of a detailed view of the outcome demanded by the project is an important factor in the success of any venture like this. It is this clarity that is reported to have been lacking on the London Garden Bridge project.
Therefore, our three lessons learned section this week is on clarity of expectations:
1. Know your outcome
A clear, unambiguous and completely justified, quantified and diligently analysed business case must be formulated before you can proceed. If you cut corners, speed through the process or resign yourself to a vague goal, you increase your risk of failure significantly.
Only by knowing the outcomes you wish to achieve, the benefits your work will generate and the quantifiable difference between your current position and your position once the project has been completed can you hope to be able to stand in front of the cameras and explain to the waiting public why they should back your decision to spend their money in this way.
2. Clarity of communication
Once expectations are fully formed in your mind it is important to be able to explain your expectations with crystal clarity to all those whom you must motivate into action. It is their time, skills, money and/or reputation that you are asking them to entrust you with. All key stakeholders must be aware of your plans, understand them and know the part they will play in bringing them to fruition. Key performance indicators (KPIs) need to be established to provide identifiable milestones along the way to your desired outcome and these too must be understood by all those involved so that everyone is encouraged to pull in the same direction.
3.Pre-contractual due diligence
You're hoping to find the right suppliers to support you in your project and no doubt you'll be selecting them because of their expertise. So why wouldn't you look to utilise that expertise from the get-go? Pre-contractual due diligence involves asking your suppliers to sense check your project, to assess whether the outcomes you plan to achieve are achievable and whether they are the right suppliers to get you there. Do not fall into the trap of dictating how your suppliers might go about this or you run the risk of stifling their creativity and holding back their industry expertise – the very thing you're intending on paying them for.
Conclusion
The London Garden Bridge project had a very poor outcome. A BBC transport correspondent called the Dame Margaret report "40 pages of brutal, uncompromising criticism of nearly every part of the once flagship Garden Bridge project… Procurement, finances, business cases, value for money, previous mayors, deputy mayors and transport officials get an absolutely withering assessment". The report outlines that its costs spiralled out of control – with estimates going from £60m to £200m – there were suggestions of interference and poor procurement practices, but in the end it may have been something as simple as a lack of clarity on the objectives of the project that was the primary cause of its downfall.
£53m sounds like an awful lot of money, especially when around 80% of this was taxpayer's money, but in the end the decision to abandon what had become a confused and costly project may have been the best decision after all.
Photo credit: iStock